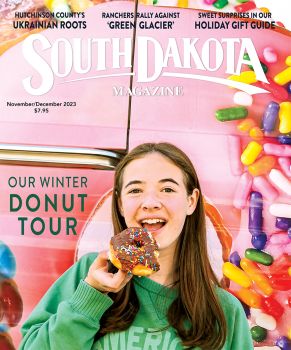 Subscriptions to South Dakota Magazine make great gifts!
Subscribe today — 1 year (6 issues) is just $29!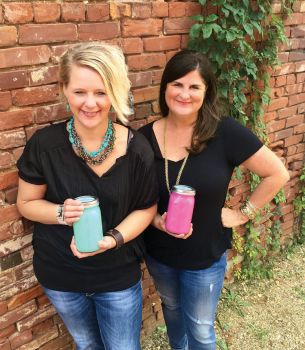 Stella's Paint
By John Andrews
Amy Farley and Carrie Jenson are veteran furniture flippers. The two have been restoring pieces for over a decade, but when it came to painting their finished products, they were never quite satisfied. So in the summer of 2014, Farley and Jenson began experimenting. Their resulting line called Stella's Paint has become a favorite for do-it-yourselfers around the Upper Midwest.
They started by simply going to Olson's Ace Hardware in Beresford. They explained their vision for a high-quality, affordable paint and began mixing different bases and additives in their Beresford studio. "It took all summer to find the right combination so it wasn't too clumpy, thin or chalky," Farley says. The result is an extra flat paint that's quick drying, adheres well to wood and is easy to sand for a more distressed look.
Stella's Paint now comes in 20 colors, each named for a woman important in their lives (beginning with Stella, Jenson's grandmother). Hues are added depending on current color trends (last summer brought a new charcoal gray). Their paint is available through 11 vendors in the Dakotas, Nebraska and Iowa.
Editor's Note: This story is revised from the November/December 2016 issue of South Dakota Magazine. To order a copy or to subscribe, call (800) 456-5117.