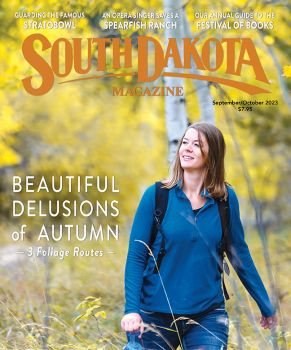 Subscriptions to South Dakota Magazine make great gifts!
Subscribe today — 1 year (6 issues) is just $29!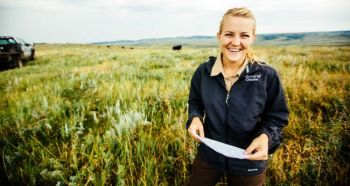 South Dakota's Wildlife Ambassador
Apr 30, 2015
A young lady from South Dakota is the modern-day "Marlin Perkins" for Mutual of Omaha's Wild Kingdom. Earlier this week I had a chance to get acquainted with her when she spoke at a meeting of South Dakota's retired teachers in Pierre.
Stephanie Arne breaks all the molds. She was a high-achiever at Riggs High School in Pierre, and enjoyed her years as a biology student at South Dakota State University.
But she's not the 9-5 type, so as soon as she got her degree in Brookings she took to the road — working for any wildlife organization that had an opening. It hardly seemed like a great career path. She took low wage jobs with the country's finest zoos in Omaha, San Diego and Honolulu. Good experiences if you love critters, and she does. Not a good way to save for your first mortgage.
Even zoos couldn't hold her back. She eventually traveled the world for a decade, finding ways to work with animals in Thailand, Japan and Africa. She showed up in Australia without a clue as to how she was going to make ends meet, and soon she was giving wildlife tours on day charters.
She became known as a wildlife ambassador — a person passionate about birds and animals and the challenges they face on an fast-changing planet. "You should have a show," friends kept saying.
And then she heard about a job opening with Mutual of Omaha's Wild Kingdom, one of the most respected wildlife shows in the history of broadcasting. She and about 500 others applied. Upon meeting her, it's no surprise that she won the position once held by renowned naturalists Marlin Perkins and Jim Fowler.
She acknowledged that while she always had the support of her parents and teachers, they probably didn't figure she was on a great professional trajectory while earning barely sustainable wages, sometimes for scooping pelican poop. We expect our youth to be more responsible: stay safe, earn your way and fit the mold of today's demanding workplace. Be a square peg in a square hole.
Fortunately, Stephanie followed her heart. She did what she loved, what she thought was important. By those important standards, she was a success even before she was chosen to host Wild Kingdom.
Steph strongly credits her South Dakota upbringing and education, and is proud to always call this home. Several of her teachers were in the audience as she spoke. Buttons were busting off their jackets as she spoke about the importance of a great teacher.
Now she's teaching the world about the nature. She's known as the wildlife ambassador, but she's also a fine ambassador for Pierre and Brookings and our entire South Dakota. And for young people brave enough to resist the normal patterns of society.