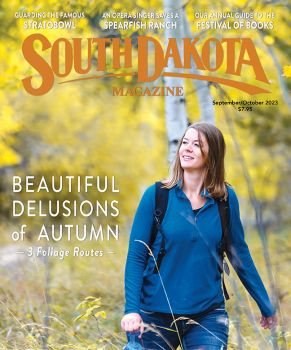 Subscriptions to South Dakota Magazine make great gifts!
Subscribe today — 1 year (6 issues) is just $29!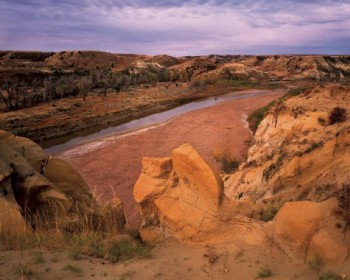 Stories of Stones
Nov 8, 2011
There is a good reason why the Lord decided to change Simon's name to Peter. Petra in New Testament Greek means rock and that, Jesus told the newly christened Petros, is exactly what you are. "Upon this rock I will build my church." The language is accessible and evocative. Everyone understands that a rock is something unyielding. There is wisdom in that.
Stones are not mute. Like everything in nature, they tell stories and teach lessons. I have been an avid camper and backpacker since my teens. Almost every year I return to hike the Ozark canyons of my native Arkansas and sleep with the sound of Sylamore Creek in my ears. The caves and sink holes are battle scars from a war between water and limestone. There has been no peace for millions of years. A pine tree, twenty feet tall but clutching with roots not much bigger than my hand to a ledge I would not care to try to stand on, will remind me how precarious is my own purchase on life.
I have made several trips to Lost Twin Lakes, in the Wyoming Big Horn Mountains. At ten thousand feet above sea level, the lakes still entertain ice in July. Standing on the shore of the upper lake, you are facing a half circle of cliffs that rises more than two thousand feet above you. I know that some still think the world to be six thousand years old. This alpine cirque will have none of that. It says, with bold authority, that all of man's history and reach is like the life of an insect skirting the surface of a puddle.
None of those places has taught me more than Teddy Roosevelt National Park in North Dakota, where I recently spent two chilly nights backpacking with my son. Much as I love South Dakota, our northern neighbor has the better Bad Lands. Rich in color and texture, the Little Missouri canyon tells a truth that older and bolder mountains will not readily confess. Nothing in this world is enduring.
The river is coffee-brown with silt. Rain turns walls of gritty earth into elegant curtains. Frequently you will observe a cap rock formation. This is a tower of soil formed as the rain slowly erodes the soil on all sides of a rock. Sometimes you can find a row of them, a sandcastle engineered by gravity out of wind, water, and stone.
What is concealed by the ancient Rockies is flamboyantly on display at Teddy Roosevelt. Everything in this world is here because something else fell apart. Everything here is always turning into something else. This bit of wisdom has been mined by the Buddhists more than anyone else.
If it sounds sad, stick with it for a while. Without the constant process of formation and erosion, our life would not be possible. Because nothing in this world is enduring, everything and everyone in it is precious. That, at any rate, is what I have learned.
Dr. Ken Blanchard is a professor of Political Science at Northern State University and writes for the Aberdeen American News and the blog South Dakota Politics.