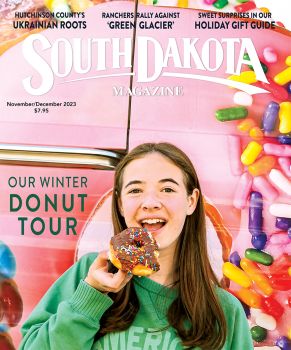 Subscriptions to South Dakota Magazine make great gifts!
Subscribe today — 1 year (6 issues) is just $29!

Artist at Home
By Rick Hauffe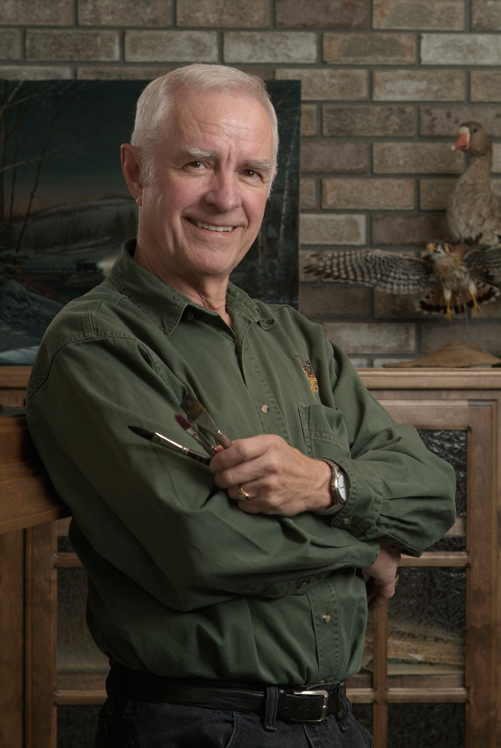 Terry Redlin, one of America's great wildlife artists, died in Watertown on April 24 at the age of 78.
Editor's Note: Terry Redlin, the Watertown artist famous for nostalgic landscapes and patriotic prairie scenes, died on April 24 at the age of 78. South Dakota Magazine published this profile of Redlin in the spring of 1994, shortly after he announced plans to locate the Redlin Art Center in his hometown. He considered the museum, which houses over 150 of Redlin's original oil paintings, to be a "thank you" gift to the community that helped him become one of the country's most treasured artists.
Terry Redlin, one of South Dakota's best-known native sons and one of the nation's most famous wildlife artists, fulfilled one lifelong dream last year by buying a home along Watertown's Lake Kampeska. It is an alternate residence to his home along Lake Minnetonka near Minneapolis-St. Paul, which gives both states bragging rights to a Redlin residency.
But Redlin's second dream really has folks in Watertown buzzing, from local business development types to arts advocates. Redlin chose Watertown as the site to build the Redlin Art Center, a permanent home to display his original paintings.
Redlin is reticent about the Redlin Art Center. He'd prefer to announce his detailed plans later when he and local committee members of the Redlin Art Center Board are finished exploring ideas.
On reasons why he chose Watertown over locations closer to a bigger market in Minneapolis and St. Paul, Redlin is declarative. They go back to when his life focused on the hunting and fishing paradise of northeast South Dakota.
Redlin dreamed of becoming a forest ranger. Or anything else which would keep him where he could easily make time to hunt or fish. Aside from some undeveloped sketching abilities, Redlin had no ambition to become an artist.
"Back then, I didn't have any money, and I didn't care. As long as I had a little money for bait minnows and shells, everything was all right," Redlin said. "I carved fishing plugs in the wintertime."
The carefree course of Redlin's life took an abrupt turn in his mid-teens when his motorcycle was struck by another vehicle. Redlin lost a leg in the accident. The man who hit him had no money or means to cover Redlin's injury.
"If it hadn't happened, I would have gone into the service. I had dreams to go away and be a forest ranger. It brought me to a reality that I had to sit down to make a living," Redlin said. "My hobbies were to build models or draw, so I went with becoming an artist."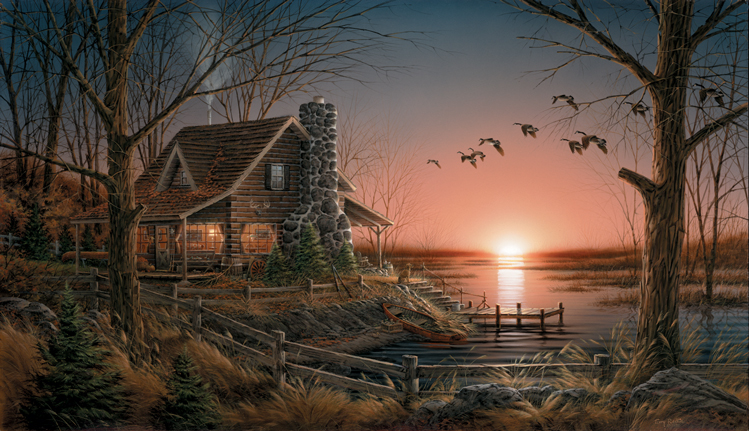 Comforts of Home.
Florence Bruhn, Redlin's high school art teacher, remembers those days. They weren't easy. She helped him develop his sketching into a potential career option.
"Back then, Terry was so busy hunting and fishing he could hardly make time for school. But when he hurt his leg, he found another way to excel," Bruhn, 83, said. "A lot of people think it's a talent, but it's not. It's also a lot of work, and he put a lot of hard work into it."
The state of South Dakota also came to Redlin's rescue. It was a help Redlin never forgot.
The state provided a tuition grant to Redlin to help him rehabilitate from his injury. The grant put Redlin in the School of Associated Arts in St. Paul, where he further refined his skills to become a professional graphic artist.
It turned into an investment Redlin has sought to repay through his portrayal of South Dakota prairie landscapes in his paintings, and through his selection of Watertown as the site for his arts center.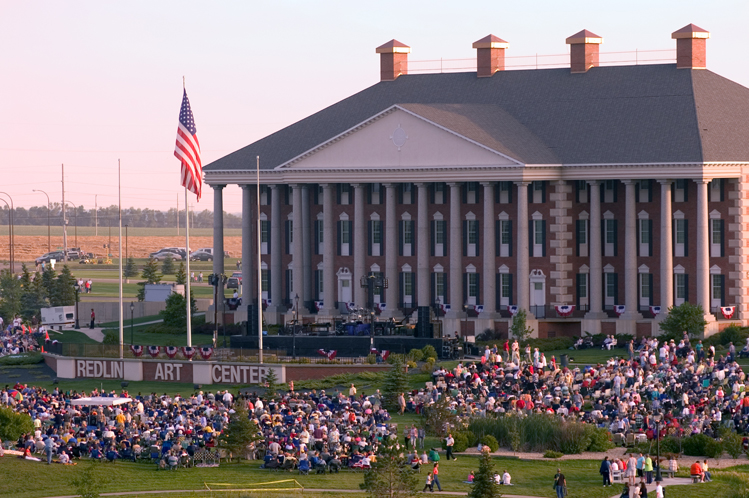 Redlin chose his hometown of Watertown for his art center, a grand building near the junction of Highway 212 and Interstate 29. Photo by Chad Coppess/S.D. Tourism.
"The state gave me a grub stake. That's the way I look at it," Redlin said. "It was why, when we looked for a place to locate the arts center, we settled on South Dakota. I'm sure the grant was money which the state felt it'd be a million-to-one odds they'd ever see that investment come back. They were sending somebody to art school in Minnesota. What's the chance they would ever come back?"
Redlin's hero in art had been Norman Rockwell. He also wanted to become an illustrator. He landed his first job with Brown & Bigelow, where Rockwell and other famous illustrators were contributors. However, the demand for illustrators evaporated, and Redlin spent 25 years in commercial art in layout, graphic designing and illustrating.
It wasn't work which landed him covers of Post magazine, like Rockwell's most famous work, but it taught him about balance, light and other techniques.
It also bought time to research, photograph scenery and plan for going into business for himself as a wildlife artist. That research, and the thousands of photographs of scenery in South Dakota and Minnesota still show up today in his works.
"When I do field work, it's with a camera," Redlin said. "I did an awful lot of it back in the beginning. I took two years before I picked up a brush."
Redlin's first big break as an emerging artist came in 1977 when his painting, Winter Snows, made the cover of The Farmer magazine. In 1979, he made the jump into painting wildlife fulltime after demand for his works grew.
Redlin's career awards are impressive. He won the highly competitive Minnesota Duck Stamp contest in 1981 and 1984. In 1982, he placed second in the federal duck stamp competition and won the Minnesota Trout Stamp contest. In 1983, he won the national Artist of the Year award for Ducks Unlimited, the highest honor for a wildlife artist.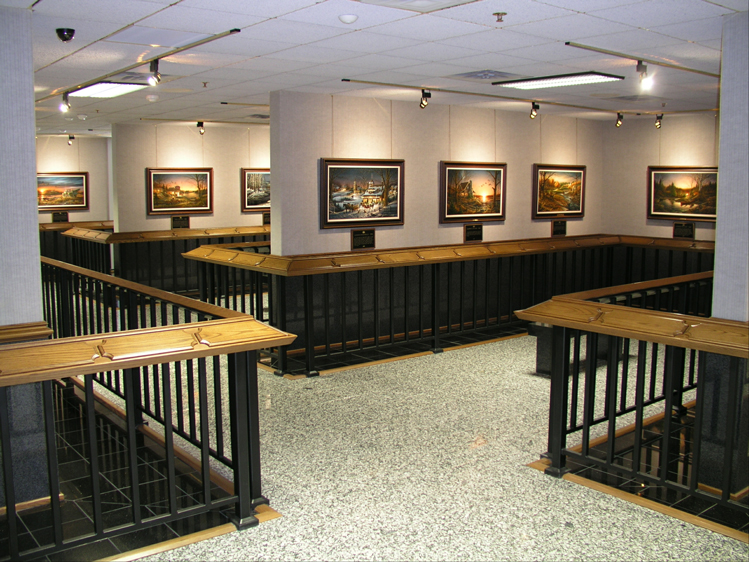 The Redlin Art Center houses over 150 of Redlin's original oil paintings. Photo by Chad Coppess/S.D. Tourism.
In 1991, U.S. Art Magazine took a national survey of galleries and found six of the year's top 20 prints were Redlin's. U.S. Art named Redlin "America's Most Popular Artist" in 1993.
His paintings and prints gained fame quickly, because they represented more than another slough scene as a backdrop for a picture of ducks, geese or pheasants. Redlin occasionally puts humorous situations in his paintings. An oddity in several of his paintings is the Langenfeld Ice Cream sign, which recalls a Watertown company that has long since disappeared. He also slips in a grain elevator from the Watertown region and other local landmarks to give the paintings what he calls a "romantic realism."
Dennis Tilly, who runs the framing and print section of the Knit Nook in Watertown, says that Redlin touch is what separates his works from others for his customers.
"It's more than putting kids or wildlife in a painting. It's everything. It's the small touches in the scenery. The nostalgia and peacefulness and warmth make them so appealing," Tilly said. '"When you put the kids and dogs into the beauty of the countryside, the lakes and rivers and streams, you get this come-on-home attitude. I think his works really project a good image of South Dakota and the Midwest in general."
Tilly said more than half of the prints he sells in his shop on Kemp Avenue are of Redlin paintings.
That's against some pretty tough competition, because Watertown claims as its own several other wildlife artists. Leading that list is John Wilson, who hit a home run in wildlife art several years ago by winning the federal duck stamp contest. Wilson has been a repeat winner of duck and pheasant stamp contests in South Dakota.
Other painters with Watertown ties who've done well in wildlife art are John Moisan, Bob Hinton, John Green and Larry Negaard.
"I think wildlife art is really big in Watertown because of all the artists who've come from here," Tilly said. "Everyone in town has something in their homes."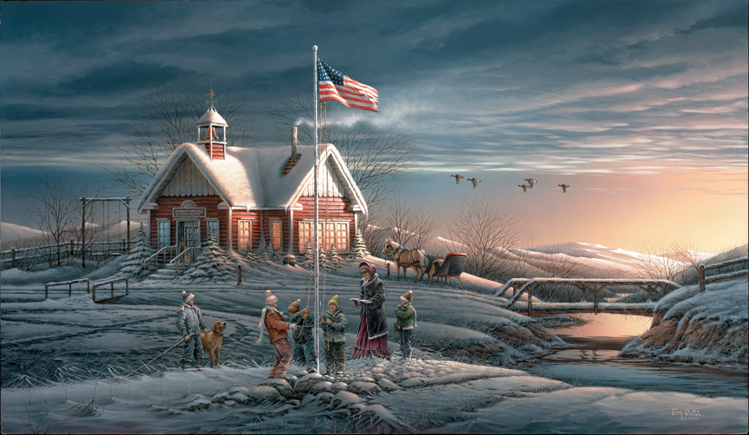 America.
That brings up another point.
Redlin and other wildlife artists have long been concerned that the wildlife art market has hit its saturation point. It's a concern his teacher Florence Bruhn said she shared with Redlin several years ago.
"He was doing really well with all the ducks and pheasants and that kind of thing. But you can have so many ducks and pheasants on the walls and then you run out of room," Bruhn said. "I told Terry you have to find something else."
Once he firmly established his niche in the wildlife market, Redlin began in the mid-1980s to diversify beyond wildlife themes. The themes have changed, but his landscapes haven't strayed too far from his boyhood haunts around Watertown.
One example is titled Amber Waves of Grain. It depicts a pioneer farmer teaching his wife how to use a one-bottom plow. The rolling prairie background was picked off a photograph Redlin took of landscape 4 miles east of Watertown along U.S. Highway 212.
Amber Waves of Grain is one-eighth of perhaps Redlin's most ambitious accomplishment to date, the "America the Beautiful" series of eight paintings. The series is Redlin's answer to his hero Norman Rockwell's notable patriotic series of Post covers on the "Four Freedoms." Each line in the first stanza of the song, "America the Beautiful," is the title of one of the eight paintings.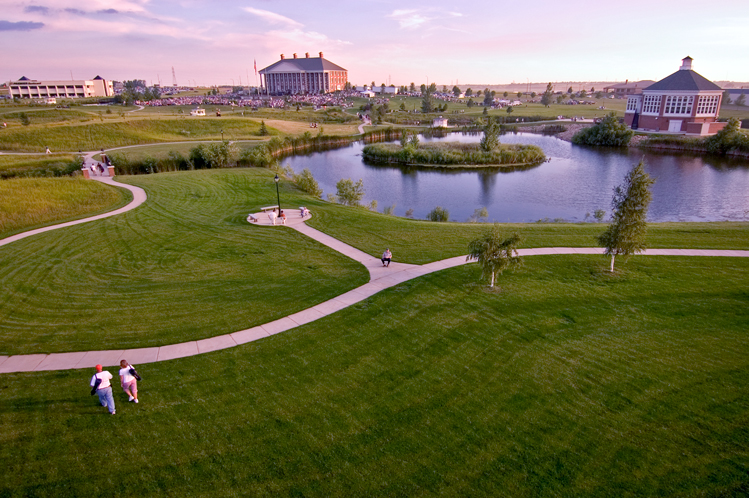 The art center campus includes a gazebo, pond and walking paths. A summer concert is held on the green every year. Photo by Chad Coppess/S.D. Tourism.
"It was a patriotic thing," Redlin said. "I've always wanted to do something like the 'Four Freedoms,' and I thought of doing a series like this, but I shelved it because it was too big a project."
Family members urged Redlin to produce the series, which he did over a span of several years.
"Six years ago, I got started and I got them done in between a lot of other projects," Redlin said. "I had to wait until all eight were done before I could start releasing them, so now we've been releasing one every four months."
The series is a hit in art galleries around the nation. Now Redlin's next big project is the Redlin Art Center in Watertown.
Redlin enjoys the financial security of his success, but he has not been affected by fame. It's fun to bump into his works unexpectedly.
The morning of our interview, a commercial during Good Morning America for a Wisconsin company flashed one of his works on the TV screen in his Lake Minnetonka home. The biggest surprise came during a recent episode of Matlock. Matlock, played by Andy Griffith, stood on one side of a fireplace, talking to a couple other characters while one of Redlin's prints, Golden Retreat, hung center screen over the fireplace.
"I have no idea what the conversation was. I was too busy calling for Helene to come in here and look at that," Redlin said.
Helene is Redlin's wife. They met in school in Watertown. They have one son, Charles, who is Redlin's assistant and constant companion in his work. The Redlins have two daughters, Kelly and Kim, and two grandchildren.
Beyond the arts center, Redlin says he hasn't set any ambitious goals, other than to keep painting and developing new ideas. He said he can't choose a particularly favorite painting from among his works.
"There are bits and pieces of every picture that I like. I can't say there is an ultimate favorite. I guess my favorite painting is the one I haven't painted yet," Redlin said. "The most fun of it all is the anticipation, coming up with an idea and thinking out the layout — making it all work together and balance. That's what keeps it exciting."