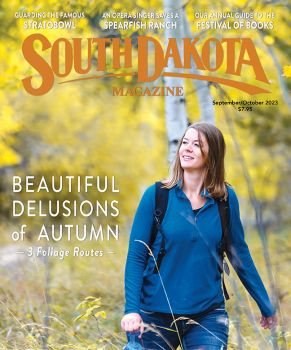 Subscriptions to South Dakota Magazine make great gifts!
Subscribe today — 1 year (6 issues) is just $29!

The Art of Growing Grapes
By Rebecca Johnson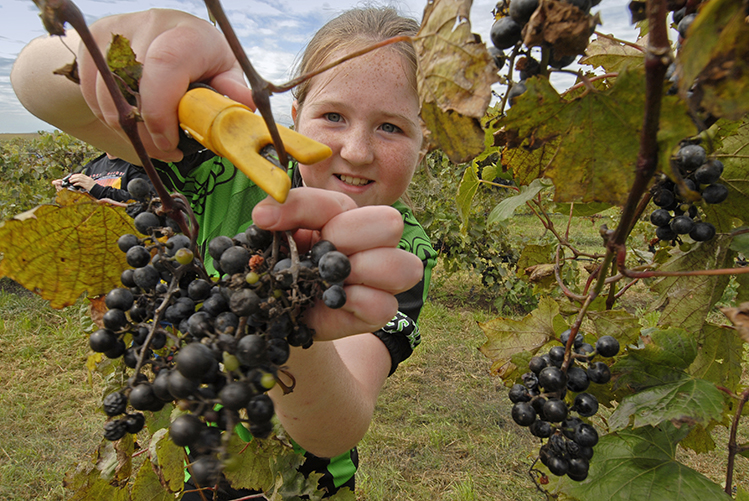 A young picker helps harvest during a grape stomping event at Schade Vineyard and Winery west of Volga.
South Dakota's climate is too cold for most common wine varieties to flourish. The only grape species that naturally performs well is Vitis riparia, also known as riverbank grape or frost grape. Fermenting quality wine from Vitis riparia is not common, but it is possible.
Eldon Nygaard trademarked the name "Wild Grape" after creating the first commercial wine from Vitis riparia in 1996. He used grapes found naturally along the Missouri River near Vermillion and on the Rosebud Indian Reservation to make what he considers a young Cabernet Sauvignon. Wild Grape has been sold throughout the United States, China and Paris, and served at the White House.
But South Dakota wine growers are no longer limited to the wild variety. University researchers in Minnesota and South Dakota have developed cold-hardy hybrids from Vitis riparia and Vitis vinifera, a species normally cultivated for wine. South Dakota State University Horticulturist Ronald Peterson released a grape variety bred for the plains and prairies called Valiant. The hardy blue grape is a cross between wild grapes he gathered along the Missouri River bottoms in eastern Montana and a hardy New York state variety called Fredonia.
The Valiant grape is less acidic than its wild parent, and its vines have survived temperatures below -40 and prolonged periods below -30 without bud injury. It was the first variety Nygaard and his wife, Sherry, planted for South Dakota's first winery, Valiant Vineyards. The Nygaards returned to Eldon's South Dakota roots in late 1992, having left Las Vegas for a prairie home that included a quarter section of farmland near Viborg. They'd seen how valuable vineyard property could be in the western United States and with that vision in mind, planted their first vines in 1993. Once grape production proved successful, they built a $1.5 million facility on the west edge of Vermillion. The rustic Buffalo Run Winery includes a bed and breakfast, tasting room and boardroom.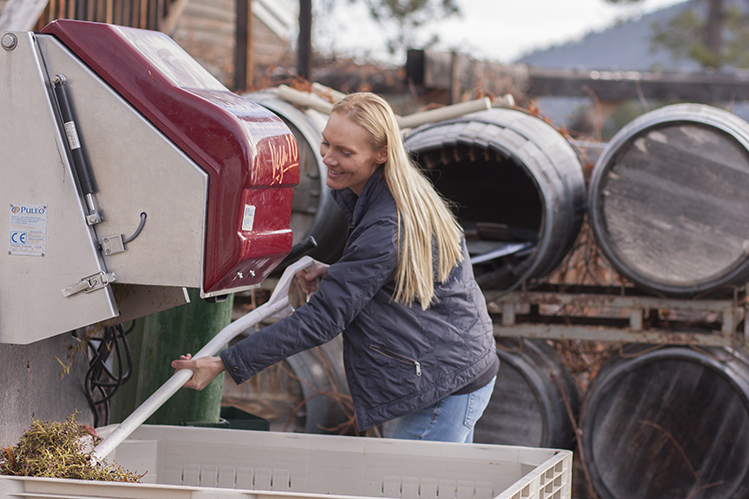 Sandi Vojta, a fifth generation winemaker, works with local growers to ferment wines at Prairie Berry in Hill City.
Numerous wineries and vineyards followed. The South Dakota Department of Revenue lists 28 operational licensed wineries with 134,972 gallons of wine produced in 2016. Meanwhile, the number of vine growers has grown from six farms in 1992 to over 100 today. Rhoda Burrows, professor and extension horticulturist at SDSU, estimates the current total acreage of vineyards at approximately 200 acres. They're located mostly in the southern half of the state. A longer growing season and slightly milder winter make the area more suitable for grape production, though vineyards do grow further north.
Jeremiah and Lisa Klein started With the Wind Vineyard & Winery in the northeastern corner of the state in 2012. They both grew up in South Dakota but lived in Summit County, Colorado for nine years after they were married. "We had two of our three kids there, but in 2009 we decided to come back and raise our kids in our home state," Lisa says. "We had our third child just a few weeks after we moved back, then we began farming." Jeremiah grew corn and soybeans on rented land for about four years. Then they started looking for a farm of their own.
The Kleins fell in love with a 20-acre farm south of Rosholt. "It had been abandoned for about 12 years and had lots of junk and an old house that needed to go away, but I think we could see the vision of the beauty of the land," Lisa says. Their homestead consists of rolling prairie with south facing slopes and sandy loam soil, which Jeremiah tested and found excellent for grapes. Though grape vines are adapted to a wide range of soil types, they thrive in land with good aeration, loose texture and good drainage.
Jeremiah says his property is not ideal for growing corn and soybeans. "You'd have to put in pivot irrigation. You'd have to fertilize like crazy. You'd have to do many things in order to get a decent crop off of it," Jeremiah says. "But we kind of feel like we're going with the wind in terms of what has already been placed here. We're not trying to force something."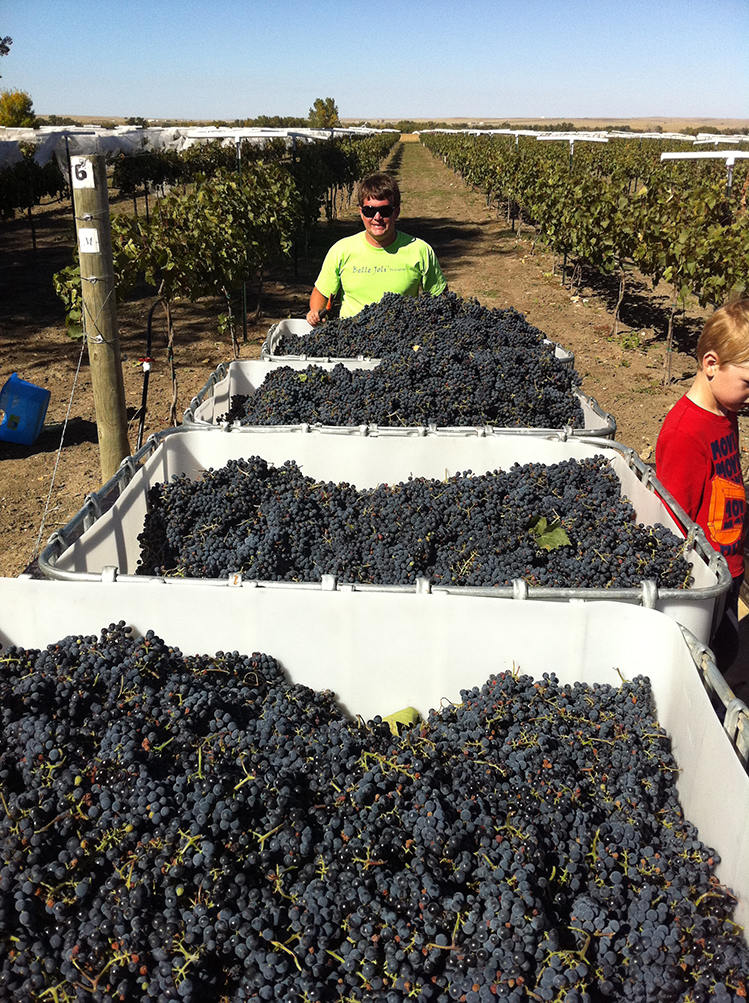 Matthew Jackson studied enology at California State University before starting Belle Joli' Winery in Belle Fourche.
Besides preferred soil type, the Kleins knew little about vineyard production. They started with a half-acre test plot and about 300 plants. When those did well they planted 600 more. Their vineyard includes four varieties: two for red wines (Frontenac and King of the North) and two for white (Frontenac Gris and Brianna). All are cold-hardy hybrids.
Unlike corn, beans and most traditional farm crops, grapes are perennials that take at least three years to establish, so the Kleins purchased from other growers to ferment their first wines. A vineyard's upfront cost is big, but Jeremiah says the crop is worth more per acre than corn or beans. Instead of needing 1,000 acres to make a traditional farm viable, a farmer could have a profitable vineyard with just 10 acres and the 25-year life span of a grape vine. (The world's oldest known vines in Maribor, Slovenia are over 400 years old.)
"When they've excavated old vines that have eventually died off in places like France or Italy, they've found that, if there's not compaction layers in the soil, their root zones will penetrate to nearly 30 feet. So when we're talking in terms of the volatility of climate, flooding versus drought, things like that, the vines are set up well in order to go through that," Jeremiah explains.
Crop failures in a vineyard are rare. The robust plants can survive stress, and growing grapes in an area with varied weather has advantages. "After we harvest in the fall, we can pretty much walk away from the vineyards until probably at least March," says Matthew Jackson, enologist at Belle Joli' winery in Belle Fourche. "In most grape growing areas, growers have to be in the vineyard year round because of pests and other issues. There are a few really serious diseases that devastate vineyards, but because it gets so cold here it actually kills off a lot of those things," Jackson explains. "I've never had to spray here in western South Dakota, where in most vineyard regions they do have to spray for mold and mildews."
Still, there are challenges. Birds can wipe out a ripened crop if vines aren't secured with netting. Hail can obliterate grapes and a late spring frost may damage buds, reducing production. "They can come back. They don't come back as productive as they would have been, but they'll still produce a new set of buds so long as it's only one freeze," says Jeff Wilde of Wilde Prairie Winery in Brandon.
Herbicides sprayed on neighboring fields and ditches are a major hazard. "The new danger is with Dicamba resistant soybeans — Dicamba is very damaging to grapes," says Rhoda Burrows of SDSU. Frontenac grape leaves have slight tolerance of 2,4-D, an active ingredient in many herbicides used to kill broadleaf weeds, but it still damages the fruit and can set the vine back a year or more. And most other cold hardy grapes are very susceptible to its volatile form, which can move quickly with the wind a mile or more.
"We really need to get the word out to farmers and ranchers that it's one thing to spray grandma's tomatoes once in a while by mistake, but it's another thing if you get your neighbor's grapes," says Dave Greenlee, who owns Tucker's Walk Vineyard and Farm Winery with his wife, Sue, near Garretson. "They're perennials and we're trying to make a living at this."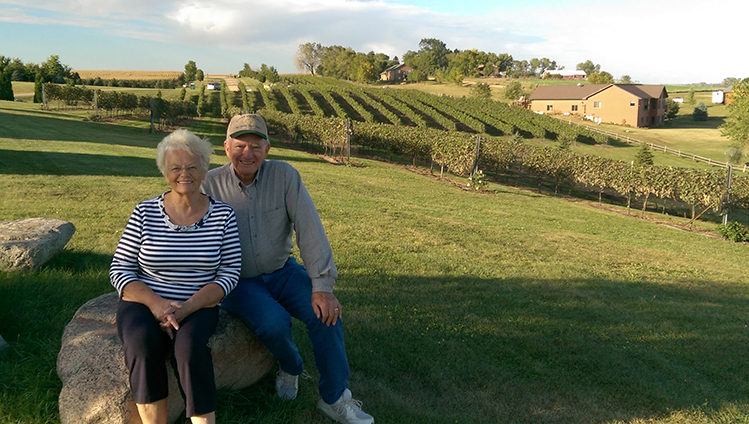 Russ and Laura Bortnem started La Ru Vineyards on Lake Campbell after Russ retired from a career as an airline pilot.
The Greenlees started their vineyard as a hobby in a small area of their horse pasture, but now have 5.8 acres on which they grow LaCrescent, Frontenac Gris, Brianna, St. Pepin, St. Croix and Marquette. Dave posts signs asking neighbors to spray after his vines are dormant.
People usually comply, because the Greenlees are good neighbors. They throw big parties at harvest time, inviting friends to pick and rewarding them with wine. Greenlee also invites the Augustana University wrestling team to work one afternoon each fall. "The wrestlers don't have a low gear — they're just wired to be competitive. So they're in a competition to see who can pick the most grapes or who's the fastest. Some of the local people come up just to see these wrestlers out there. Usually it's a warm, sunny day and they'll take their shirts off and everybody sits on the deck and watches the wrestlers work," he laughs. Greenlee donates to Augie's wrestling boosters to thank them for their labor.
Most South Dakota vineyards are picked by hand, but mechanical harvesters are available. Jim Schade, who co-owns Schadé Vineyard & Winery with his wife Nancy near Volga, uses a machine on his vines.
Russ Bortnem, one of Schade's suppliers and a retired airline pilot, founded La Ru Vineyards with his wife Laura on Lake Campbell in 2005. He recalls long hours of planting, installing trellis systems, netting for birds and picking by hand when they started. Like a lot of South Dakota growers, Bortnem feels the pride of growing quality grapes is worth the effort. "I'm an old farm boy and I just love the vines," Bortnem says. "They're beautiful to look at. It's a lot of physical labor, but I don't mind that at all."
Editor's Note: This story is revised from the May/June 2017 issue of South Dakota Magazine. To order a copy or to subscribe, call (800) 456-5117.