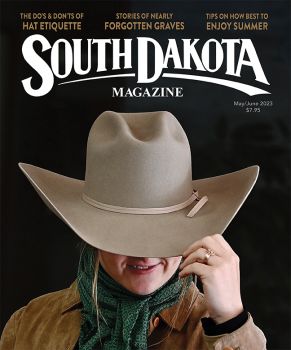 Subscriptions to South Dakota Magazine make great gifts!
Subscribe today — 1 year (6 issues) is just $29!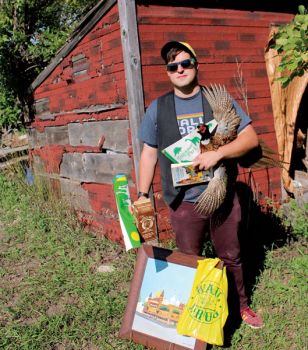 How Have You Said "Happy Birthday?"
Nov 4, 2014
I was 10 years old when South Dakota celebrated its centennial. I remember the wagon train rolling through Main Street of Lake Norden, and Marian Henjum's homage to homesteaders on the centennial postage stamp that she designed.
As the state turns 125, there have been several similar traditional celebrations. A wagon train rolled out of Yankton in September, making a 17-day journey to Pierre. Last weekend the South Dakota Symphony performed in the halls of the state capitol, as the dome's restored stained glass was officially unveiled. And there's cake today (Tuesday) at the University of South Dakota's Muenster Center.
In Sioux Falls, you'll find a quirkier celebration of South Dakota. You've seen the kitschy tourist ads that line Interstate 90 a thousand times, but you probably never thought of them as art. Neither did Altman Studeny until he was living in Maine, going to graduate school and missing the art and culture of the Great Plains. "My mind was filled with thoughts of the time I spent on the road, seeing examples of the unique visual culture that grows from the land and the history of South Dakota: jackalopes, grain palaces, cowboy orchestras, dinosaurs silhouetted in the evening sun," Studeny says.
Studeny is curator of a new exhibit featuring such items at the IPSO Gallery in Sioux Falls called "This Exit, Last Chance," running Nov. 7 through Jan. 30. It commemorates the 125th anniversary of South Dakota and the 10th anniversary of Fresh Produce, the Sioux Falls advertising agency that houses the IPSO Gallery on Main Avenue. Gallery director Liz Heeren knows it's an ambitious idea. "We can analyze them differently and celebrate them as the art pieces that they are," she says. "I think we'll see common threads. We'll see a do-it-yourself attitude that seems to come from South Dakota tourism. I love that about the pieces that we're collecting."
Participating partners include Wall Drug, the Corn Palace and Reptile Gardens, just to name a few. An opening reception is scheduled at the IPSO Gallery Friday, Nov. 7 at 6 p.m. Plan to attend, and wish South Dakota your best on its next 125 years.