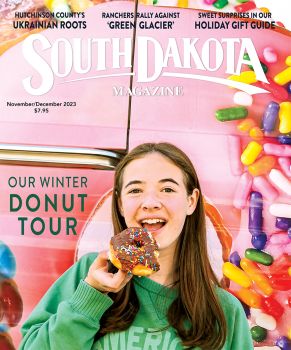 Subscriptions to South Dakota Magazine make great gifts!
Subscribe today — 1 year (6 issues) is just $29!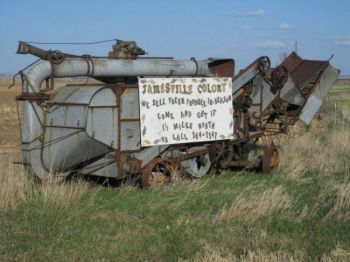 Threshing on the South Dakota Prairie
Editor's Note: This story is revised from the July/August 1996 issue of South Dakota Magazine. To order a copy or to subscribe, call 800-456-5117.
Threshing time meant hot, sweaty days of back-breaking labor with sun in your eyes and dust in your mouth and noise from the grinding gears of heavy machinery bouncing between your ears. Itchy, scratchy chaff clung to wherever your skin was bare. And work stretched out in front of you, bundles and bundles of work piled in shocks that meandered in crooked rows over the yellow-stubbled horizon.
Cowboys get lots of credit for working like fools for little pay all week and only getting into town on Saturday nights. Songs are sung of their riding and romancing. Some with good teeth even have a chance to make movies.
But no cowboy could match "woe was me" stories with a real thresherman. And even though the literary types who write the songs and books never did immortalize the threshing teams of the Great Plains states, their exploits are not forgotten. Their grey, steel-wheeled threshing machines (some call them separators) can be seen in all parts of South Dakota. Most were parked in tree groves, ready to be pulled from retirement when the new-fangled combine faltered.
When combines were first introduced in the middle years of the last century, no one trusted them to really work as promised. So a cautious farmer kept his thresher in the trees. He even kept it greased and oiled for safe-keeping. Once they felt comfortable with the combines, some worldly farmers pulled their threshers out by the road as a treat for tourists. There they sit today. City travelers still marvel at the contraptions. They mistake them for everything from primitive UFOs to tin-roofed covered wagons. Because the threshers were sitting by the road, somebody got the good idea of hanging signs on them. If nothing else, South Dakotans are a practical people. Nobody on Madison Avenue in New York City could have designed a more sturdy billboard.
Generally, the thresher signs point the way to the nearest museum. For many years, that's as close to the museums as threshing machines were allowed. The cowboys' saddles and boots and spurs were welcomed inside. But the threshing machine stayed out in the elements, left to rust and sink slowly in the sod.
It wasn't until the 1960s that some South Dakotans realized a part of their agricultural heritage could be lost. Efforts were begun to restore their old machinery and put it on exhibit with the cowboy's gear. The first organization to collect the machines on a grand scale was Prairie Village, which organized on the outskirts of Madison in 1961.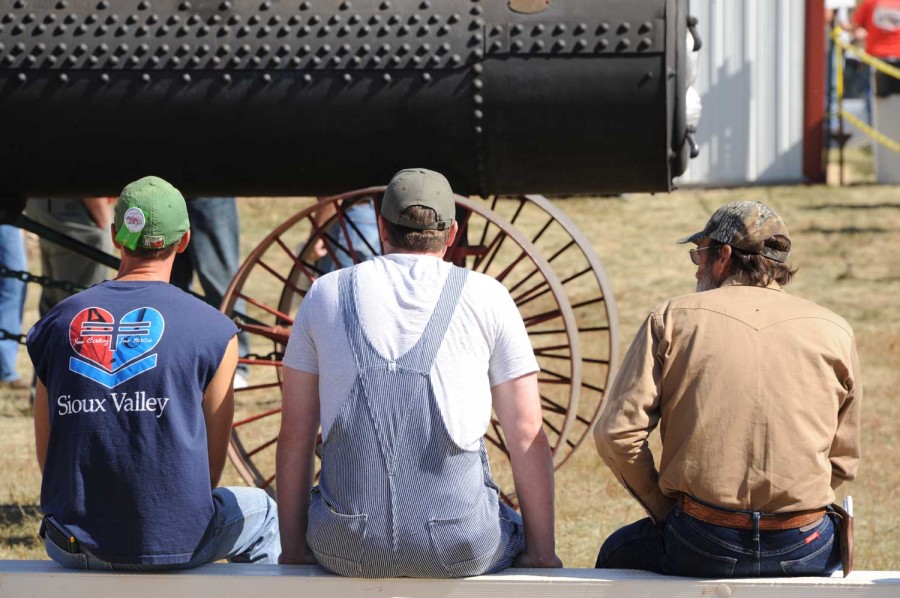 Farm history is fun for city and country folk alike at places like Menno's Pioneer Power Show. Photo by Bernie Hunhoff.
Several years later, the Western Dakota Antique Club was formed at Sturgis to preserve old agricultural equipment from West River farms. "We'd been taking in some threshing shows in other areas and we were getting itchy to get something started ourselves," said Ambrose Bachand, one of about 200 founders of the Sturgis club, when we spoke with him in 1996. Another founder, LeRoy Hardy, remembered when they hooked up to their first threshing machine and pulled it out of the tall grass. "It was in useable condition. It just had to be taken apart and cleaned and greased."
Hardy, Bachand and most of the original members of the West River club were farmers or had grown up on farms. But they said the popularity of the old machinery isn't limited to farm kids. "We've had lots of city people come to our shows," said Bachand. "It's a chance for them to see a little piece of history."
"When they look at some of these big tractors the pioneers used to break up the sod 100 years ago, it's plain you don't have to be a farmer to enjoy that," said Hayes.
Most threshing bees in the state have more than just a grain demonstration. Madison's Prairie Village Steam Threshing Jamboree, the granddaddy of South Dakota's harvest exhibitions, has over 50 turn-of-the-century buildings, including a sod house, country school, print shop, opera house and jail. Rides are available on steam locomotives. But old iron farm equipment still takes center stage. Farmers like to argue over whether the red (International Harvester) or green (John Deere) machines are most reliable; when if the truth were known, both colors and all other shades were cussed equally and repeatedly back in their real working days.
While there was little romance and adventure associated with the oats and wheat harvest 50 years ago, perhaps a certain nostalgia has settled in. All these celebrations seem to be a fitting remembrance to the threshing culture, which has a lot of catching-up to do to take its deserved place besides the cowboy mystique.
---
Grab a Pitchfork ... Or Just Watch
Every threshing celebration has its own flavor, depending on the talents and collections of the local people. Visit one of South Dakota's threshing demonstrations and volunteer to pitch a bundle or two to get a taste of our agricultural history.
Aug. 3-5: Southeast South Dakota Threshing Show, Lennox. 712-737-2671.
Aug. 10-12: Humboldt Threshing Show.
Aug. 11-12: Twin Brooks Threshing Show.
Aug. 17-19: Black Hills Steam and Gas Threshing Bee, Sturgis.
Aug. 18-19: Rosholt Area Threshing Bee.
Aug. 23-26: Prairie Village Steam Threshing Jamboree, Madison.
Sept. 7-9: James Valley Threshing Show, Andover.
Sept. 8-9: Kuchen & Old Time Harvest Festival, Delmont.
Sept. 22-23: Pioneer Power Show, Menno.
Sept. 28-30: Coal Springs Antique Show & Threshing Bee, Meadow. 788-2854.