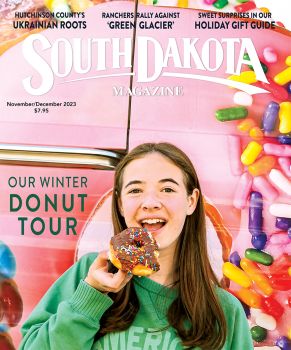 Subscriptions to South Dakota Magazine make great gifts!
Subscribe today — 1 year (6 issues) is just $29!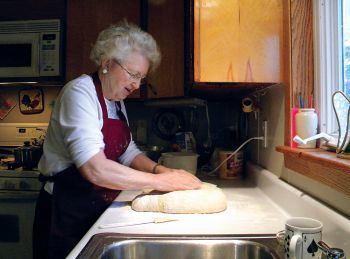 Timber Lake's Holiday Tradition
Every Christmas, cooks near Timber Lake share recipes for a local holiday cookbook. Kathy Nelson and her late husband Jim, longtime publishers of the Timber Lake Topic, began printing the cookbook in 2003. "We get quite a few German and German-Russian recipes, reflecting the ethnic population here," Kathy says. "Recipes for kuchen and knoephla soup spelled all different ways."
The books arrive with the newspapers in December, and it's an issue readers anticipate. "Each year we get calls from readers who didn't receive the cookbook," Kathy says. "Two years in a row we got a call from the Department of Revenue in Pierre the day after the holiday cookbook was mailed. Both times, I thought, 'Oh now, did I mess up on my sales tax report?' But both times it was the office staff letting us know that their newspaper had arrived without the cookbook," Kathy laughs. "We aren't blaming the U.S. Postal Service or the capital mail room staff, but we do wonder why that happened to that cookbook two years in a row."
For ordering information, call the Timber Lake Topic at (605) 865-3546.
---
Caramel Rolls
Mary Biegler of Timber Lake is a regular contributor to the Topic's Holiday Cookbook. This recipe makes around 36 to 40 rolls so you will need at least three 13-by-9 inch pans. The rolls can be made all at once or begin in the afternoon and let the rolls sit in a cool spot overnight in the pans, then leave on the counter for 1 hour before baking in the morning.
4 1/2 cups water
2 cups sugar
2 tablespoons salt
1 cup shortening
12 cups flour (divided into 4 cups and 8 cups)
4 eggs, beaten
2 packages of yeast (or 4 1/2 teaspoons)
additional sugar, cinnamon and butter to sprinkle on dough
Bring 4 cups of water and 2 cups of sugar to a simmer for about 5 minutes until the sugar dissolves. Add 2 tablespoons of salt. Add 1 cup of shortening while the mixture is still hot. Allow to cool.
Mix together 4 cups of flour, 4 beaten eggs and 2 packages of yeast, which has been dissolved in 1/2 cup of warm water. Add this to the original mixture. Mix in additional flour — Mary estimates between 7 and 8 1/2 cups, but remember to keep the dough soft. Knead for 5 minutes. Allow to rise in a large, greased bowl until doubled in size. This could take from 1-3 hours. In the meantime, make the caramel sauce recipe below and divide it among the pans. When the dough has doubled, knead again, divide the dough in half and roll out each half into a long rectangle about 10 inches wide by 15 inches long. Butter each rectangle and heavily sprinkle with a half and half mixture of sugar and cinnamon. Roll the rectangles up starting from the narrow side then slice into 1-inch thick pieces. Mary uses a thread instead of a knife to get cleaner cuts.
Place rolls into the carameled pans, leaving about 1/2 inch space between each. Let rise until doubled. Bake at 375 degrees for 20-24 minutes.
Caramel
2 cups white sugar
2 cups brown sugar
2 cups butter
2 cups vanilla ice cream
Simmer the two sugars and butter until it boils for 1 minute. Remove from stove and add 2 cups of ice cream. Mix well and pour into 13-by-9 inch pans before placing the rolls inside.
Editor's Note: This story is revised from the November/December 2013 issue of South Dakota Magazine. To order a copy or to subscribe, call (800) 456-5117.