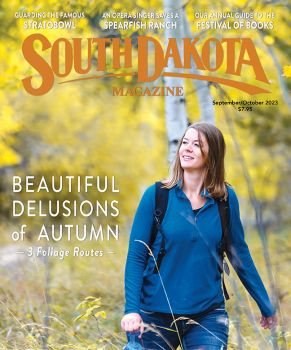 Subscriptions to South Dakota Magazine make great gifts!
Subscribe today — 1 year (6 issues) is just $29!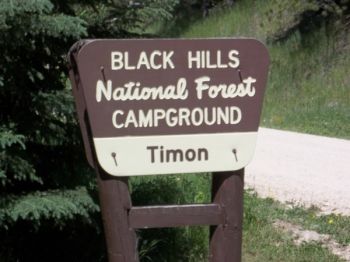 Timon Cave
Jul 23, 2013
YES TRISH – IT'S STILL THERE
Everybody likes an adventure. After reading my column on Devil's Bathtub, Trish commented about a cave that her mother had taken her to decades ago:
"There is a hidden cave up Roughlock Falls Road. The entrance is hidden up on a hill across from a camping area (I believe it is called Timon Campground. The cave is named after it). Last time I was there, a pine tree had fallen across the entrance. It is near impossible to find now unless you know exactly where it is. The entrance is small anyway. You have to crawl into it. Once inside you'll see the cave is well lit because it goes all the way through the ridge. The other opening is large and provides breathtaking views of the area. My mother showed me this cave as her father (the one who found it) showed it to her."
The search was on. Trish hadn't been there in over thirty years, but her memory was good — and the cave hasn't moved. But like many of the best hikes in the Hills, there are no signs or marked trails for Timon Cave.

TIMON CAMPGROUND
About four miles above Roughlock Falls you'll find Timon Campground. It's just past the marker where they cut down the South Dakota tree that became the national Christmas tree. It's a pretty little fee camping area with a creek running past. If you were only looking for a restful place to have lunch, this much of the trip alone would be a success. But the cave requires a little more work.

LOOK UP
At the entrance to Timon, if a person stands and looks across the road from the campground, there's a hill — a big hill. Actually, it's more of a wall with some trees sprouting from it. The wall has a washout that runs straight down to where you are standing, and that's where the climbing commences. There is a tree laying in the washout that functions like a guard rail to hold onto and keep you from sliding backwards with every step. The hike isn't that long, it's just all up — straight up.

AT THE TOP
When you've run out of log to hold onto, climb about another twenty yards straight up to a stump. This is a well-designed stump. If you get above it, it's just about waist high. You won't need prompting to figure out that God put that stump there for you to park your rear against as a rest and to aid in the battle against gravity. To the right of the stump (and up, of course) is a trail that leads to a ledge. A short walk along the ledge and you've found the cave entrance.
SEE-THROUGH CAVE
Ok. I'm comfortable enough in my masculinity to admit that I am way not into bats, maybe even scared of the little vampire wanna-bes. I don't want to have them in my hair, I don't want to walk in their guano, and I surely don't want to provide their nourishment (you get a bunch of rabies shots for that one). So, we took my yellow farm gloves in case I'd be crawling on guano, my purple Sisseton Livestock Sales barn hat (no bat nesting through that), and a flashlight (ok, it's not as efficient as baseball bat — but it's a lighter carry). Happily, Timon Cave has NO bats, just a great view.
You can see through the cave to the entrance on the other side that overlooks a huge canyon. Since there are no bats, you can happily crawl into the cavern and enjoy the view. The cavern is roomy enough for you walk around in, square dance about or throw a party. It's pretty clear from the initials on the walls that your event wouldn't be the first one held there.

WORTH THE TRIP
The view is stunning. Take a lunch and enjoy it. The setting is perfect for sitting in the sun and looking out over the canyon on either side. But remember that whole Isaac Newton thing about stuff going up, because down is no picnic. That gravity thing doesn't seem to understand that you want just a little of it at a time with each step; it would prefer to dump the whole load on you at once. Straight down felt a lot steeper on the descent than it did on the way up.
As for Trish, who wanted to be able to tell her mother about what happened to the cave they hiked to in the last century, she can tell her mom it's got centuries more life in it. And it's safely tucked away, way up there in the canyon wall.
Lee Schoenbeck grew up in Webster, practices law in Watertown, and is a freelance writer for the South Dakota Magazine website.