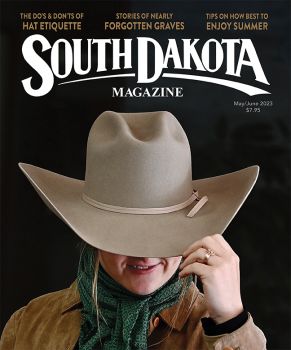 Subscriptions to South Dakota Magazine make great gifts!
Subscribe today — 1 year (6 issues) is just $29!

An Epic Disaster
Apr 9, 2012
I believe that you have two lives: the one that you live and the one that you spend watching Titanic. This Easter I sat through the film a second time. Either that or I went into the theater in 1997 and just got out. I can't be quite sure. Officially, the film clocks in at a mere three hours and fourteen minutes.
I am sure that when you add ten minutes of driving time and a half hour each of advertising and previews, the total is slightly longer than the time it takes to properly cook a thirty-seven-dollar rib roast. This is to say that it does not quite add up to a tragedy.
Both theology and the culinary arts will back me up on this much: a medium rare or better yet rare rib roast, charred just a little on the outside, is pretty much what the Divine Author of our world had in mind when he cobbled together the cow. If a well-done rib roast were all we had to go on, we might still conclude that God wants us to be happy. We would nonetheless be denied a glimpse of His perfection.
I would have been more amused if the advertising had not consisted largely of sales pitches for cars and body products or if the previews had not included colorful talking animals and equally loquacious fairies. Perhaps it is not fair to blame director James Cameron or the White Star Line that launched the ill-fated ship for the fairies or a preview for The Avengers.
It would also be unfair to say that Titanic is a bad movie. It is a solid romance. The primary roles were undemanding but more than adequately played. If you wonder how I could be persuaded to sit through it again, it was pointed out to me that I would get to see Kate Winslet posing with nothing on but a gaudy jewel necklace, in 3-D! I suspect that all over America, wives have been making that sales pitch to their husbands. I figured out all on my own that I would get to see Leonardo DiCaprio freeze as solid as a Thanksgiving turkey bought a year in advance. Such are the perils and the prizes of life.
Visually, Titanic is spectacular. The art and architecture of the ship, masterfully recreated, the scenes of men stoking boilers while giant pistons churn, and the actual views of the dead ship lying where it crashed into the ocean bottom, these were the things that lived up the hype that still surrounds the film. The geometry of doom as the ship sinks, the inexorable level of the sea against the declining angle of the deck, was as convincing as it was compelling.
There were also a number of masterful if mostly marginal performances. Billy Zane played the robber baron to whom Winslet's Rose DeWitt Bukater was engaged. His was a one-dimensional character, but Zane was striking in that role. Kathy Bates was superb as the unsinkable Molly Brown. Victor Garber played the ship's designer Thomas Andrews. Watching Garber go from nervous pride to tragic guilt, cursed in both cases by what he knew too well and could do nothing about, ought to inspire a new category at the Oscars. You could call it Best Actor in a Tiny Role Putting the Rest of the Film to Shame.
Okay, I confess, I actually enjoyed the movie a second time. Don't tell anyone, but I cried at the end. I am as susceptible as your average moviegoer to the charms of tragic love, gorgeous cinematography, and an appalling loss of life. I should also admit that the rib roast was still very good.
Dr. Ken Blanchard is a professor of Political Science at Northern State University and writes for the Aberdeen American News and the blog South Dakota Politics.