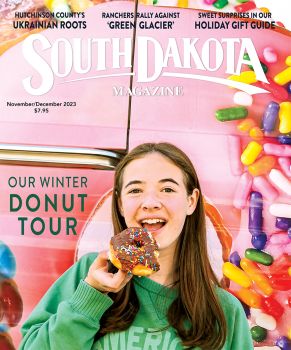 Subscriptions to South Dakota Magazine make great gifts!
Subscribe today — 1 year (6 issues) is just $29!

Gorillas, Honkers and Beetdiggers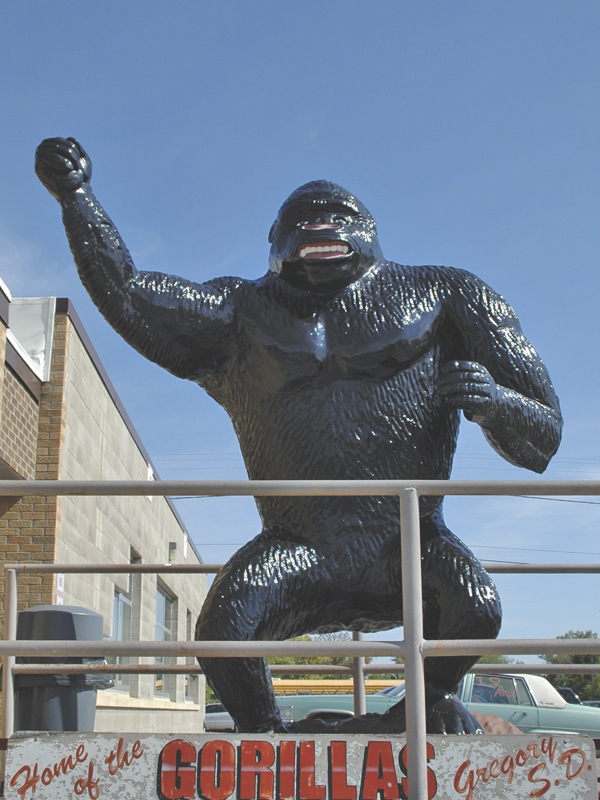 A fierce fiberglass ape welcomes fans to Gregory's football field.
Editor's Note: This story is revised from the March/April 2001 issue of South Dakota Magazine. To order a copy or to subscribe, call 800-456-5117.
Unless a small town is blessed with a tornado or some other natural disaster, its residents are pretty much resigned to the fact that they'll never see their community on the evening news. That's why high school sports are so important in South Dakota — they're an opportunity for small towns to get statewide recognition without having to experience death and destruction.
Because towns identify with their teams, the powers who decide such things often look to graceful, powerful animals for mascots. Bears. Bobcats. Golden Eagles. But there are those who take the road less traveled, mascot-wise, and opt for…something else. Which is how the Gregory Gorillas, Turton Frogs, Claremont Honkers, Waverly Woodchucks, Bruce Bees and Provo Rattlers came to be.
Others forego the animal kingdom for dashing role models. Knights. Cavaliers. For those who want a little outlaw in their mascots, however, we have the Sioux Valley Cossacks, Ethan Rustlers and Bristol Pirates. Other communities choose to honor less romantic figures. The Keystone Dynamiters, Armour Packers and Newell Irrigators, for example. Two schools even found inspiration in the sugar beet fields, which yielded the Vale Beetdiggers and Nisland Beettoppers.
Then there are those officials who truly went where no man had gone before, like the ones who settled on the Irene Maroons. (No doubt to the team's relief, they later became the Cardinals.) Lastly, we salute the too-clever-for-their-own-good group, which would certainly include whoever came up with the Quinn Tuplets.
One South Dakotan, Jerry Miller, has been collecting sports stories for a long time — he started cutting basketball pictures out of the newspaper when he was still in grade school. His list of state schools and their sports team nicknames grew out of that hobby.
One of the more unusual state names belongs to the Sturgis Scoopers, which most people assume has something to do with mining. Not so, according to Miller. Back when nearby Fort Meade was a frontier fort, the soldiers would make their way into town, where they were often relieved of their pay by dance hall girls and card sharks. The local term for those folks was "scoopers" — they scooped the money out of the soldiers' pockets. Hence the name honoring these previously ignored citizens.
"My favorite is Monroe," said Miller. "They were the Canaries to begin with. Then just after the turn of the century a lot of Dutch people moved into the area, so they became the Monroe Wooden-Shoed Canaries."
When ESPN had a program on unusual sports team names, Miller submitted the Monroe mascot to its producer. "They thought I made it up," laughed Miller. "They wanted to know what I'd been drinking!"
There will be no Wooden-Shoed Canaries in this year's matches. Monroe's school is long closed, and for reasons unclear, no other has taken up the name. Likewise, no Beetdiggers or Beettoppers will take the court. Such names will live on only in the memories of "guys as goofy as I am," laughed Miller.
When longtime Yankton sportswriter Hod Nielsen wrote a column about Miller and the sports team names he'd collected, it prompted a tongue-in-cheek follow-up story about new and improved names.
How about an athletic team known as the Allen Wrenches? Who would want to meet the Blunt Instruments on a football field? Could any athlete hold his head high if he was a member of the Custer Puddings or Lemmon Aides? Imagine the time announcers would have if the Florence Nightingales, Garretson Keillors, Gregory Pecks and Clark Kents were thrown together for a tournament.
What about the Irene Good Knights? Marion Ettes? Wall Papers? Emery Boards? Faith Healers? Last but not least, can you imagine having to face the Webster Dictionaries on the field of athletic battle? Consternation would almost certainly ensue if they prevailed.
"We hasten to assure anyone who might take offence that there is none intended," said Nielsen of his efforts. "It's just that, in the middle of a cold winter, the mind wanders."