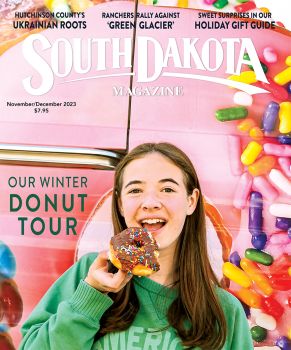 Subscriptions to South Dakota Magazine make great gifts!
Subscribe today — 1 year (6 issues) is just $29!

The Cycle of Violence
Feb 21, 2012
When a couple enters into a relationship it is supposed to be a lifetime commitment "to love, honor and cherish." Couples in committed relationships or marriages would do well to express their love for one another on a daily basis.
I believe many of us do not understand what relationships entail. Being involved in a relationship takes a lot of effort. Many of us get involved with members of the opposite sex (or the same sex) very early in life. Do you remember your first love? The initial romantic relationship we experience as a young person usually sets the stage for the ones which might follow.
I see many dysfunctional romantic relationships and marriages. Many unions are all about power and control of another human being, in my opinion. When you add alcohol or drugs to this dysfunction you are bound to have disasters.
Nowadays, there is an extreme amount of violence in many romantic relationships and marriages people entangle themselves in. And when our children are involved they are often forced to watch the conflict adults engage in. Sometimes the children are caught in the middle of the adult relationship conflicts when they are used as a bartering tool. These are not healthy behaviors.
When you grow up watching your parents drink and fight it definitely will affect your outlook on life. You may come to many conclusions about relationships when your father and mother display a dysfunctional or violent marriage on a daily basis for you to see. As an adult you might unwittingly find yourself in a similar union with a romantic companion. We are so very good at carrying on the vicious cycles our parents or the other adults in our lives role model for us.
Our children grow up witnessing violent incidents in their own homes or on their own streets. Watching the casual violence displayed by the people who drink heavily or use drugs on a regular basis is hurting our children.
We have to be the change for our future. Many of us grew up witnessing violence in our families and communities. Personally, I would rather my grandchildren not see any violent acts at home or at school but I cannot control the actions and behavior of everyone out there. You are the only person who can control yourself.
If you see a violent act occurring please call the police. Do not turn a blind eye when someone is getting hurt. You might save a life by calling for help.
If you are in an abusive relationship please take courage and leave. You risk your very life and the lives of your children when you remain in a violent relationship. Who will care for your children if he kills you?

Vi Waln is Sicangu Lakota and an enrolled member of the Rosebud Sioux Tribe. Her columns were awarded first place in the South Dakota Newspaper Association 2010 contest. She can be reached through email at sicanguscribe@yahoo.com.