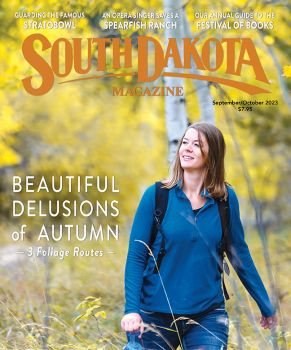 Subscriptions to South Dakota Magazine make great gifts!
Subscribe today — 1 year (6 issues) is just $29!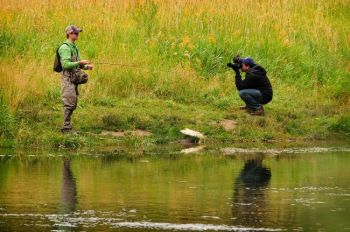 South Dakota Web Roundup
Sep 28, 2012
Staff from South Dakota Magazine will be cavorting at the South Dakota Festival of Books in Sioux Falls this weekend, getting downright literary with other book lovers. Come say hi to us in the exhibitors' hall and leaf through our new book, Outlaws and Scofflaws. For festival updates, read Sioux Falls Booknotes, visit the festival's Facebook page or follow the #sdbookfest hashtag on Twitter.
As long as you're in Sioux Falls, swing by the Northern Plains Indian Art Market. It's the 25th annual celebration of Native American art forms.
The Capitol Theater in Aberdeen is screening an international selection of films at the South Dakota Film Festival. Some of the films have South Dakota ties. For example, Requiem for Emily was filmed here in Yankton!
If the Black Hills seem to be swarming with cameras this weekend, there's a reason. Photographers are gathering in Spearfish to hone their craft and capture South Dakota's beautiful landscapes as part of the Black Hills Photo Shootout.
Saturday night's Double Header at the BrickHouse in Madison could be the last. The show features music by Phantom Balance of Sioux Falls and art by Carly Rochelle, Angela Meyer, Matt Caffee and William Henderson. The Madison Area Arts Council recently reported that they must restructure or possibly disband their organization due to insurance concerns, so if you're in the area, please stop by and show 'em a little love.