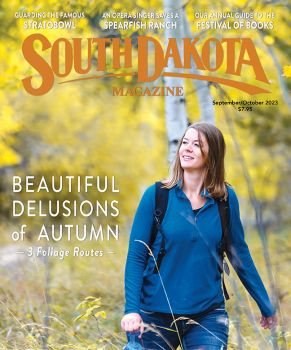 Subscriptions to South Dakota Magazine make great gifts!
Subscribe today — 1 year (6 issues) is just $29!

We're Back!
Jun 9, 2011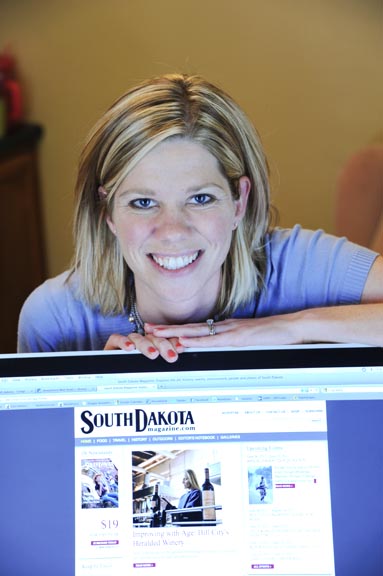 Heidi Marsh, our marketing director, is pioneering our online efforts.
Hopefully you've missed South Dakota Magazine's online presence. Well, here we are with a new look and some new content. We've had many meetings and work sessions, trying to plan for the best possible site for our readers. We have a vision for this to be a site that celebrates life in South Dakota.

Please visit us often for stories — some written just for the Web, and others revised from past issues of the magazine. We'll also provide an up-to-date calendar of events, colorful photo galleries, recipes and food stories. Several columnists will bring new perspective to the site, and we're making other plans as well. We'd like this to be an everyday extension of our magazine, which we print six times a year. We have a lot to share in between issues!

Our marketing director, Heidi Marsh, is pioneering our online efforts. She ushered us into the online world when she joined our staff by getting us on facebook and twitter and sending out e-newsletters. Now she is becoming a web expert by learning the ins and outs of web design and function. Here's a little interesting trivia on Heidi — she is 26 years old, the exact same age as South Dakota Magazine. She was even born in the same month our first issue appeared on newsstands.

What you see here is just the beginning. Tell us what you think of this new look, and what you'd like to see more of (or less).

In other magazine news, we're sending our July/August issue of the paper magazine to the printer today. It will be on newsstands by July 1. Our magazine staff will be celebrating after work this Friday on the dock at Yankton's historic Ice House. Stop by and break a beer bottle with us. It's an Ice House tradition.