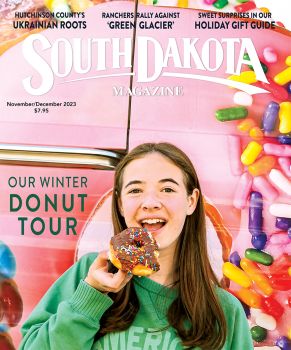 Subscriptions to South Dakota Magazine make great gifts!
Subscribe today — 1 year (6 issues) is just $29!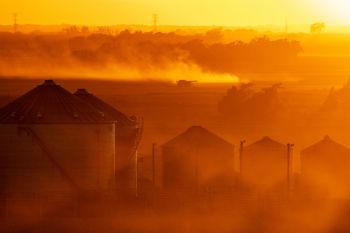 When Seasons Collide
Nov 21, 2023
By Christian Begeman
October on the Northern Plains can be fickle. One day might bring perfect autumn hues and warm sunsets, and the next may bring bone chilling wind that carries the autumn leaves to parts unknown, replacing them with snowflakes and frost. Every so often, the seasons combine without the soul sucking wind and a brief period of visual magic descends on our landscapes. That's exactly what happened this fall in southeastern South Dakota.
On October 21, I broke away from the usual and took a drive. Yankton County was my eventual endpoint, but I didn't really know that when I left. As many of you know, country churches are a favorite subject of mine. With one of those nearly perfect fall evenings developing, I headed toward a cluster of churches, hoping to find some autumn magic. St. Columba, Faith United and historic Vangen churches made their way into my viewfinder. The late afternoon and early evening light accentuated the fall colors, and all was well with the world.
The winds held back for another week, so when the first snow of the season arrived, the color of autumn and white crispness of winter merged. I noticed a couple of birds hanging out in the trees of our courtyard, staying out of the snow presumably. One was a robin, which is part of the robin family that nests in said courtyard, but the other was a rare-to-me fox sparrow. This bird has pronounced rusty tones and is one of the prettier sparrow species.
After photographing the birds, I decided to see what else was happening around Sioux Falls as the snow fell. Sherman Park had many trees still in full autumn splendor, and I discovered large flocks of winter birds and migrating sparrows there, as well. Dark-eyed juncos and Harris's sparrows were the most abundant.
I finished the afternoon taking a walk along Split Rock Creek in the upper portion of Palisades State Park. The temperature hovered right around freezing, so the rocks were slick, and the going was slow. Even so, the walk did my soul good, as it usually does in our scenic areas. The drive home, on the other hand, was a bit dangerous. I've always noted the signs warning drivers that the stretches of highway atop bridges often freeze first. On this day I witnessed it and saw a couple near accidents happen just in front of me on Interstate 90 between Brandon and Sioux Falls. Winter weather, for all its potential beauty, can still wreak havoc. Sioux Falls received just a skiff of snow, and we have had none since. And that is okay with me.
Christian Begeman grew up in Isabel and now lives in Sioux Falls. When he's not working at Midco he is often on the road photographing South Dakota's prettiest spots. Follow Begeman on his blog.