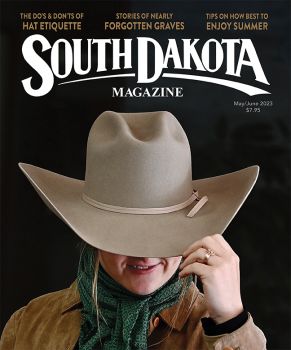 Subscriptions to South Dakota Magazine make great gifts!
Subscribe today — 1 year (6 issues) is just $29!

What Happened in Wilmot
Feb 24, 2015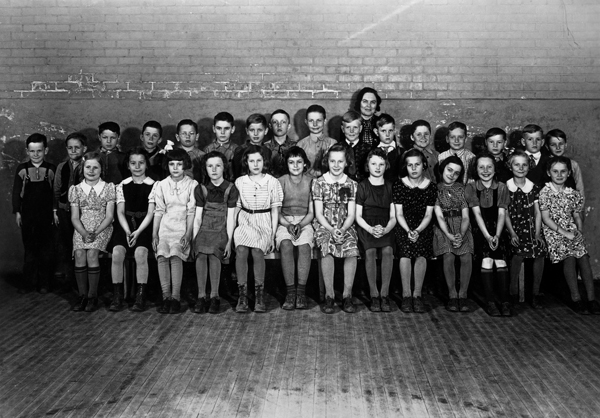 Gloria (Chellis) Jolgen (front row, fifth from left) was the only student seriously injured when the water tank at the Wilmot school exploded in February 1939. Our story on the explosion was published last summer. We couldn't locate her for an interview, but she contacted us after the story appeared.
In our May/June 2014 issue we recounted the story of a near-disaster that took place on Feb. 17, 1939, in Wilmot. A water pressure tank in the school basement burst and was hurled upward through Miss Frances Cummins' third and fourth grade classroom, splintering the floor and desks and scattering 29 terrified students. Only one student, Gloria (Chellis) Jolgen, was seriously injured. We weren't able to track her down before we wrote the story, but she contacted us after the article appeared. Here is the letter she wrote from her home in Springfield, Oregon.
I wouldn't have been in that classroom but for the fateful decision made by my parents and Miss Cummins. That was my second year in fourth grade because I missed three months in second grade when I contracted whooping cough. That led to a severe case of pneumonia and near death, which left me so weak that it was some time before I could stand and walk again. My teacher, Miss Youngberg, passed me on to third grade, and Miss Cummins did the same from third to fourth grade. It was then they decided to have me repeat the fourth grade. I didn't like it, but I realized it was best for me.
After the explosion, when I couldn't be accounted for, a search was made. I was told they found me under the sand table located on the opposite side of the classroom from my desk. The sand table contained sand, Indian figures and teepees that students could play with when they finished their assignments or during recess on colder days in winter.
I was taken to Miss Youngberg's first and second grade room and placed on her fur coat on the floor. Afterwards I was sad to hear that the coat lost a patch of fur due to the bleeding from my head.
At the hospital, Doc Harris treated lacerations all over my body, removed splinters from my head and took stitches. There were indications of fractured ribs so he wrapped my torso with ace bandages from my armpits to my waist to help my breathing. I'm told I was in and out of consciousness for several days, so my parents transformed the breakfast nook into a recovery room where my mother cared for me.
My parents felt my back injury was serious enough that they took me to a clinic in Britton. I was fluoroscoped from head to toe, and received osteopathic and chiropractic treatments that have continued throughout my life.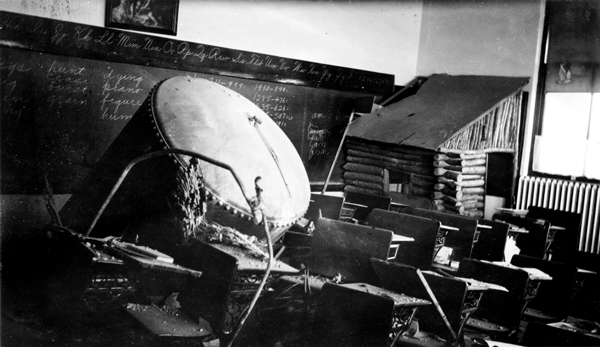 The tank came to rest in Frances Cummins' classroom.
My parents attended the next school board meeting to hear about the cause of the explosion and to determine whether the school would help defray my medical expenses. They were told that a valve on the water tank had been welded rather than replaced the summer before, and it failed. I only learned years later that three board members came to call at our home after that meeting because they were concerned about a lawsuit. My parents never did file a lawsuit because they were realistic, and well aware of the school's financial position in those days of the Great Depression. As they say, "You can't squeeze blood out of a turnip."
We lived in Wilmot until my eldest sister graduated from high school in the spring of 1941, two years after the explosion. That fall we moved to Springfield, Oregon. Many people from South Dakota came to visit us and decided to stay. Dr. Harris' daughter, Mary Margaret, was one of them. Frances Cummins also came, and stayed a couple years after finding a job as a housemother at Sacred Heart Hospital Nursing School in Eugene.
Frances Cummins' gift to me was self-confidence. She coached me in preparing for the county and state declamatory contests where I won Superior ribbons. This training prepared me for a singing competition that landed me a scholarship to the University of Oregon and a role in the Oregon Centennial Celebration of 1947. I will always be grateful to her.
Editor's Note: Roger Holtzmann's story on the Wilmot school explosion appeared in the May/June 2014 issue of South Dakota Magazine. To order a copy or to subscribe, call (800) 456-5117.