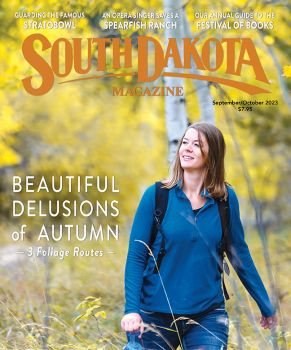 Subscriptions to South Dakota Magazine make great gifts!
Subscribe today — 1 year (6 issues) is just $29!

Witten: A Town on the 100th Meridian
By Bernie Hunhoff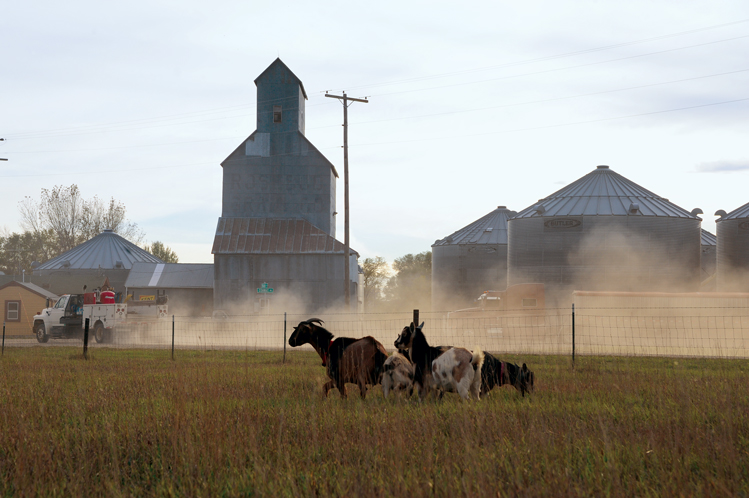 Seventy people and two goat hers share space in Witten, one of only a few towns that sit exactly on the 100th Meridian.
Disguised between glossy pages of beautiful photographs in Andrew Moore's book, Dirt Meridian, are harsh themes of survival, loss, emptiness and isolation. Witten is one of a handful of small South Dakota towns with a longitudinal reading of exactly 100 degrees.
Wondering what life is like in a gateway town to the hard country, we traveled to Witten to find the answer. We arrived via S.D. Highway 44 on a late-autumn morning. Main Street was thick with the dust of white 18-wheelers trucking corn and milo to the local grain elevator. Cars were coming and going from a little gray post office. A block away we saw a light in the Village Grocery, so we stepped inside and met Kenny Van Kekerix, the proprietor.
We told him we didn't expect to find a grocery store in a town of 70 people. "It's a good thing I'm retired so I can keep it open," laughed the tall, cheerful man of 75 years. Wearing a brown plaid flannel shirt and overalls, he presided over the cash register with just the proper amount of dignity you hope to see from someone operating the last retail establishment in your town; a blend of business and "old buddy."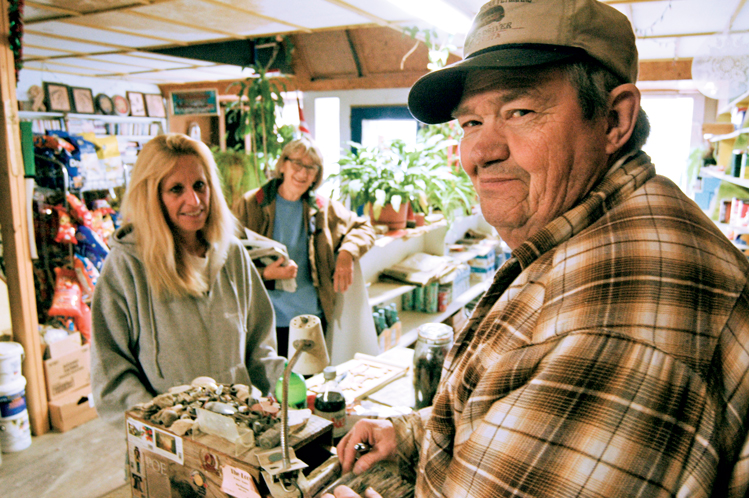 When he's not working, grocer Kenny Van Kekerix creates wood cutouts of South Dakota and other states.
Van Kekerix and his wife, Sandy — who has a day job at the Holiday Inn in Winner, 16 miles away — stock the old store's shelves with canned vegetables, frozen pizza, milk, candy, cigarettes and soda. "Enough to keep you alive until you turn the key and drive," he says. "We used to have cosmetics, but we were dropped. We used to have a seed corn license but it was dropped. There were a lot of franchises we've dropped."
The word 'dropped' sums up the town's history. Witten was created in 1909 when the Rosebud Indian Reservation was opened to homesteaders. But the original town site was dropped a mere 20 years later when the railroad track missed the town by 2 miles. Witten's pioneer residents showed typical West River resourcefulness by disassembling the town and moving it to the tracks, where it stands today. Only an old bank vault still marks the old site.
The new town was simply called New Witten. A long brick building was constructed on Main Street to house a bank, mercantile and grocery store. That fine building still stands, but only the grocery remains; all the other doors on the building are locked, even though the roof is falling in on the bank.
Thirty years after the town moved, the railroad dropped the tracks from its route. The high school was dropped in 1969, the same year that Van Kekerix came to Witten to work for Larry Bauer, a contractor who started a little factory that made building blocks. "We brought the sand from Gregory, and the concrete from Rapid City and the crushed red rock from a quarry by Spencer," he says. "They called it Miami Stone because it's a brand name that came from Miami, Oklahoma." Buildings constructed with Miami Stone can be found across the Rosebud country. They include the newspaper office and farm cooperative at nearby Winner and the American Legion Hall in Gregory.
But Miami Stone was dropped in 1976, so the Van Kekerixes bought the grocery store. Partners helped for a few years, but soon they dropped away and the Van Kekerixes were the sole owners. Is that opportunity or responsibility? Van Kekerix has been too busy to ponder anything that profound these last 40 years.
He and Sandy have no children — "no more Dutchmen running around" — but they've adopted the town, running the only retail store for many miles. Every day is different. Monday brings customers that ran out of milk on Sunday. On Wednesday, a small stack of Winner's weekly paper, The Advocate, arrives, followed by certain residents who aren't subscribers. Van Kekerix plans his weekly stocking order on Thursdays and the delivery arrives on a Friday truck.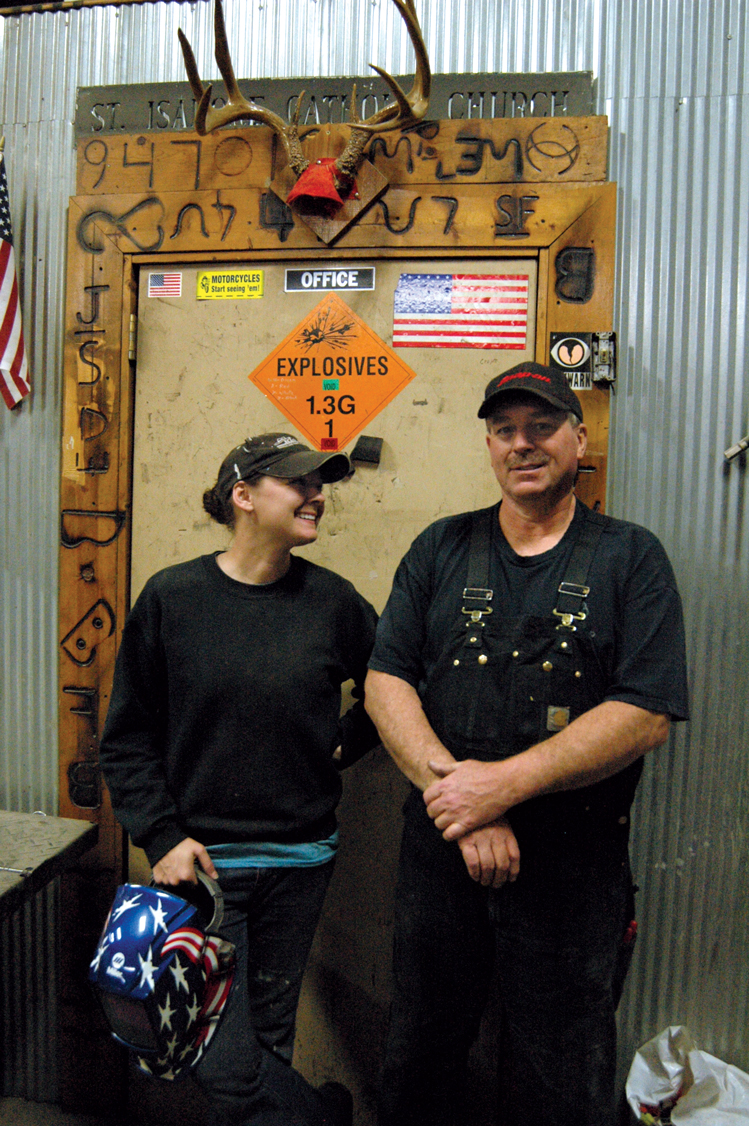 Doug Best runs a welding and equipment repair shop in Witten with help from his daughter, Naomi.
He might be closed for a doctor or dentist appointment — his own or more likely that of an old veteran who can't drive himself to Rapid City. His duties as commander of the local Legion and VFW chapters also might infringe on his store hours, but other than that you're likely to find the Village Grocery open six days a week.
Main Street in Witten is busy during harvest. Dozens of grain trucks come and go, kicking up dust and spooking a pair of Norwegian dwarf goats penned across the street from the big gray steel grain bins.
All of Witten's eight streets are gravel. They squarely separate several dozen modest houses, a few commercial buildings (leftovers from more prosperous times) and two churches — Baptist and Lutheran.
Cars and pickups converge at the post office on the south side of town. The clerk's window is only open for two hours in the morning, but the building also doubles as a meeting hall. Fourteen wood chairs face an old desk, the setting for official affairs. Atop an upright piano lies a spiral notebook containing town ordinances that govern gambling houses, indecency, poison control and pets.
Just a block away, LuAnn Klemann raises rabbits, chickens, donkeys and goats on her tiny farm at the edge of town. She likes the quiet pace. "People come by to look at the goats, but nobody bothers anybody here," she says. That's a high compliment in any West River town.
Witten might not seem like much of a gateway community to the 100th Meridian if judged solely on its eight dusty streets. But that's not how you gauge a town surrounded by hundreds of thousands of acres of wheat, milo, sunflowers, cattle and cowboys.
The post office, the grain elevator and the grocery store would probably have been dropped long ago if not for the ranching community that surrounds the town. And Doug Best's welding and repair shop would never have started. "We've got more cats and dogs than people in town," says Best, 58, but his customers come from miles around, mostly with farm equipment that needs repairing.
The youngest member of the Witten workforce is Best's 29-year-old daughter Naomi, who grew up there and lived in Tennessee and California before returning to marry Will Littau, a local rancher. Naomi helped her dad as a child, so welding and wrestling iron wasn't foreign to her. Their bright, clean shop has a satisfied aura, as best evidenced by the ever-wagging tail of Naomi's big white Husky named Hatschi.
Best also serves as fire chief to a department of 17 volunteers. Along with extinguishing an occasional grass fire and hoping nothing worse happens, the firemen also host the town's biggest annual social event — a Third of July barbecue and fireworks display.
Successful small town fundraisers usually have a precise formula. That's true in Witten, where local ranchers donate "three hogs and a whole beef," all of which are barbecued by the firemen and served to a hungry crowd of about 500. As many as 1,000 people arrive by the time the fireworks begin, spooking the town's two herds of goats and all those dogs and cats.
But when the fuse is lit on the last rocket, all but 70 of the people get in their cars and trucks and depart in darkness down Highway 44. "It's nothing but tail lights all the way to Winner," laughs Best.
As if a curtain dropped, darkness and quiet reclaims a gateway town to the 100th Meridian.
Editor's Note: This story is revised from the January/February 2016 issue of South Dakota Magazine. To order a copy or to subscribe, call (800) 456-5117.