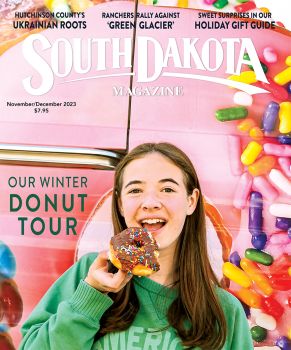 Subscriptions to South Dakota Magazine make great gifts!
Subscribe today — 1 year (6 issues) is just $29!

Working Dogs
Children are fewer and hired hands are hard to find, but a South Dakota rancher can always depend on a stockdog.
Caitlin Kettler and a border collie called Jack bring the cows into the yard of the Kettler ranch near Blunt.

Caitlin Kettler rounds up the cows at her family's Blunt ranch without a horse or even a holler. All she needs is Jack, the Kettler family's rambunctious but obedient border collie. "Away to me," she says, and Jack circles counterclockwise. "Come by," she says and he changes direction.
"There," she says, stopping him in his tracks. "Look back," she continues, and he turns his head to see that he forgot a cow. He happily scampers after it.
Nobody knows just how many South Dakota farms use dogs to guide their cattle and sheep, but the number is growing. "It will surprise you how many border collies are on farms and ranches," says Pete Carmichael, a Timber Lake rancher who raises, trains and shows stockdogs.
Carmichael says there's a difference between a good ranch dog and a trained stockdog. "A ranch dog knows your habits and where your fences are and what you're going to do. But take him away from home and he won't know what to do as well."
Cattle dogs are more popular than sheep dogs, probably because cattle are more common than sheep in South Dakota. "Probably nine out of 10 calls I get are for people wanting cattle dogs," he says. "They say I can't hire help and the kids are grown up and the old lady gets mad at me when she tries to help."
Border collies are the most popular breed of working dogs both in South Dakota and elsewhere because they are so intelligent and trainable. Retrievers, corgis, mastiffs and even mutts are also used but the best dogs in field trials generally come from lines that have been refined for years — some for centuries — through selective breeding.
A dog's herding ability stems from genetic behavior shared with wolves and coyotes. Though centuries of domestication and selective breeding have diminished the killing instinct, the desire to circle and gather a target is strong in border collies and some other breeds.
"They are the predator," Carmichael says. "The prey is a chicken or a cow or a horse, regardless of how big an animal they're working. They originated from wolves and wolves worked in packs. There is always an alpha, so that's the reason you've got to approach them right. They have to know that you're the alpha — so you don't let them run loose or do other things that let them forget who's in charge."
Carmichael's admiration for a good dog is obvious. "They'll amaze you sometimes at how smart they are and the things they can do," he says. "Stealth isn't necessary but it's part of the predator's thing. And they can move stock with their eyes a lot of times, especially sheep. A sheep can only look at them so long before it gets fidgety."
Training a young dog is a lot like raising a child. "You want to keep them happy," he says. "If you put too much pressure on a young dog and they get so they're not having fun, then you better back off a little bit.
He says training a young dog is a lot like raising a child. "You want to keep them happy," he says. "If you put too much pressure on a young dog and they get so they're not having fun, then you better back off a little bit. I start them on sheep and let them have their fun. Do that a few times and man they know that's the most fun they're going to have today. Overwork them and they'll lose that enthusiasm."
Carmichael, lanky and soft-spoken by nature, advocates a gentle approach. "The dogs don't understand words but they understand tone, so we use a gentle voice. That's the trouble with some people, they are way too loud for them."
Some trainers prefer to use a whistle with their dogs, he says. "If you get a little upset they might pick it up in the tone of your voice, but they won't pick it up on the whistle."
Competitive stockdog trials are serious business. "The sheep trials are pretty much professionals who wouldn't know one end of a sheep from another," grins Carmichael, who both enters and judges at the events. "For the most part they are living in a fantasy world. The cattle dog trials are still pretty much cowboys but that will probably change and they'll be beating us cattlemen out." Dogs are tested at trials on how smoothly and quickly they move sheep or cattle through a pattern of obstacles.
Some dogs can compete with both sheep and cattle, but not all can handle cows. "Some lines of dogs aren't strong enough to work cattle," Carmichael says. "It takes a stronger dog with more guts. A lot of the imported dogs that come from Great Britain are sheep dogs and they are bred to handle sheep without being rough. You put those dogs on cattle and the old cow thinks 'sshhh … you're nothing to me.' You need a dog that will stand its ground because if the dog gives ground the cow learns right quick."
Trials are open to all breeds but border collies dominate in competitions, just as they do in the real world. The result has been a steady increase in the value of a good dog. The very best may bring $5,000. "The other chapter to that story," says Carmichael, "is that if a dog isn't for sale you can't buy him. It's like trying to buy that grandson of mine."
The Timber Lake cowboy does raise litters to sell but he's fussy about where the dogs go. "A guy might give you $3,500 and take him back to the ranch and not treat him right. He might let him ride in the back of the pickup truck and he falls out, or he lets him in with some bulls where he gets hurt. So if I have a good one I'm going to question the guy and see if he's going to take care of him when he's using him and when he's not using him." Carmichael hosts clinics on how to treat and train dogs to work with stock.
Show dogs are vastly outnumbered by real work dogs in South Dakota, and they're to be found anywhere in the state. The Kettlers of rural Blunt train and sell border collies. They also use them daily for farm chores and Caitlin and her sisters show them in 4-H. Their dad, Murray, a Fort Pierre veterinarian, enters the dogs in trials.
Scott Jepsen and his family raise sheep near Vermillion with an old dog called Maggie. Jepsen says Maggie is especially useful when he must drive a tractor through a gate, a challenging task for one person because a savvy sheep or cow is quick to bolt. "They seem to know when the gate is open and when you can't get there in time," he says. Maggie stands at the opening, daring the sheep to escape, as Scott stays on the tractor and completes his chores.
Maggie needs expensive medication to treat congestive heart failure but the Jepsens consider her a bargain at any price. Scott's wife, Jeanne, used to haul fat lambs to the Sioux Falls Stockyards, and took along Maggie to help unload. Maggie would jump into the trailer and nip the first lamb, who would depart with the rest following like the proverbial sheep in a dream. However, a stockyards crew knows from experience that sheep seldom unload so easily. Duly impressed, one of the crew asked if he could buy Maggie.
"I suppose you could," said Mrs. Jepsen. "But then my husband would have to get out of the sheep business."
EDITOR'S NOTE – This story is revised from the July/Aug 2009 issue of South Dakota Magazine. To order this back issue or to subscribe, call 800-456-5117.