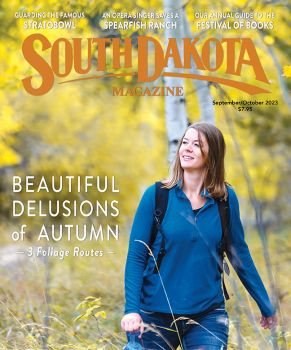 Subscriptions to South Dakota Magazine make great gifts!
Subscribe today — 1 year (6 issues) is just $29!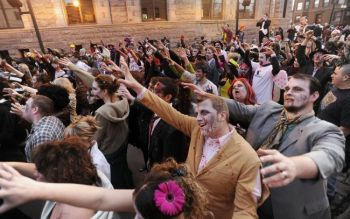 Nights of the Living Dead
Oct 26, 2012
Hordes of bloody, rotting "corpses" will descend upon downtown Sioux Falls and Rapid City this weekend. Don't worry. It's not the apocalypse. It's their annual zombie walks.
Kerry Roberts and friends planned Sioux Falls' first zombie walk in 2006. Around 130 people showed up to join the fun. "It was really just an excuse to get together, listen to rock music and drink beer," Roberts says. The event has grown steadily since. 1,200 people showed up for last year's walk and Roberts suspects there will be twice as many ghouls this year.
The walk immediately follows Saturday's Boo Falls Halloween Parade at 5:00 p.m. It's open to all costume types — Roberts' daughters will be princesses. But if you want to get zombified, over 30 volunteers will be at Skelly's Pub and Vishnu Bunny Tattoo doing makeup for a small fee. That's where the after party happens, too. Both places plan live music and free Pabst Blue Ribbon — a favorite of hipsters and apparently the undead, as well. Visit the Sioux Falls Zombie Walk Facebook page for more information.
Rapid City's 4th annual zombie walk starts Sunday at 3:00 p.m. at the Dahl Arts Center. It ends at the Elks Theater with a free showing of Shaun of the Dead. Activities in between include a (cake) head and brain (cupcake) eating contest, "bloody" mural painting, and a DJ booth spinning music above the horde. I hope there is a flash mob to "Thriller." See their Facebook event page for details.