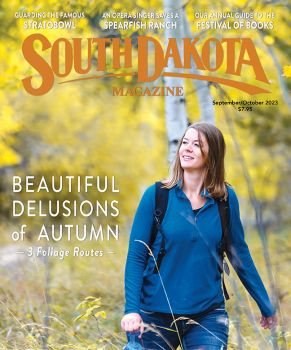 Subscriptions to South Dakota Magazine make great gifts!
Subscribe today — 1 year (6 issues) is just $29!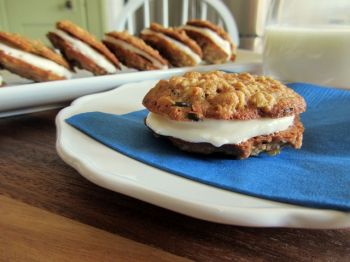 After School Treat
Aug 23, 2012
During my childhood, I was always starving after school. Maybe it was my picky taste buds that only nibbled at the school lunch; maybe it was that I chatted too much during lunch break and didn't have time to eat; maybe it was as simple as my growing body and mind needing nourishment. Regardless, I was famished when the 3 p.m. dismissal bell rang. After school treats were a must in order to tame my growling tummy and muddle through homework before dinner.
In my book, the perfect way to make the grade for an after school snack is with a plate full of homemade cookies. Late summer gardens are taking off after the heat of July, and zucchini is once again piling up on kitchen counters. It only makes sense to pull out a recipe that uses that bounty to satisfy hungry students.
Zucchini Oatmeal Sandwich Cookies bake up tender and almost lacy. The cookies absolutely let the zucchini shine. The cream filling leans toward my favorite cream cheese frosting and couldn't be more delicious of a pairing for the lightly spiced cookies. I declare this after school treat an A+.
---
Zucchini Oatmeal Sandwich Cookies
Adapted from Martha Stewart
Cookies:
1/2 cup unsalted butter, room temperature
1/2 cup sugar
1/2 cup packed brown sugar
1 egg
1/2 teaspoon vanilla extract
1 cup flour
1 1/4 teaspoon cinnamon
1/2 teaspoon baking soda
1/2 teaspoon baking powder
1/4 teaspoon salt
1 cup finely grated zucchini
1 cup old-fashioned oats
Filling:
8 ounces cream cheese, room temperature
1/4 cup unsalted butter, room temperature
1 cup powdered sugar
Preheat oven to 350 degrees. Beat 1/2 cup of butter and sugars until pale and fluffy. Beat in egg and vanilla. Add flour, cinnamon, baking soda, baking powder and salt. Mix in grated zucchini and oats. Refrigerate until firm, about an hour.
Using a medium cookie scoop, drop dough onto baking sheets lined with parchment to avoid sticking, spacing about 2 inches apart. Bake until edges are golden, about 17 minutes. Allow to cool on cookie sheet for a few minutes before placing on wire rack. Cool on a wire rack. (The cookies are tender and crumbly when fresh from the oven. I let them cool on the rack overnight in order to dry out a bit and firm up for ease of spreading the filling.)
Beat together 1/4 cup of butter, cream cheese and powdered sugar until smooth. Spread 1 heaping tablespoon of filling onto the flat side of one cookie, and sandwich with another cookie. Repeat with remaining cookies. Store loosely covered, with waxed paper between layers of cookies. Makes approx. 2 dozen.
Fran Hill has been blogging about food at On My Plate since October of 2006. She, her husband and two dogs reside near Colome.