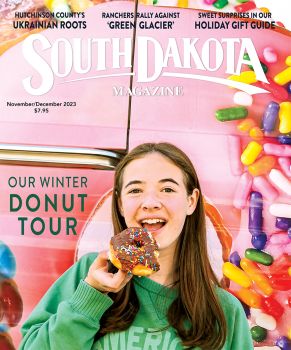 Subscriptions to South Dakota Magazine make great gifts!
Subscribe today — 1 year (6 issues) is just $29!

Our Zucchini Cook-off
Sep 1, 2011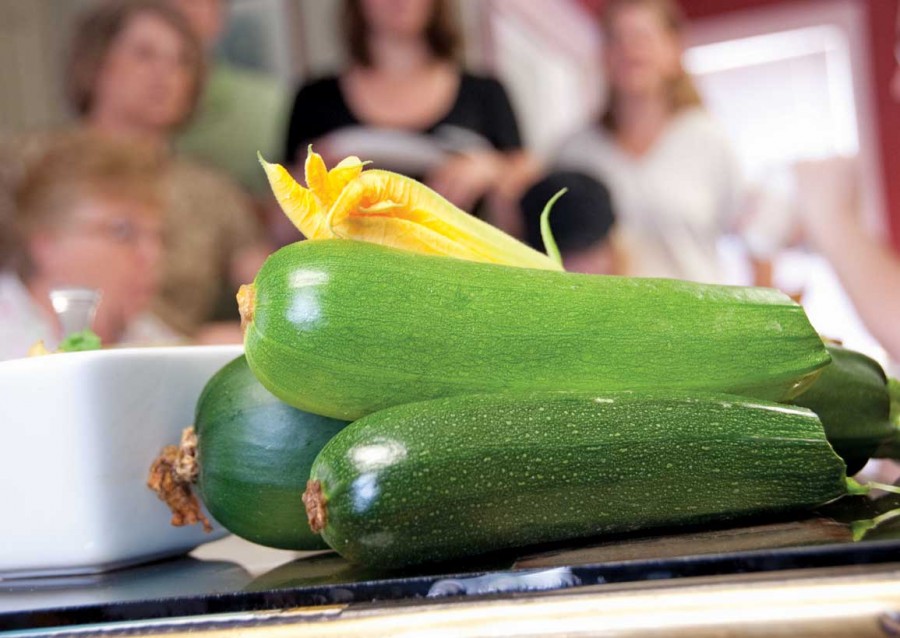 Zucchini overwhelmed the little garden in the backyard of our South Dakota Magazine headquarters in downtown Yankton in 2010. We stopped watering it as soon as we realized what was happening, but still the zucchini proliferated. Despite the lack of respect or water — and being rudely tread upon as we tended to the tomatoes and onions — the zucchini continued to grow.
We gave it to the neighbors until they would no longer answer their doorbells. All of our staff and their extended families were compelled to take a cube or two every day. As one reader commented on our website (where we'd advertised free garden produce), two never-watered zucchini plants will suffice for a family of 15. And we had four plants. Four well-tended plants.
Zucchini soon piled up on office tables, inboxes and file cabinets. I had been eating zucchini at every meal for over a month when our editor suggested a zucchini cook-off to use up some of the reserves.
There was just one rule for the contest. Anyone could enter but you must get your zucchini from the magazine garden. First prize? You guessed it: a summer supply of zucchini.
The contest was first met with some grumbling. Several staffers claimed to dislike zucchini, most of all Roger, our humor columnist. He is not a fussy eater, but never takes a bite of food at the office in the summer months without asking if zucchini is involved. Roger had a bad experience with zucchini bread some time ago and still hasn't forgotten.
Zucchini recipes can be hit-or-miss. The high water content (about 95 percent) can potentially result in a mushy mess. So expectations were low, to say the least, on the day of the zucchini cook-off.
All six entries smelled good and looked tasty. More importantly, they were declared delicious by one and all. Mock its reproduction capacity if you must, but zucchini's flavor enhances everything from pasta dishes to chocolate cake, plus it adds Vitamin A, Vitamin C and potassium and is high in fiber.
Plucking the flowers from a zucchini plant will slow growth, but I'd consider curbing our zucchini production this year to be wasteful — especially with so many good recipes to make. The flowers themselves are an expensive delicacy in some cultures. But if you do harvest the flowers, you'll still have plenty of zucchini for the little known "Sneak Some Zucchini Onto Your Neighbor's Porch Night" holiday. Yes, this is an actual observance, held on August 8. If only we'd known about that last summer.
Every one of the zucchini dishes submitted by staff and friends was a hit, so we declared them all winners. Trying to award a "first" seemed irrelevant when everybody was enjoying seconds. Here are some of the recipes.

---

Zucchini Brownies
Submitted by John Andrews, Departments Editor
1/2 cup vegetable oil
1 1/2 cups white sugar
2 teaspoons vanilla extract
2 cups all-purpose flour
1/2 cup unsweetened cocoa powder
1 1/2 teaspoons baking soda
1 teaspoon salt
2 cups shredded zucchini
1/2 cup chopped walnuts
6 teaspoons unsweetened cocoa powder
1/4 cup margarine
2 cups confectioners' sugar
1/4 cup milk
1/2 teaspoon vanilla extract
Preheat oven to 350 degrees. Grease and flour a 9x13 inch baking pan. In a large bowl, mix the oil, sugar and 2 teaspoons vanilla until well blended. Combine the flour, 1/2 cup cocoa, baking soda and salt; stir into the sugar mixture. Fold in the zucchini and walnuts. Spread evenly into the prepared pan. Bake for 25 to 30 minutes in the preheated oven, until brownies spring back when gently touched.
To make the frosting, melt together the 6 tablespoons of cocoa and margarine; set aside to cool. In a medium bowl, blend together the confectioners' sugar, milk and 1/2 teaspoon vanilla. Stir in the cocoa mixture. Spread over cooled brownies before cutting into squares.
---

Zucchini Cake
Submitted by Ruth Steil, Business Manager
2 eggs
1 cup sugar
1/2 cup oil
1 cup flour
1 teaspoon baking soda
1 teaspoon cinnamon
1/2 teaspoon salt
1 teaspoon vanilla
1 1/2 cups grated zucchini
Mix all ingredients together. Bake in greased 9x13 inch pan at 350 degrees for 30 minutes. Allow to cool, then frost with your favorite cream cheese frosting.

---

Zucchini Chili
Submitted by Jana Lane, Circulation Manager
27 oz can chili beans in sauce
15 oz can black beans drained
16 oz can kidney beans drained
1 lb burger cooked and drained
2 cups grated zucchini
1 quart canned tomatoes with juice or 28 oz. can
1 cups canned tomato juice
2 bell peppers, chopped
1 large onion, chopped
2 cloves garlic, minced
3 tablespoons chili powder
2 1/2 tablespoons cumin
2 1/2 tablespoons dried cilantro
2 teaspoons paprika
Add all ingredients to a 6-quart Dutch oven and cook over medium heat for 40-45 minutes.

---

Lemon Zucchini Cookies
Submitted by Andrea Maibaum, Production Manager
3/4 cup butter
3/4 cup sugar
1 egg
1/2 teaspoon lemon extract or 1 teaspoon lemon rind
2 cups flour
1 teaspoon baking powder
1/2 teaspoon salt
1 cup shredded unpeeled zucchini
1 cup chopped walnuts
Glaze:
1 cup powdered sugar
1 1/2 teaspoons lemon juice
Cream butter and sugar. Add egg and lemon extract. Stir in sifted dry ingredients. Mix in zucchini and nuts. Drop by teaspoonfuls onto greased cookie sheets. Bake at 350 degrees for 15 to 20 minutes. Let cool and glaze. Makes 30.

---

Zucchini Bread
Submitted by Michelle Andrews
1 cup sugar
1 cup brown sugar
3 eggs, beaten
1 cup salad oil
2 cup zucchini, peeled and grated
3 teaspoons vanilla
3 cups flour
1 teaspoon salt
1 teaspoon baking soda
1 1/2 teaspoons cinnamon
1/4 teaspoons baking powder
1/4 cup nuts
Combine sugars, eggs and oil. Beat well. Add zucchini and vanilla. Sift and measure flour. Sift with salt, baking soda, cinnamon and baking powder. Stir into creamed mixture. Blend well. Add nuts. Pour into two greased and lightly floured large tin loaf pans. Bake at 325 degrees for one hour and 15 minutes.
---

Italian Zucchini Pie
Submitted by Katie Hunhoff, Managing Editor
2 tablespoons butter
4 cups thinly sliced zucchini
1 cup chopped onions
2 tablespoons dried parsley flakes
1/2 teaspoon salt
1/2 teaspoon pepper
1/4 teaspoon garlic powder
1/4 teaspoon dried basil
1/4 teaspoon dried oregano
2 eggs, well beaten
2 cups shredded mozzarella cheese (8 oz)
1 can (8 oz) crescent dinner rolls
2 teaspoons mustard
Heat oven to 375 degrees. In 12-inch skillet, melt butter over medium-high heat. Add zucchini and onions; cook 6 to 8 minutes, stirring occasionally, until tender. Stir in parsley flakes, salt, pepper, garlic powder, basil and oregano. In large bowl, mix eggs and cheese. Add cooked vegetable mixture; stir gently to mix.
Separate dough into 8 triangles. Place in ungreased 10 inch glass pie plate, 12x8 inch (2-quart) glass baking dish or 11-inch quiche pan; press over bottom and up sides to form crust. Firmly press perforations to seal. Spread crust with mustard. Pour egg mixture evenly into crust-lined pie plate. Bake 18 to 22 minutes or until knife inserted near center comes out clean. Let stand 10 minutes before serving.