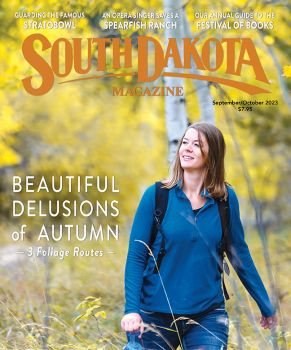 Subscriptions to South Dakota Magazine make great gifts!
Subscribe today — 1 year (6 issues) is just $29!

The Makings of a Town
By Bernie Hunhoff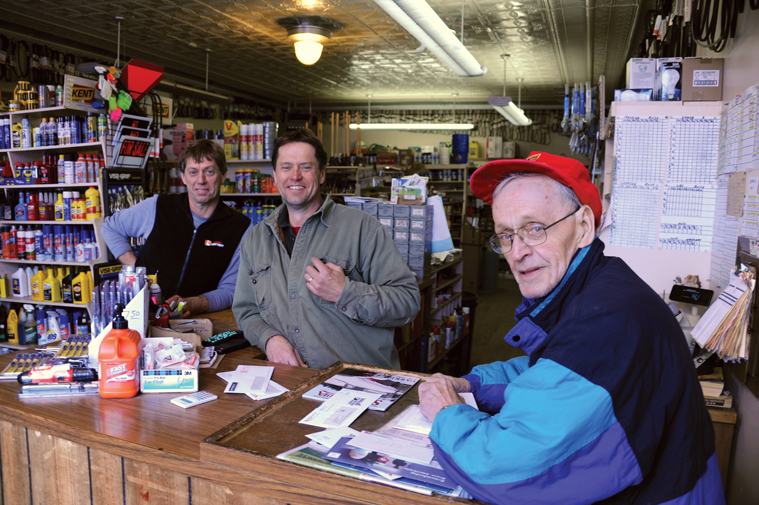 Dick Hughes and his sons Barry (center) and Todd (left) operate Pete's Produce.
Small businesses add flavor to a small town, and Alcester is a good example. Hanging near the front door of Pete's Produce is the head of a moose shot in 1929 by the store's namesake and founder, Pete Hughes, who bought furs, sold baby chicks and bought eggs from local farmers. Today, Pete's is a hardware and feed store.
"We still have a lot of smaller farmers and some who raise livestock," says Barry, Pete's grandson. "That's who we're here for. We are starting to see the bigger operations, too, but they don't like to farm our rolling hills."
The rustic wood floors and high, ornate ceiling would be the envy of a big-city, upscale coffee shop. But this is the real thing; little has changed since Pete hung the moose on the wall.
"There are not too many places left in a town of 800 where you can get a bolt or an extension cord or some wire or get an old electric fencer fixed, plus get fertilizer and feed for the critters," says Maggie Gillespie, an Alcester business woman and farmer's wife.
The current operators are Barry and his brother, Todd, and their dad, Dick. All three are avid deer hunters, their whitetail mounts hang near grandpa's moose.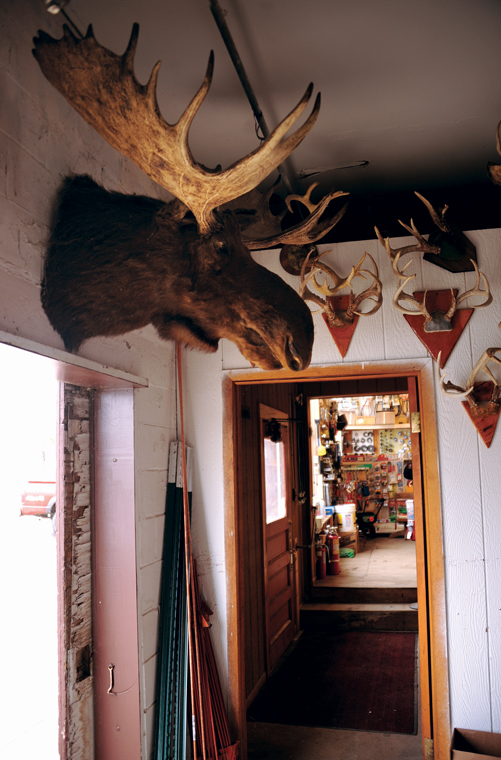 The Hughes family's deer trophies hand inside the grocery store alongside Grandpa Hughes' moose mount.
Pete's isn't the oldest business in town. That honor probably goes to the Alcester Union, the weekly newspaper started 125 years ago. Paul Buum, the editor and publisher, is another fan of Pete's.
"I've known the Hughes family my entire life," he says. "Good people. I don't remember much about Pete because he passed away when I was pretty young. Dick served as fire chief for many years, and Todd served as chief for 28 years. He decided to step down about three years ago and I was elected chief. Barry is my assistant chief."
Alcester State Bank, a year younger than the newspaper, has been operated by the same family since 1919 when E.F. McKellips came to town — but not continuously. The bank closed during the Great Depression, costing many local citizens their deposits.
But E.F. became a legend when he later re-opened the bank and worked day and night for 20 years until he had repaid every depositor. Two generations later, people still talk about it.
E.F.'s son Roger, now retired, was a popular silver-haired Democratic leader in the state legislature for many years and a gubernatorial candidate in 1978. Today, Roger's son Gary heads the bank, which employs 27 people.
Two manufacturing plants, Alkota Cleaning Systems and Custom Coils, provide more than 150 jobs. They and the bank are all on Iowa Street, a one-way north-south avenue.
"We don't have a stoplight, but we have a one-way street," laughs McKellips. "It was just a way to add parking and keep the cars moving. I don't think anyone's ever been arrested for going the wrong way." Neither will you be ticketed for parking in the center of Second Street, the main boulevard. It's a tradition dating back longer than anyone can remember.
One of the bank's most interesting workers was DeeCort Hammitt, a teller who made change by day and played music into the wee hours of the morning. "He came home from the bank and beat the piano half to death, clean up to midnight when his wife would finally have to hit him on the head and tell him to come to bed," says Bob Hammitt, a nephew.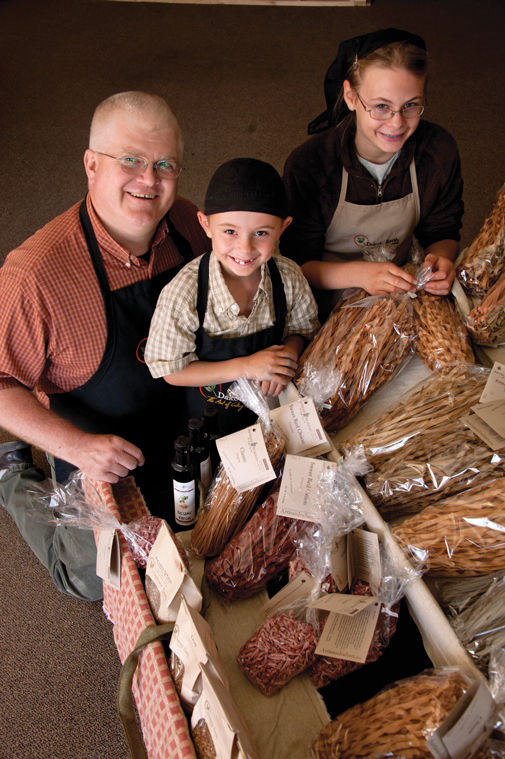 Dan Avery (pictured with his children Shoshanna and Benaiah) and his family run a pasta factory in Alcester.
DeeCort led the Alcester Town Band. In 1927, he and the band entertained President Calvin Coolidge at Custer State Park. They went to the Chicago World's Fair in 1933 and 1934 as the official agricultural band. He wrote and published many songs, including To a Prairie Lullaby for Lawrence Welk, who often played at The Ritz, a dance hall near Beresford, in the 1940s. DeeCort is best remembered for composing South Dakota's official state song, Hail South Dakota, in 1943. He and his wife, Bessie Jane, raised 11 children (including six sons who served in WWII), and many of them had musical talent.
Alcester's newest business is Dakota Earth, a pasta factory operated by Dan and Elizabeth Avery and their children. Pasta and noodle making was just a family hobby until two years ago, when the Averys started selling garden produce at farmer's markets. Elizabeth suggested that they sell pasta in the off-season.
"We went to the Vermillion Farmer's Market hoping to sell 10 bags and we sold 70," Dan says. Last year, operating out of the family kitchen, they moved 30,000 bags. Pasta supplies and equipment were taking over the house, so this summer they bought an empty furniture store on Main Street and began a remodeling project. Soon they'll have a retail shop, factory space and offices.
Dan hasn't had time to study why their Dakota Earth products are so popular, but he believes its because the company is small enough to monitor the freshness and quality of the ingredients, and "my wife is brilliant at knowing just how to make the flavors come out."
Italian tomato basil is a favorite, along with spinach garlic and sweet red onion. Four regional distributors are hungry for the factory to reach full speed; one says it'll take all they can make, but first the family has to finish remodeling. McKellips' bank handled the financing, and Pete's Produce is also helpful.
"I bought a screw gun there the other day, and later I checked the price on Amazon. Pete's was five dollars cheaper. I was sold. You're my hardware store now," he said, looking out the factory window and across the street.
Editor's Note: This story is revised from the November/December 2013 issue of South Dakota Magazine. To order a copy or to subscribe, call (800) 456-5117.