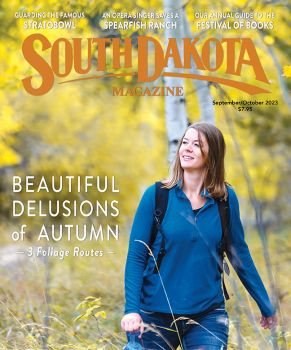 Subscriptions to South Dakota Magazine make great gifts!
Subscribe today — 1 year (6 issues) is just $29!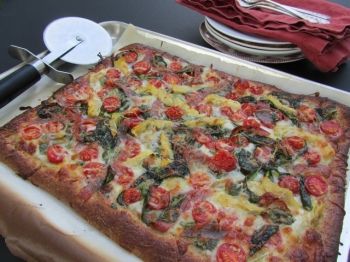 Adventures in Pizza Topping
Mar 29, 2018
My husband has a deep and abiding love for pizza. There is something about toppings and cheese on crispy crust, or a thick and bready crust, or any crust at all that sings a siren song for him. And while traditional pepperoni or supreme do, well, reign supreme, he is an adventurous eater that is willing to try just about anything.
We have made (and loved) Garlic Chicken Pizza, Buffalo Chicken Pizza, Eggplant Parmesan Pizza, Brussels Sprouts and Salami Pizza, Seafood Pizza with scallops, shrimp, and spinach, Vegetable Appetizer Pizza, Pesto Chicken Pizza with Grapes, Roasted Veggie Pizza, Fruit Pizza, and even thrown Caesar Salad on a pizza. Out and about, restaurant samplings have included Cheeseburger Pizza with dill pickles, a pizza with sauerkraut, and a favorite garlic shrimp pizza with artichokes. However, when Laura Andrews recently mentioned Head Cheese Pizza in one of her South Dakota Magazine columns, my daring, pizza-consuming husband wrinkled up his nose. Even he has his limits.
Thankfully, his nose didn't wrinkle when I made Artichoke, Tomato, Spinach, and Salami Pizza. He inhaled it. The crust (of your choice) is brushed with a garlicky, herbed oil before tangy artichokes, juicy tomatoes, fresh spinach, and spicy salami are scattered liberally over it. Parmesan and mozzarella cheese are added for the perfect gooey slice. If you want more heat, sprinkle on some red pepper flakes to add some fire. This is a pizza that I am betting everyone will love.
---
Artichoke, Spinach, Tomato and Salami Pizza
Adapted from Rachael Ray
5 tablespoons olive oil
3 cloves garlic, finely chopped
3 tablespoons flat-leaf parsley, finely chopped
Kosher salt
Freshly ground black pepper
1 pound pizza dough, refrigerated/frozen/homemade…your choice
2 cups shredded mozzarella cheese
5 tablespoons grated parmesan cheese
1 can (13.75 ounces) artichoke hearts, drained and quartered
1/2 pint grape tomatoes, halved
2 cups baby spinach, chopped
12 (or so) slices hard salami, sliced into ribbons
Heat oven to 500 degrees. Combine olive oil, garlic, parsley, salt and pepper. Spread 3 tablespoons of the garlic mixture over the pizza dough, leaving a 1/2-inch border. Sprinkle with the mozzarella and 2 tablespoons Parmesan cheese. Toss the artichokes, tomatoes, spinach and salami with the remaining garlic mixture and arrange on top of the crust. Sprinkle the remaining Parmesan cheese on top. Bake until the crust is crisp and golden, 18-20 minutes. Serves 4.
Fran Hill has been blogging about food at On My Plate since October of 2006. She, her husband and their three dogs ranch near Colome.