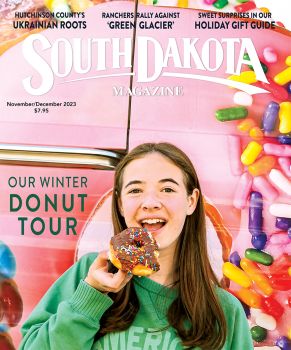 Subscriptions to South Dakota Magazine make great gifts!
Subscribe today — 1 year (6 issues) is just $29!

Guide for Freelance Writers
Thank you for your interest in submitting work to South Dakota Magazine.
If you would like your work to be published in South Dakota Magazine, we encourage you to read our magazine and see what kind of stories we publish.
The goal of our magazine is to explore the experience of living in South Dakota through words and photography. Articles should focus on our state's culture, environment, lifestyles, history, heritage, natural resources or people.
First and foremost, we must entertain our readers. If we fail to do that, we'll soon be out of business. We want stories that fascinate, educate and/or titillate readers. Stories about South Dakota adventures are especially good, as well as stories that show how an individual, community, business, etc., handled conflict or adversity.
Second, we seek articles that tell our readers something they don't know about their favorite state. Stories about Mount Rushmore and Crazy Horse may not be met with much interest by our readers, because they think they know just about everything about those mountains. But a story about a modern mountain woman may have promise.
Third, we especially like stories that inspire our readers with bravery, compassion or perseverance.
Guide for Freelance Photographers
The selection of photography for South Dakota Magazine is dependent mostly upon what our needs are at the time of submission. It is often difficult for us to place single photographs, and while a common theme for a group of photos is more promising, publication depends on our current editorial schedule. Please keep in mind we work about four months in advance of each publication date.
South Dakota Magazine prefers to print natural photos that are only subtly enhanced. We discourage manipulation of photos such as placing an object into the photo after the image is shot, HDR photography, digital filters and over-saturation. These shots will still be considered, but if you have done this, please let us know.
Photos may also be submitted for use as an online photo slideshow at www.southdakotamagazine.com. Our slideshows are comprised of a group of photos (between 5-12) that follow a common theme relevant to life in South Dakota. Other options would be to submit photos for our Friday feature photo or for use in our e-newsletter. We do not normally pay for photos used online but credit the photographer and share a link to the photographer's web site when possible.
Submission Process
We accept submissions through both email and postal mail. Please email queries, articles, or photos to submissions@southdakotamagazine.com. Send photos as small or low resolution jpegs (approximately 1024 pixels wide) without watermark and include caption information with each. Or mail to:
South Dakota Magazine
Submissions
410 East 3rd Street
Yankton SD 57078
We accept these submissions as proposals only, and do not take responsibility for any unsolicited photographs or manuscripts. Because we are a small staff, response time varies from six weeks to three months.
Query letters are welcome, but not necessary; however we recommend that writers query before writing copy directly intended for the magazine. Though we don't necessarily pay extra for photographs, articles accompanied by strong photos are more likely to be approved, and the photography will be considered when payment is determined.
South Dakota Magazine consists of several standard departments as well as feature articles ranging from 500 – 2500 words. We generally only pay for feature articles, and that pay ranges from $25 - $200 depending on quality, length and accompanying art or photographs. Other arrangements such as an advertising trade or payment in magazine copies will also be considered.