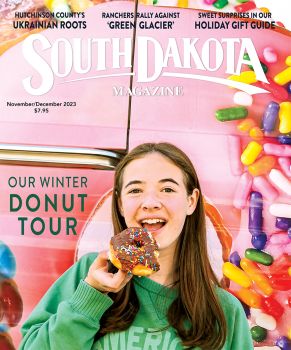 Subscriptions to South Dakota Magazine make great gifts!
Subscribe today — 1 year (6 issues) is just $29!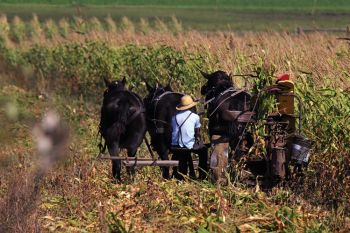 Autumn On Highway 18
Wisconsin photographer Stephen Gassman likes to make autumn trips across South Dakota on Highway 18, driving from Canton to the Black Hills on a two-lane road that many South Dakotans probably haven't traveled. One of his recent east-west treks happened at that golden spell of autumn when you wish you could just sit on a pumpkin and enjoy the season.
Highway 18 begins in corn country, then crosses the Missouri River over the Fort Randall Dam and enters a long stretch known as Rosebud Country. The Rosebud Reservation once stretched from the river westward to the Pine Ridge, but the federal government reduced the tribe's territory and opened it to homesteading in 1908.
Today the actual reservation boundary begins at the Todd County line, but Gregory and Tripp counties are still considered Rosebud and a rich Native American culture now blends with pheasants, farming and small town life.
Farming slowly gives way to ranching, especially once you head west from Winner and pass through the river valleys of the Keya Paha, Antelope and White. Travelers get a taste of sandhills, badlands and pine forest.
Farm towns have grain elevators and reservation towns have pow wow grounds. Both might have a rodeo arena and all have country churches. Yes, Highway 18 always has a lot to experience for the visitor who isn't in a hurry. But that's all overwhelmed on a blue sky day in September or October as the fading autumn sun robs the foliage of chlorophyll, exposing the red and yellow colors so representative of the Rosebud country.
Editor's Note: This story is revised from the September/October 2015 issue of South Dakota Magazine. To order a copy or to subscribe, call (800) 456-5117.