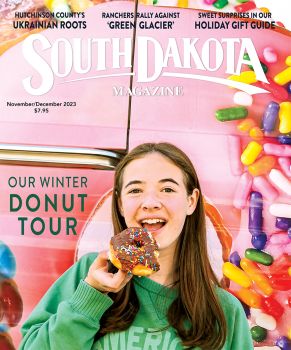 Subscriptions to South Dakota Magazine make great gifts!
Subscribe today — 1 year (6 issues) is just $29!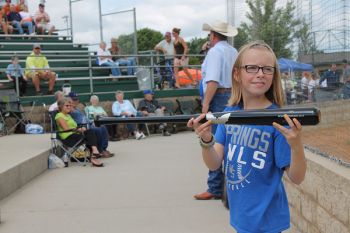 Generosity at the Ballpark
Aug 12, 2014
We attended Saturday afternoon's session of the South Dakota Amateur Baseball Tournament at Cadwell Park in Mitchell. Not only did we enjoy two fantastic baseball games — Lake Norden topped Wessington Springs 8-3, and Crofton outlasted Corsica-Stickney 3-2 — but we were treated to a lesson in how generous South Dakotans can be when others are in need.
Between games, the Amateur Baseball Association auctioned a bat to benefit the Wessington Springs Tornado Relief Fund. On June 18, a twister with winds topping 125 miles per hour tore through the heart of Wessington Springs, destroying over 40 homes and 10 businesses. No one was killed, but the cleanup and recovery in the Jerauld County town will take months to complete.
The sleek, black bat was particularly special because it was designed by Wessington Springs native Sam Holman and is used by more than 120 Major League Baseball players. The Sam Bat, as it's known, is made from hard maple and was designed to be a more durable alternative to ash bats. Holman, who lives near Ottawa, Canada, began testing prototypes made from different woods nearly 20 years ago after a scout for the Colorado Rockies lamented that their players were breaking far too many bats made from ash. Holman settled on Rock Maple, one of the hardest woods in the world.
So as players and fans prepared for the second game of the afternoon, local auctioneer Lanning Edwards opened the bidding. Hands went up from all corners of the ballpark, but it was Wessington Springs Owls player Austin Olson who submitted the winning bid of $1,050.
That would have been a tremendous boon to the relief fund, but Olson re-donated the bat for a second auction. Edwards again opened the bidding. This time the bat brought another $1,000. But the winner followed Olson's lead and returned the bat again. The third auction brought $500, but again the winner told Edwards to keep going. The fourth and final auction collected $400. The Sam Bat went to Kaelynn Culver of Alpena, a graduate of Wessington Springs High School. She told the Mitchell Daily Republic that her best friend lost her house in the Wessington Springs tornado.
Even though the Owls lost their game that afternoon, the citizens of Wessington Springs went home with $2,950 to help rebuild their town. That's more important than a ball game any day.