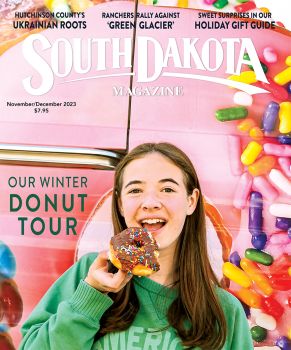 Subscriptions to South Dakota Magazine make great gifts!
Subscribe today — 1 year (6 issues) is just $29!

Spring Journal for 2013
May 13, 2013
It is amazing how different things can be in just one year's time. Last spring came about as early as any I can remember. I found and photographed my first pasque flower of the season on March 14 on the edge of Lake Vermillion Recreation Area. This time around, cold weather didn't want to leave the area. I didn't find my first pasque until May 5, nearly two months later than last year. Here's a journal showing some of the photos I took while impatiently waiting for spring to arrive.

April 11
An ice storm that started on the 9th plunged Sioux Falls and the surrounding area into a cold mess. Thousands of people had no electricity due to downed tree branches. I guess the local wildlife had it pretty tough, too. After work, I saw a somewhat bewildered and cold rooster pheasant wandering in ice-covered corn stubble on the northwest edge of town.
---
April 13
Overnight, another snowfall covered eastern South Dakota. The sun finally broke through for the first time in days as I drove up to Moody County to find something interesting to photograph. On the Minnesota border, I found Salem United Methodist Church surrounded by untouched snow under a gorgeous sky. In a small creek nearby, a blue heron waded along the snowy banks.
---
April 20
Another weather system brought low overcast skies to the area. The area lakes were now pretty much ice free even though snow still lingered on the ground. North of Humboldt, I watched hundreds of waterfowl including many white pelicans happily fishing at a small lake. Later in the day I drove down to Union County and photographed St. Paul Lutheran Church against the low clouds. This historic church will celebrate 150 years of existence later this year.
---
April 22
I don't remember seeing as many gulls in the area as I have this year. At dusk, south of Clear Lake in northwest Minnehaha County, I took a quick shot of a pulsating mass of black-headed gulls flocking as I slowly drove by.
---
April 24
Flurries mixed with rain and sleet moved through the area all day. The cold, wet wind smelled like spring, but still felt like winter. This lone deer watched me on a hill near Hartford, South Dakota.
---
May 4
The back edge of a large rain system settled in over the area. I drove north and west at sunset to an abandoned barn in northwest Minnehaha County I discovered on an earlier trip. The setting sun painted the clouds in fantastic colors just after sunset.
---
May 5
The weather warmed a bit, but low clouds continued to linger over the area. After church on Sunday, I caught a bit of cabin fever and drove out to check a known pasque patch in McCook County. I couldn't find any. To the west, it looked like clear sky under low clouds at the horizon line so I decided to check a place I know in Hanson County. I wasn't disappointed. The flowers were pretty new and not fully grown, but they were the first pasque find of the season and I couldn't resist getting the camera out to snap their portraits.
---
May 7
Spring must finally be here. The smell of rain is again on the noticeably warmer air. The sound of red-winged black birds mixed with meadowlarks floated along with me as I drove the country roads, and another perfect South Dakota sunset settled in behind a prairie windmill and small, leaning outbuilding just east of Hartford, South Dakota.
Christian Begeman grew up in Isabel and now lives in Sioux Falls. When he's not working at Midcontinent Communications he is often on the road photographing our prettiest spots around the state. Follow Begeman on his blog.