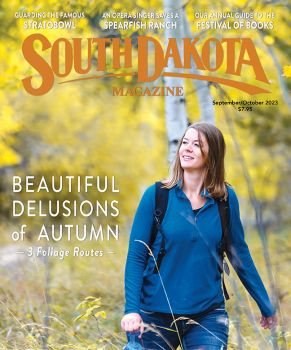 Subscriptions to South Dakota Magazine make great gifts!
Subscribe today — 1 year (6 issues) is just $29!

Beware of Long Hollow
Dec 21, 2016
By Katie Hunhoff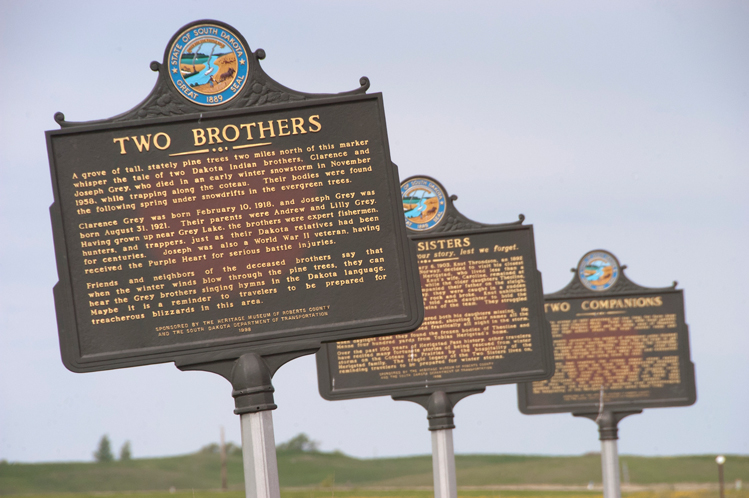 Three historic markers atop the hollow on Highway 10 tell the stories of tragedies that occurred there. Photo by Bernie Hunhoff.
Cold, wind and snow are not strangers to South Dakotans. But the hardy residents of northeast South Dakota are especially well acquainted with bad weather. A high place in Roberts County holds special notoriety for chilly weather and chilling winter stories.
The town of Sisseton is 1,203 feet above sea level. But the top of Long Hollow, 4 miles west, is hundreds of feet higher. In the summer, that elevation is a blessing. "It can be ten degrees cooler than down below in town with a nice breeze," Joe Schuch, a retired extension agent and a longtime observer of Long Hollow's weather phenomenon, once told us. "The problem is that in the winter it is that much cooler, and you aren't quite so happy with the breeze."
Clayton Week, a local farmer who is now deceased, told us a story back in 2002 that showed why area residents are watchful of the hollow in winter. In 1937 he and a cousin, Charlie Almos, almost died there.
"Our families lived about 10 miles west of Sisseton, and because it was so far to town Charlie and I batched it," he said. "We lived upstairs on our own in a house in town for two years so we could attend high school."
Throughout the winter, snow accumulated over Highway 10 and travel was nearly impossible. When the sun broke out on a Friday afternoon, the boys decided to walk home because they hadn't seen their families in weeks. They began walking up the long prairie incline, noticing that only a couple of feet of telephone poles were peeking up from the snow. "When we got to the top of the hill, it started to get dark. That's when the wind hit. It was terrible," Week recalled.
They couldn't see, could barely walk in the wind, and were freezing. Almos tried to convince Clayton to sit down and rest. "No," his cousin replied. "We're not sitting down." They continued to slowly make their way through the hollow, prodding each other along and refusing to let the other stop.
"You get to the point where you lose your common sense and you don't really know right from wrong," Week said. "If either of us would have been alone he would have probably laid down and rested and that would have been the end."
As the cousins stumbled through the snow, they began to wonder if they would escape the hollow. The snow stung their faces, and their limbs began to feel heavy and numb. The wind was strong enough to suck the air from their lungs, and they didn't see any landmarks except those telephone pole tops. Finally they saw the Tobias Herigstad farm in the distance and staggered to the front door. Tobias and his wife Bertha rushed the boys indoors and fed them a warm meal.
The cousins were lucky that winter night. Others caught in Long Hollow storms weren't so fortunate. The saddest story we've heard from the area happened on Jan. 6, 1903. Knut Throndson and his two daughters, Theoline, 13, and Menne, 15, took a horse and sleigh across the hollow to visit the Herigstads. When they left it was a warm, sunny winter day. But when they returned in the late afternoon, the sky became dark, the wind rose and suddenly they enveloped in a full-fledged blizzard.
Disoriented by the poor visibility, they veered off their usual path. The sled hit a boulder and broke. Throndson was a tough Norwegian who had immigrated to the area 11 years earlier. He unhitched the horse and instructed the girls to hold on to the horse's tail as he navigated through the blizzard to their farmhouse. But when he arrived home, he found both girls missing. He retraced his voyage all the way back to the Herigstad farm, and then he and Tobias searched all night for the girls. Their frozen bodies were found at sunrise less than 400 yards from Herigstad's house.
Other tragedies from the hollow have probably been lost to history. But enough have been recorded and passed down that locals know and remember the dangers of the hollow in winter.