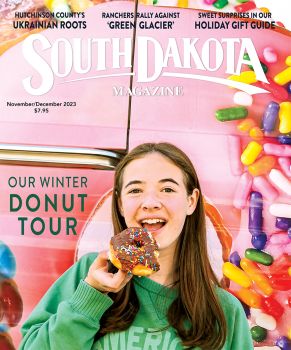 Subscriptions to South Dakota Magazine make great gifts!
Subscribe today — 1 year (6 issues) is just $29!

The Everlasting Bijou Hills
Jan 29, 2013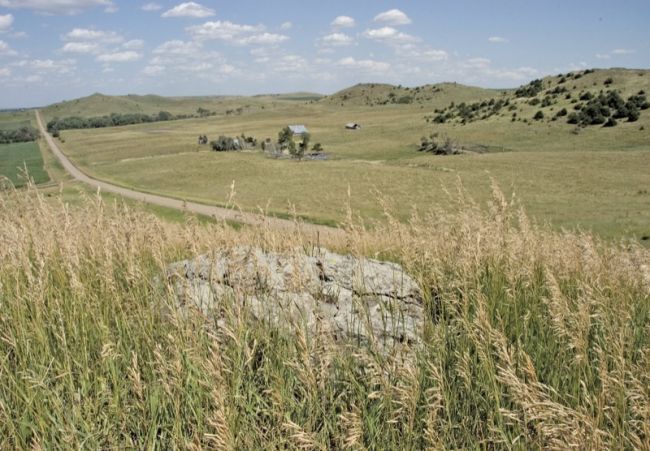 Midway between Chamberlain and Platte, the Bijou Hills rise 400 feet above the prairie.
Three square miles of hills make just another landscape in western South Dakota and in many locales around the United States, but the Bijou Hills are a geologic and social curiosity on the flatlands east of the Missouri River in Brule County.
Capped with quartzite and containing unique fossils and fauna, the hills have been explored by biologists, archaeologists and naturalists. Adventure and drama have also visited the Bijou Hills — specifically a kidnapping, murder, bank robbery (if retrieving your own money is a crime) and other craziness.
The hills jut 400 feet above surrounding corn and hay fields. Cattle keep the grass low, showing some of the quartzite exposed 10,000 years ago by melting snow from the last glacier.
Tens of centuries later, the towns of Granville, Eagle and Bijou Hills were started below the hills. Now, only the latter survives. Bijou Hills had just three residents when we visited in 2007 — Wayne and Pat Surat and Wayne's mother, Ruth. "Somebody will drive by here in 40 years and it will be a cornfield," said Wayne. "I'm not saying it's good or bad. It's just the way it is."
He knows Bijou history well enough to understand that change is a surety. Two hundred years ago, the hills were on a route for migratory buffalo. Because of them, the Dakota Indians also became frequent visitors, building ceremonial pillars on the hilltops and fashioning arrows and other tools from the quartzite.
White explorers were naturally attracted to the prairie promontories, beginning with French traders and continuing with Lewis and Clark, John Fremont and artist George Catlin, who collected stone samples and was enthralled by the area's antelope, buffalo and prairie dogs in 1832.
Catlin called the hills by their current name, which has been traced to French fur trader Louis Bissonet, known in his native St. Louis as "Mr. Bijou." Bissonet operated a post by the river in 1812 and traded with the Dakota Indians and white trappers.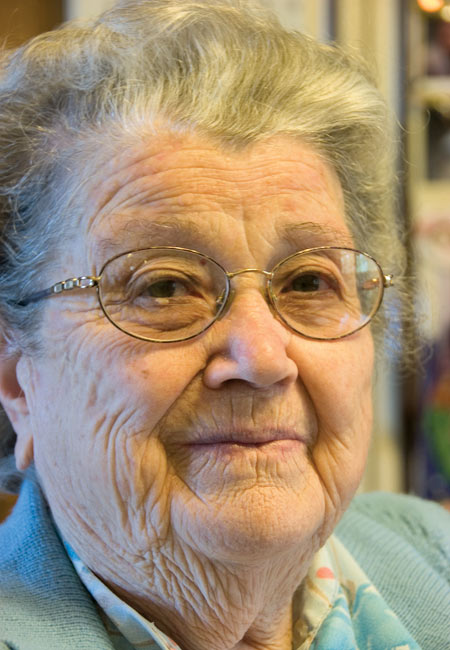 Ruth Surat, Bijou Hills' historian.
In the 1880s, homesteaders moved in. Their farmsteads soon circled the base of the hills, but even so, all the towns but Bijou Hills quickly declined. "The heyday for Bijou Hills was in the 1920s before the bank closed," remembered Ruth Surat, Wayne's mother, who moved there at the age of three when her mother bought the store. Photographs in her family album show a town that looked like an Old West movie set with horses, wagons and humble wood storefronts. Well versed in local lore, she even recalled old-timers who talked of Custer and his Seventh Cavalry visiting the region in 1873.
Mrs. Surat had lived the town's history. "On Wednesday and Saturday nights you could hardly park your car on Main Street. The barber had to hire another barber in the pool hall to keep up," she said. Her brother, Floyd Houska, ran the city bar. "He had to break up fights every once in a while."
Natural disasters included the usual grasshopper plagues, fires and tornadoes. A gravestone in the nearby Union Cemetery memorializes the destruction of May 27, 1899, when a twister struck the Peterson farmstead, killing the father and six of his eight children. Neighbors rushed to the scene and found Mrs. Peterson in a muddy field, dazed and badly injured. At first sight, they thought she was an animal of some sort. Eleven-year-old Earl was found a half-mile away, also alive but pinned in mud by a stick that had driven through his clothing. Another son, Alvah, had ducked in the storm cellar and survived the storm while crouched in the dark hole with a big bull snake.
A few days later, the editor of the Chamberlain Register wrote that the sight of two wagonloads of coffins parked by the undertaker's establishment, "made even the most hardened persons contemplate the uncertainty of life, and the certainty of death."
Tragedy has visited the hill country throughout white man's recorded history. Dozens of families lost their life savings when the Bijou Hills bank closed in 1926. Mrs. Surat told us one man made a final withdrawal. "He took a gun and went to the bank and said 'It's either you or my money,'" she said. "He got his money but nobody else did."
She also remembered the day her elderly grandmother became lost in a snowstorm in the Bijou Hills. "The whole town went out after dark looking for her. Everyone turned our lights on so she might see them. All she was wearing was a light sweater, and we thought she probably walked up into the hills. When you get in the hills in a storm you can't see anything." The searchers couldn't find Grandma Novak, but later that evening she walked in the front door of her own house. She said the fuss over her absence was "greatly inflated."
Another search had a sad ending. Harvey Burr disappeared from his farm near town in November of 1951. His bloodied body was found days later in a haystack. Burr's murderer, a young man from Mitchell, was a distant relative who had kidnapped and raped a country schoolteacher, and then abducted and killed Burr and wrote checks on his bank account. Though it happened over 60 years ago, old timers in the hills remember every detail.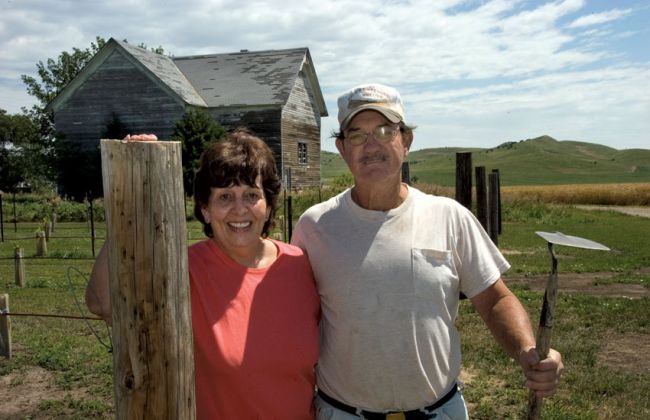 Bijou Hills residents Pat and Wayne Surat started their own vineyard.
Crimes, hard times and disasters hardly define the day-to-day history of the hills, however. As a kid growing up in the town of Bijou Hills, Wayne Surat remembers rabbit hunts, ball games, picnics and sledding. He moved to the West Coast and married Pat, a Californian, but they returned in 1969 to raise their family even though the town was rapidly losing its population. Unlike the slow decline suffered by most towns, Bijou Hills disappeared a house at a time because an eccentric farmer from Academy bought them and moved them to his farm. "He even bought the church parsonage," Wayne said. "He put them up on blocks and they were all rotting out there and falling down the last I saw of them."
When we visited in 2007, the town consisted of Ruth's house, Wayne and Pat's place and the long-closed Bijou Hills Congregational Church. West of the church is a tidy grape vineyard, planted by the Surats with assistance from the nearby Platte Hutterite Colony.
The farms and towns are changing, decaying and disappearing, but the hills look much the same as when Indians gathered on them for ceremonies, or when the 19th century explorers passed by on journeys along the Missouri. The town of Bijou Hills may follow Granville and Eagle into obscurity, but its people's stories, whether remembered or forgotten, are as much a part of the place as the eternal stones and boulders.
Editor's Note: This story is revised from the November/December 2007 issue of South Dakota Magazine. To order a copy or to subscribe, call 800-456-5117.