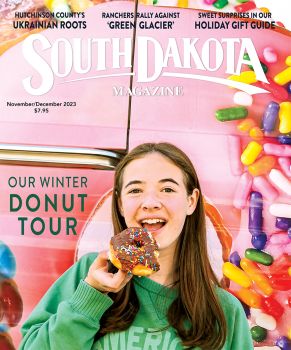 Subscriptions to South Dakota Magazine make great gifts!
Subscribe today — 1 year (6 issues) is just $29!

Before the Oasis
Oct 6, 2015
By John Andrews
It seems that whenever East River friends plan a trip to the Black Hills, they are obliged to take a break from the I-90 monotony at Al's Oasis in Oacoma. Al's is a historic business that we'll write more about when this series gets to Lyman County. But travelers could just as easily stop at Chamberlain, on the east side of the Missouri River. Or Kimball. Or Pukwana. In fact, you could spend a few hours exploring Brule County, home to lawnmower races, popcorn balls and biological and geological diversity found in few other places.
Let's start in Kimball, the first city you reach on eastbound I-90. Most South Dakotans might know the place as home to the Original Kimball Popcorn Ball, which humbly began in a local gas station. Over the years, they got more and more requests to mail the balls out of town. After a lot of research, David Olson and his partners in popcorn, business owners Eric Pulse, Lee Pulse and Scott Handel, decided to take the risk. In August of 2009, they sold their first popcorn balls from their new factory, a small building that was once a convenience store.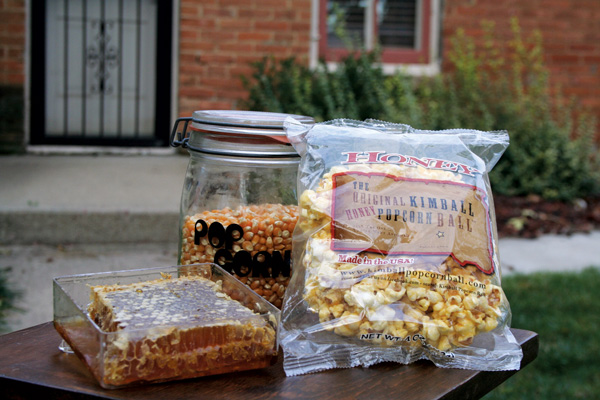 Kimball's popcorn balls began humbly, but are now sold throughout the Midwest.
Because of the company's size, production is done on a relatively small scale, with plenty of human involvement. They pop corn daily in a 48-ounce popper, averaging 50-60 batches a day. Each batch makes 47 or 48 balls. The marshmallow slurry used to bind the balls doesn't pour easily into a hopper, so workers load the factory's popcorn ball machine by hand to create 4-ounce popcorn balls that are sold in stores throughout South Dakota and several other states.
The residents of Kimball also eat well at the Back Forty, a coffee house, restaurant and bar where Keke Leiferman gives traditional sandwiches a gourmet twist. You can also explore the South Dakota Tractor Museum, a campus that includes old machinery and other pioneer tools.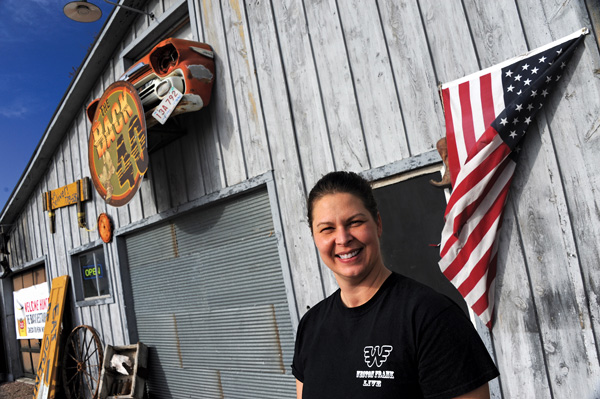 Keke Leiferman serves sandwiches and other treats at the Back 40.
About 10 miles further west on the north side of the interstate is Pukwana, famous for its lawnmower races held every other Saturday night during the summer. The races got their start more than 10 years ago, when locals watched a lawnmower competition on ESPN. They laid out a track next to the Puk-U Bar and Grill, added bleachers and hay bales and had their own race.
Mowers are divided into three classes: stock, modified and outlaw. Races draw dozens of drivers and hundreds of spectators to Pukwana from May to September.
Take a break from I-90 and head south out of Pukwana on Highway 50 to the Bijou Hills. Capped with quartzite and containing unique fossils and fauna, the hills have been explored by biologists, archaeologists and naturalists. The hills jut 400 feet above surrounding corn and hay fields. Cattle keep the grass low, showing some of the quartzite exposed 10,000 years ago by melting snow from the last glacier.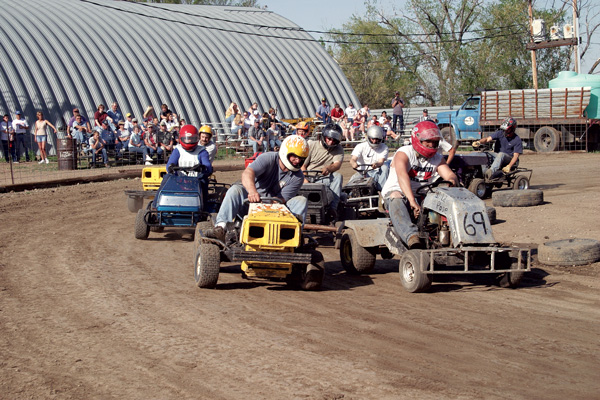 Every other Saturday night during summer is lawnmower racing night in Pukwana.
Tens of centuries later, the towns of Granville, Eagle and Bijou Hills were started below the hills. Now, only the latter survives. Bijou Hills had just three residents when we visited in 2007 — Wayne and Pat Surat and Wayne's mother, Ruth. "Somebody will drive by here in 40 years and it will be a cornfield," said Wayne. "I'm not saying it's good or bad. It's just the way it is."
Two hundred years ago, the hills were on a route for migratory buffalo. Because of them, the Dakota Indians also became frequent visitors, building ceremonial pillars on the hilltops and fashioning arrows and other tools from the quartzite.
White explorers were attracted to the prairie promontories, beginning with French traders and continuing with Lewis and Clark, John Fremont and artist George Catlin, who collected stone samples and was enthralled by the area's antelope, buffalo and prairie dogs in 1832.
Catlin called the hills by their current name, which has been traced to French fur trader Louis Bissonet, known in his native St. Louis as "Mr. Bijou." Bissonet operated a post by the river in 1812 and traded with the Dakota Indians and white trappers.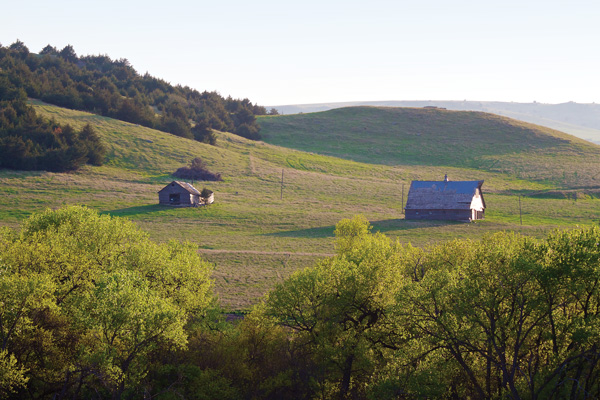 The Bijou Hills are a geologic and social curiosity in southern Brule County.
In the 1880s, homesteaders moved in. Their farmsteads soon circled the base of the hills, but even so, all the towns but Bijou Hills quickly declined.
Natural disasters included the usual grasshopper plagues, fires and tornadoes. A gravestone in the nearby Union Cemetery memorializes the destruction of May 27, 1899, when a twister struck the Peterson farmstead, killing the father and six of his eight children. Neighbors rushed to the scene and found Mrs. Peterson in a muddy field, dazed and badly injured. At first sight, they thought she was an animal of some sort. Eleven-year-old Earl was found a half-mile away, also alive but pinned in mud by a stick that had driven through his clothing. Another son, Alvah, had ducked in the storm cellar and survived the storm while crouched in the dark hole with a big bull snake.
Another search had a sad ending. Harvey Burr disappeared from his farm near town in November of 1951. His bloodied body was found days later in a haystack. Burr's murderer, a young man from Mitchell, was a distant relative who had kidnapped and raped a country schoolteacher, and then abducted and killed Burr and wrote checks on his bank account. Though it happened over 60 years ago, old timers in the hills remember every detail.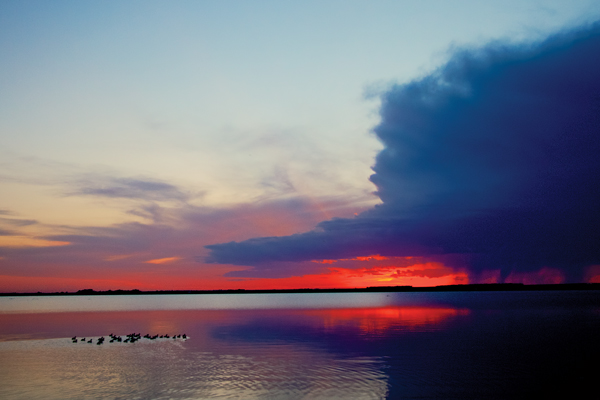 Red Lake was designated a National Natural Landmark because of its waterfowl habitat.
The Bijou Hills have the distinction of being one of 13 sites in South Dakota that have been designated National Natural Landmarks. The federal program highlights places that feature unique biological and geological diversity. Another landmark — Red Lake — can be found in Brule County just south of Pukwana. The shallow pond was added to the list because of its waterfowl nesting and breeding areas.
Head back to the interstate and drive west into Chamberlain, a city that has embraced its proximity to the Missouri River with summertime speedboat races. You'll also find the South Dakota Hall of Fame not far from the river. The Hall was established in 1974 and for years was housed in an old log cabin in Fort Pierre. The grand museum in Chamberlain was finished in 2000. More than 500 South Dakotans have been enshrined.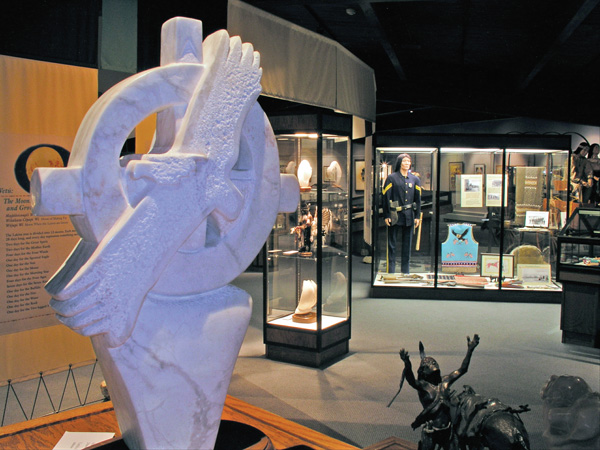 The Akta Lakota Museum houses art and artifacts celebrating Lakota culture.
Another unique repository of culture is the Akta Lakota Museum, and arm of the nearby St. Joseph's Indian School. The museum's collection features art, artifacts and educational displays that depict the heritage of the Lakota people. Though Brule County contains no reservation land, the Crow Creek Reservation lies just across the border to the north and the Lower Brule Reservation is across the river to the northwest. Upon its creation in 1875, the county was named for the Brule, or Burned Thigh, band of Teton Sioux.
Now that your exploration of Brule County is over, you can cross the river on the historic Chamberlain Bridge, originally finished in 1925 to carry traffic on old Highway 16. When the new Fort Randall Dam created Lake Francis Case in 1953, the old Wheeler Bridge was floated upriver and the two were joined to span the wide, new lake. A more modern bridge a mile to the south follows the main path of Interstate 90.
You can still stop at Al's Oasis, just across the river. No trip across South Dakota would be complete without it. Maybe you can talk about the things you found in Brule County over a cup of coffee. I hear it's good and cheap.
Editor's Note: This is the 12th installment in an ongoing series featuring South Dakota's 66 counties. Click here for previous articles.