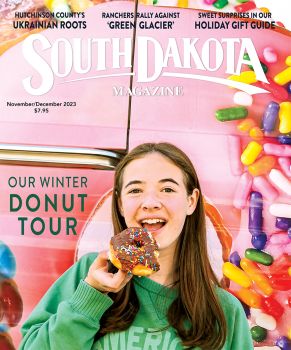 Subscriptions to South Dakota Magazine make great gifts!
Subscribe today — 1 year (6 issues) is just $29!

Biking the High Country
Our mountains are friendly to bicyclists who plan ahead.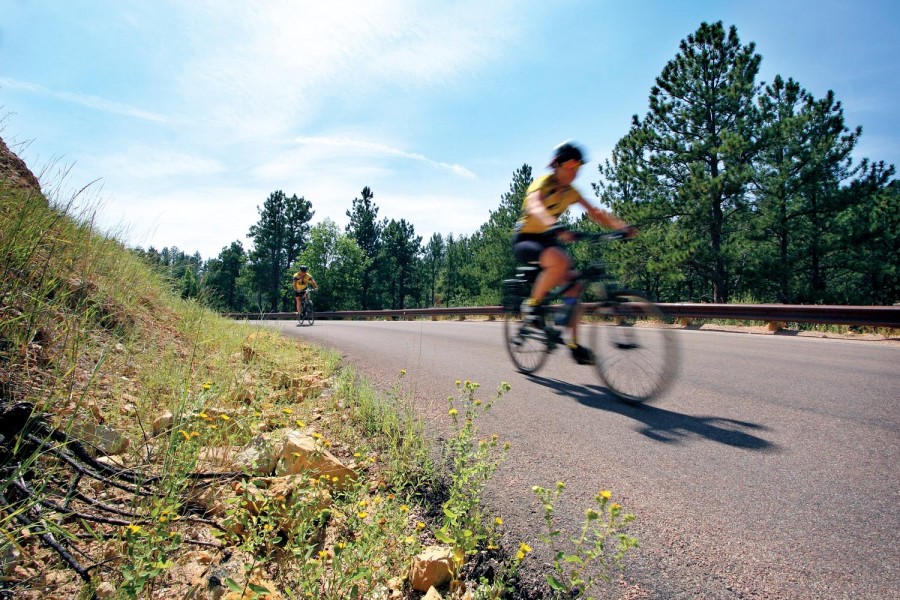 Hairpin curves, low tunnels and the narrow roadway cause local travelers to avoid the Needles Highway, leaving it to bicyclists and other sightseers.
Mountains and bicycling don't always go hand-in-hand. Many mountain ranges are too steep, too cold, too hot, too wild or too isolated for two-wheeling.
Black Hills biking is another story. Oh, you should give wide berth to the buffalo bulls in Custer State Park. Prickly pear cactus needles can puncture a tube. And you'll want to watch for rattlesnakes in lower elevations. But those are rare occurrences. Bicyclists who have experience elsewhere seem to agree that the Black Hills may be the best kept secret in the pedaling world.
Joey Bonds and her husband, Eddie, came to Hill City six years ago so Joey could work as a summer tattoo artist. Most of her clients ride motorized bikes, but she and her husband love to explore the Black Hills on their mountain bikes. They did the same in Arizona, where Eddie ran a bicycle shop in the small city of Parker.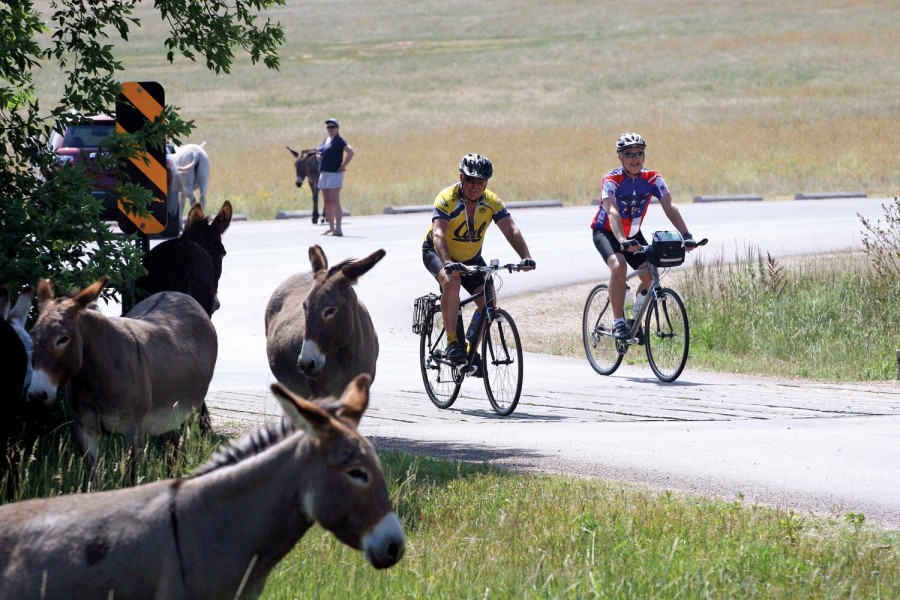 Inquisitive and snack-happy burros welcome bicyclists to the wildlife loop in Custer State Park. The burros are harmless, but cyclists should give wide berth to the speedy buffalo.
"The scenery is awesome and the hills are so accessible," she says. "Plus you can bike almost all year around. In Arizona it got too hot in the summer. My friends who bike here say there are usually a few days a month even in the middle of winter when you can go biking in the Black Hills."
She says bicycling is safe on most public roads, but mountain bikers can also explore thousands of miles of trails — everything from maintained routes to old logging roads and fire trails.
The Bonds like the Black Hills so well that they opened a shop, Rabbit Bike, within a stone's throw of the 110-mile Mickelson Trail in Hill City. They sell, repair and rent bicycles, and also provide guide services and shuttles for bikers. They've been splitting their time between Arizona and South Dakota, but they've sold the Parker bike shop and now plan to live and bike here year-around.
Their business success is part of an emerging biking culture in the Black Hills. Other bike shops are also opening, along with clubs and events that bring like-minded bikers together. The Black Hills Fat Tire Festival features spirited races for athletic mountain bikers every May. On the calmer side of the road, Black Hills Bicycling organizes group rides on paved roads that sometimes conclude with potluck dinners.
Jim and Glenna Books have started a "bicycle vacation company" called Dakota Bike Tours that arranges three, four and six-day excursions through the Black Hills — complete with shuttle service on steep inclines, overnights at campsites or bed & breakfasts, and the camaraderie of fellow biking enthusiasts. Some of their rides are ranked "easy to moderate," while others — like the Iron Mountain Loop where bikers climb 700 feet in three miles — are quite challenging.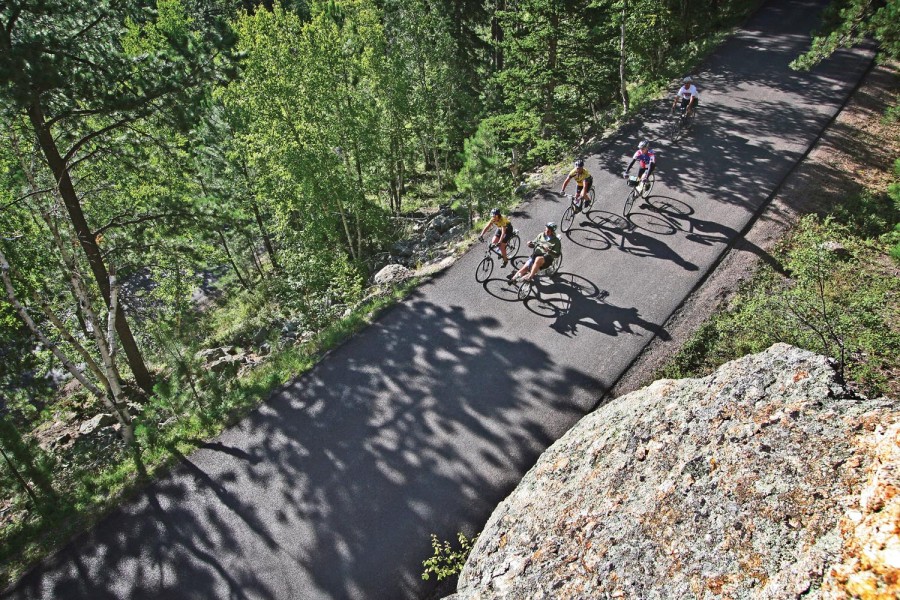 The Black Hills' network of low-traffic highways and off-road trails makes it friendly terrain for bicyclists.
Many weekend bikers can't imagine pedaling up mountains, but Books says most inclines can be avoided. "Talk to the locals or use the Google elevation maps," he advises. "We recently made a 42-mile trip and while we climbed about 1,600 feet in elevation, we dropped 3,550 feet in all."
Books says he's witnessing "an explosion" of the biking culture in western South Dakota. National tours are showing up, and local people are also discovering the joys of pedaling on-road and off. The Centennial Trail and the Mickelson Trail are off-road dream trips for bicyclists. Both are slightly more than 100 miles long and are maintained, mapped and equipped with trailheads and other amenities.
Books' tours are often arranged around the Mickelson Trail that runs from Edgemont to Deadwood. His trips also include a "monuments" tour, a fall foliage ride, a Badlands loop and other scenic adventures on local roadways.
Tips From Bikers
Experienced bikers offer these suggestions for flatlanders who hope to pedal through the Black Hills:
Be prepared for the high elevations: you'll have less lung capacity than you do back home. Drink lots of water and wear sunscreen.
Take a map or GPS if you explore backcountry forest trails because the routes don't always go north and south.
Try to avoid busy roads like Hwy 385 or Hwy 16. The Black Hills are blessed with many secondary paved roads and scenic routes where speeds are limited to 35 mph.
Beware of buffalo, especially lone bulls in Custer State Park. You might also encounter cattle along the Mickelson Trail or Centennial Trail but they are seldom aggressive.
Mountain lion sightings are rare and no confrontations have been reported with bikers. But if you do see one, make a lot of noise and it will likely slink away.
Rattlesnakes may be encountered (though rarely) in lower elevations. Keep your distance and they'll keep theirs.
EDITOR'S NOTE – This story is revised from the Sept/Oct 2010 issue of South Dakota Magazine. To order this back issue or to subscribe, call 800-456-5117.