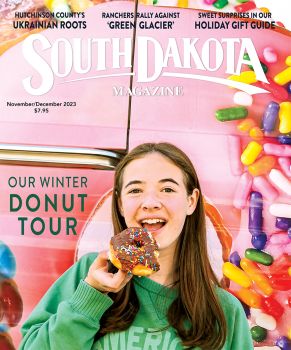 Subscriptions to South Dakota Magazine make great gifts!
Subscribe today — 1 year (6 issues) is just $29!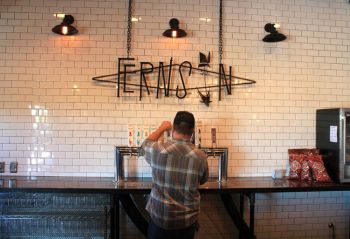 Birth of a Brewery
Oct 5, 2016
By Michael Zimny
Fernson Brewing Company is a young craft brewery based in Sioux Falls. Even if you haven't made it to their brewery off North Cliff or their downtown taproom on Eighth, you might have noticed their signature cans with the clean, upbeat design and the gentleman with the feather in his hat.
Owner/brewers Derek Fernholz and Blake Thompson are both South Dakota natives. Fernholz was a home brewer who became obsessed with his hobby, while Thompson began in the wine industry, attended brewing school and got his start at a small brewpub called Bitter Esters in Custer. We visited their Sioux Falls taproom and talked to Fernson about beer, those cans and the locally made movement.
Sioux Falls Startup
We brewed our first batch in February of 2015. Our plan is to release two or three more cans between now and this time next year.
We're mostly distributed in South Dakota and Northwest Iowa, but we're working on expanding. We want to take care of home first, so we're really focused on the southeast corner of the state and radiating out from there. We want to be sure we can deliver fresh product, so it's just a learning curve thing for us — how logistically to ship a beer that isn't filtered or pasteurized [further] away.
Sourcing Locally
Most of our grain comes from Shakopee, Minnesota. That's where the nearest malting facility is. They get their barley from sources in Minnesota, North Dakota and Idaho. There are a few [local] growers — one down by Worthing, Cradle to Grave Farms. They built a malt house and they're growing some barley, so hopefully they're going to be our local source by next year.
Our hops for the most part come out of the Pacific Northwest, but we do a fresh hop beer every year and all of the hops come from a farm about 7 miles from here. We're trying to do more of that. Our water is amazing Sioux Falls water. We had an intern from Augustana University this summer that worked on isolating some native brewing yeast, so we have about six different strands that we're starting to play with that are completely local and found wild here.
Those Cans
We love cans. Cans are infinitely recyclable. They weigh less, so you can ship more. It saves on fuel consumption, saves money and the environment. The big thing we love is the cans are better for the beer. Think of a can as a micro-keg. Once it's sealed, nothing — light, oxygen, anything — is getting in and nothing's getting out. No matter how good that seal is on a bottle, it's metal crimping the glass, there's always micro-holes. And no matter how dark, unless the bottle is completely opaque, UV rays will get through. So over time it's going to change its flavor.
We're going to do bottles but it's going to be a special thing, large format and meant to be shared. Our barrel-aged Farmhouse is aged four to six months in red wine barrels. That one will come to bottles soon.
People between the ages of 22 to 25 have grown up with craft beer in cans now and they're used to finding the beer they love in cans. But there's still a lot of people that grew up with only terrible or cheap beers that were always in cans, so they have the mentality of cheap beer in cans, good beer in bottles. We're seeing that change over time.
The guy with the feather in his hat
Fernson is an amalgamation of our last names — Fernholz and Thompson. But we like the idea of having a fictional character called Fernson that we tell our story through. We're both Lord of the Rings and Tolkien fans, so we were thinking of a wandering sort of sage, Gandolf-esque type person, and tied that into a German guy with a feather in his hat.
In our minds, [the can] looks like it could have been a beer can 50 years ago, but it exists today. We think it stands out on the shelf. You see across the country that nobody's staying in that box of what a traditional beer looks like anymore.
The main taproom design
It sort of just happened out of elements that we liked. We had a good source for the black steel pipe, so we thought we could use those for table bases. Blake's uncle is an amazing metal worker, so he welded the frames and did our Fernson face logo. The tables had this industrial type aesthetic, so we found tables and chairs that involved that.
We love the look of barn wood, and we were fortunate enough to find an entire, 100-plus-year-old barn that had just been taken down in the middle of Nebraska, so we bought the whole thing and got the wood up here. It turned out really well, and it's probably the biggest compliment we get when people come in. You have this warm but industrial looking taproom and people really enjoy it. For the lighting design, we knew we wanted some Edison bulbs exposed to elements for that kind of warm feel. Nancy from Mahlander's Appliance and Lighting here in town came out and handpicked all of the light fixtures, and they fit the space perfectly.
The new downtown pub
We just kind of had that opportunity fall into our laps last winter and we loved the idea of being a bigger part of downtown Sioux Falls, which is kind of the heart of the city these days. We do live music from time to time, trivia nights, open mic nights, stuff like that. It's Fernson beer on tap, but we also have curated wine donors as well. Next door is a bakery and pizzeria so people can get food down there. We have an open policy — if you want to bring it with you, we just love people to come and try our beers and if they want food to be a part of that why not?
Local Makers
We've embraced it wholly. We're smaller in Sioux Falls, but percentage-wise we have just as many people doing cool things. We've got everything from String Theory Luthiery making violins and guitars that are musical instruments and works of art, The Breaks Coffee Roasting doing artisan, small-batch roasted coffee, to our restaurant scene downtown with independent operators like Bros Brasserie, M.B. Haskett and Mama's Ladas making amazing artisanal food and sourcing locally when they can, to Breadico making long-fermented, all-natural bread. And that's just scratching the surface. Sioux Falls has a ton of people making amazing things.
Michael Zimny is the social media engagement specialist for South Dakota Public Broadcasting in Vermillion. He blogs for SDPB and contributes arts columns to the South Dakota Magazine website.