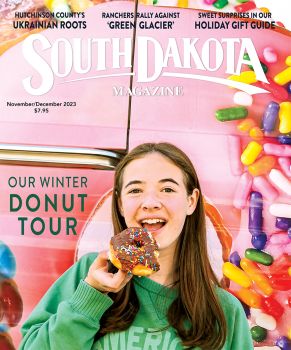 Subscriptions to South Dakota Magazine make great gifts!
Subscribe today — 1 year (6 issues) is just $29!

This is Our Family
By Rebecca Johnson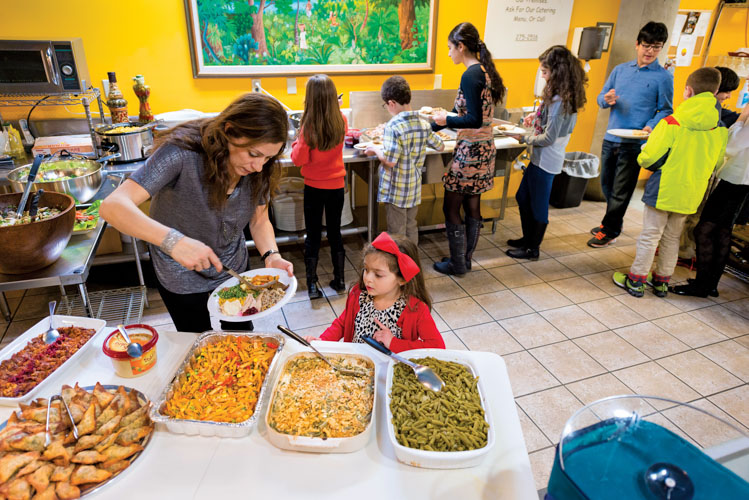 Rosana Jamous helps her daughter Sarah choose from traditional Thanksgiving foods and Middle Eastern fare. Photo by Bill Goehring.
Sioux Falls is South Dakota's melting pot, with over 120 languages spoken in its schools. Moving to the rural Midwest can be a shock for immigrants trying to learn a new culture and new traditions. Thanks to restaurateur Sanaa Abourezk, the city's Middle Eastern community has fully embraced one of America's most loved holidays — Thanksgiving.
Abourezk and her husband James, who served as South Dakota's U.S. congressman and senator in the 1970s, met while Abourezk was working at the Embassy of Qatar in Washington, D.C. Once married, the couple moved to Rapid City, but Sanaa was lonely so they relocated to Sioux Falls where she quickly befriended other immigrants from her home country of Syria and neighboring countries.
"We used to get together and the kids played," Abourezk says. "Then it dawned on us that the kids go to school and they hear about Thanksgiving. 'My grandma made this. My aunt made this.'" So the friends decided to celebrate the quintessential American holiday together to give their children that communal experience.
Farid Kutayli and his wife Salwa hosted the first few gatherings in their home about 15 years ago. But the celebration quickly relocated to the Abourezks' restaurant, Sanaa's 8th Street Gourmet, in downtown Sioux Falls. "If we know somebody who moved to town we also invite them because we want them to have Thanksgiving with us as a family," Abourezk says. "Last year I think we had about 60 adults and we have kids running all over. That's why no house can fit us anymore."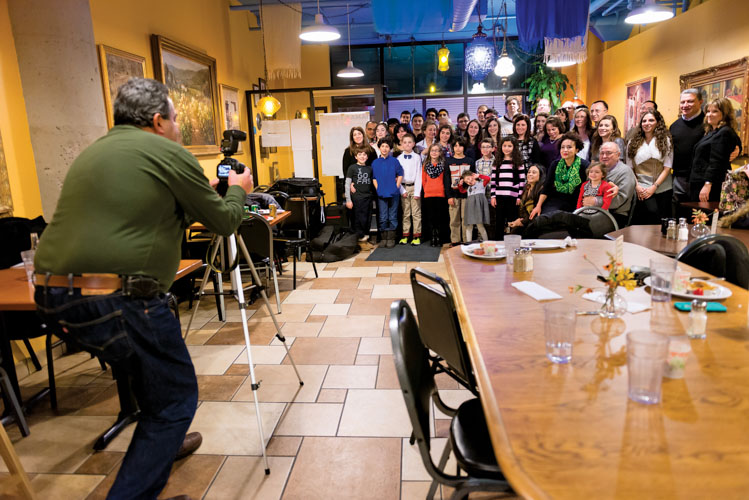 Khalil Yousef photographs the growing group each year. "They're not blood relatives, but for us this is the family," he says. "That's really the key. It makes you feel like you belong and that you're not alone. The good food is a bonus."
Abourezk made all the food when she first hosted the Thanksgiving party in her restaurant but she was too exhausted to enjoy the party, so now the gathering is potluck. Abourezk still provides the turkeys and American staples like baked breads, mashed potatoes and corn. It is common for platters of green bean casserole and sweet potatoes to sit beside Arabic delicacies like kibbeh (bulgar wheat mixed with beef or lamb, topped with pine nuts), kanafeh (a cheese pastry soaked in sugary syrup) or hashwet ruz (a rice pilaf that the group prefers over bread stuffing).
Raed Sulaiman, a pathologist, dons an apron to carve the turkeys. "My little one is always excited to see it," says Rosana Jamous, a stay-at-home mom to three daughters. "The kids, their eyes are so big watching." The bird isn't unusual to the adults; it's commonly served on Christmas in Lebanon and on Easter in Syria. A prayer follows the carving, sometimes spoken in Spanish because students study it in high school "and if you say the Thanksgiving prayer in Spanish at your Thanksgiving you get extra credit," says Alya, Abourezk's daughter. "Usually we end up doing it in English, especially for the kids because none of us speak Arabic well."
Christiane Maroun, a pediatrician, recalls introducing herself to a newcomer last year as she waited in line for food. "She was expecting a baby and she said, 'Oh, I'm so happy that somebody here is from Lebanon so I will be more comfortable bringing my baby to you,'" Maroun says. "She was so relieved she wouldn't need a translator."
Riyad Mohama, a cardiologist, and his wife Rima, a pharmacist, moved to Sioux Falls 22 years ago. The transition wasn't easy; they came in January to a lot of snow. "I told my husband, 'I don't think I'm going to be staying here for a long time. We should move somewhere else,'" Rima recalls. But she loves Sioux Falls now. "Thanksgiving reminds me of my country because that's how we live there. It's very social," she says. "It's hard that we don't have any relatives here, but when we do this, the kids can see that this is our family."
---
Vegetable Almond Rice Pilaf
(Hashwet Ruz)
1/2 cup olive oil
1 medium onion, finely chopped
1 clove garlic, minced
1/2 teaspoon finely shredded fresh ginger
2 cups basmati rice
1 cup sweet peas, fresh or frozen
1 cup diced carrots, about 1/2-inch cubes, fresh or frozen
1/2 cup chopped dried cranberries
2 tablespoons finely chopped candied orange peels or orange marmalade
1/2 cup slivered almonds, toasted
1 teaspoon turmeric
dash of red pepper
sea salt to taste
Heat 1/4 cup olive oil and sauté onion for 4 minutes. Add garlic and ginger, then stir for 1 minute. Add 4 1/2 cups water, salt and turmeric and bring to a boil. Add rice and stir, returning mixture to a boil. Reduce heat to low, cover and simmer for 15 minutes. Then turn off heat and rest on the stove for another 15 minutes.
While rice is resting, heat remaining olive oil on medium heat in a sauté pan. Add the vegetables, stirring for 2 minutes. Stir in cranberries and chopped orange peels or marmalade. Season with salt and red pepper, then cook another 2 minutes. Turn off heat and set aside. Spoon rice into deep serving platter, spoon vegetable mixture over the rice and sprinkle toasted almonds on top. Serves 6.
Editor's Note: This story is revised from the November/December 2015 issue of South Dakota Magazine. To order a copy or to subscribe, call (800) 456-5117.