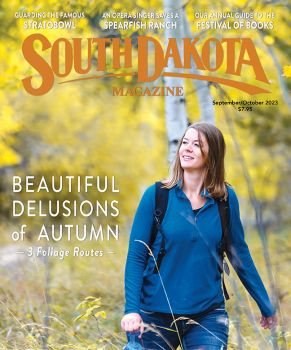 Subscriptions to South Dakota Magazine make great gifts!
Subscribe today — 1 year (6 issues) is just $29!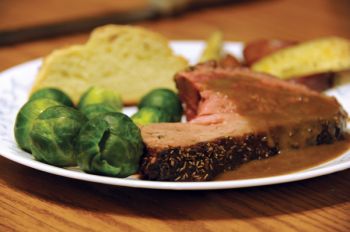 Grassfed at Jefferson
In the late '70s, when Bob Corio and his wife Barb were first married, they were invited to a lamb chop dinner at a friend's house. "It was the most awful tasting food I've ever eaten," he recalls. "I had to bury it with mint sauce so I could clean my plate."
Corio thinks he knows what made it so unpalatable—the advanced age of the animal, its corn-fed diet, and that strong lanolin taste often associated with the meat. Now, years later, the cleaner, more refined flavor of his own Dakota Harvest Farm grassfed lamb earns rave reviews from farmers market patrons and restaurants all over the region — including Omaha's Grey Plume, recently named the "greenest restaurant in America" by the Green Restaurant Association.
In addition to the Dorper and Dorper x de la France lambs (which are a shedding "hair" sheep without the lanolin production, and flavor, of wool sheep breeds), Corio raises heritage Dexter cattle on his alfalfa, grass, oats, and winter annual grazing mix. "Dexters are good mothers and have a gentle disposition, and they may be helpful in protecting lambs from coyotes," Corio says. The opportunistic predators can be severe on the Jefferson, South Dakota family farm that borders the Missouri River. One year, Corio lost 10 percent of his lambs to coyotes.
So, in a family that traditionally stuck to beef and hogs, why the switch to lamb, especially after the memorable mint sauce incident? In about 2002, Corio had an area of pasture going to waste. He found 10 ewes of the Dorper breed in eastern Iowa to graze it. Their lambs were corn-fattened and auctioned off. He didn't break even, but he didn't give up, either.
With a fresh crop of lambs, he started grazing instead of graining them (his lamb is now Certified American Grassfed), and he sought out direct markets in Sioux City, Omaha, and Vermillion with an ever-expanding menu of cuts processed by USDA-inspected Hudson Meats in Hudson. Corio obtained health department licensing as well, so he could grill lamb bratwursts and kabobs to sell and sample at the four or five farmers markets where he and his wife vended — often separately so as to hit more than one market during a single time slot.
Word of his lamb's unsurpassed flavor spread quickly. Corio has seen demand for his grassfed lamb (and now grassfed heritage Dexter beef) skyrocket. The Omaha World Herald's review of the French Cafe in Omaha, which referred to their Dakota Harvest lamb entree as "crazy delicious," hasn't hurt, either.
Dakota Harvest Farm now has 350 ewes and almost two dozen Dexter cattle grazing 160 acres, with plans to increase the herd size sustainably as space and time permit. Though his customers may occasionally be disappointed when he runs out of their favorite cut, they are quick to understand it's all about the care and quality of the meat — quality that Corio maintains as much for the local customers who cook at home and know him by name as for the nationally-acclaimed restaurants that proclaim his farm by name on their menus.
Dakota Harvest Lamb (and beef) is available during the regular season at Vermillion Area Farmers Market and the Sioux City Farmers Market. You can also order online at www.DakotaHarvestFarm.com.
Formerly of Flying Tomato Farms in Vermillion, Rebecca Terk is the Land Stewardship Project's Healthy Food System Organizer in Big Stone County, Minn., near the South Dakota/Minnesota border. In fact, she can see South Dakota from her writing desk. She writes about local food and sustainable farming at www.BigStoneBounty.com.
---
Roast Lamb with Coffee-Brandy Sauce
Rebecca Terk calls this lamb recipe "awesome and unusual." After preparing the dish, she recommends using the sauce left at the bottom of the dutch oven. "Put it on the stovetop and whisk in a little flour over low heat to make a gravy — it's very good on rosemary roasted fingerling potatoes or a cucumber and tomato salad."
Ingredients:
5 lb. lamb roast (leg)
salt and pepper
dry mustard
ground rosemary
Sauce:
1 cup strong black coffee
2 tablespoons cream
2 tablespoons sugar
3 tablespoons brandy
Directions:
Salt and pepper the lamb, dust with dry mustard, then pat rosemary on top. Combine ingredients for sauce.
Roast lamb at 300 degrees for 18 minutes per pound, basting with sauce frequently. Pull the roast out onto a tray and let stand for 20 minutes before serving.
Editor's Note: A version of this story originally appeared in the March/April 2011 issue of South Dakota Magazine. To order a copy or to subscribe, call (800) 456-5117.