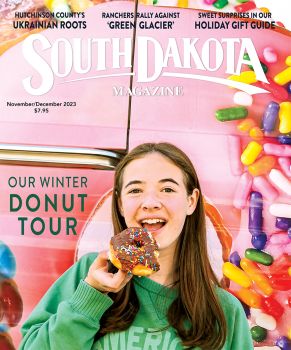 Subscriptions to South Dakota Magazine make great gifts!
Subscribe today — 1 year (6 issues) is just $29!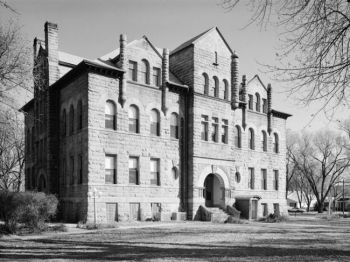 Elk Point Tragedy
The old courthouse in Elk Point was packed during the last week of March in 1933. People lined up outside waiting for the courtroom doors to open at 7:30 each morning. When they did, seats filled immediately, leaving other curious spectators to stand in doorways, hallways and even down the stairs as they tried to catch a glimpse of the proceedings.
On trial was Moville, Iowa farmer Nile Cochran. He was accused of shooting and killing 67-year-old R. D. Markell, an Elk Point man who operated a milk hauling business with his sons and was determined to deliver milk to markets in Sioux City, despite a milk strike, a growing number of picketers and their threats.
The confrontation which erupted on Feb. 3, 1933 on Highway 77 four miles west of Sioux City was a product of the times and the culmination of events which had begun almost a year earlier as South Dakotans struggled with the Great Depression, widespread farm foreclosures and disastrously low farm prices.
Out of this sense of hopelessness and despair emerged talk of action. When the idea of withholding farm products from the market until prices rose to a more acceptable level caught on, the Farm Holiday Movement was born.
By the summer of 1932, the movement was becoming a strong force in the counties around Sioux City. Under the leadership of Mike Reno of Des Moines, members of the militant organization had begun their efforts to stop all produce — including grain, milk and livestock — from coming to market. Roads leading into major markets were picketed and truckers, except for a few of the most daring and determined, did not make it through.
R. D. Markell of Elk Point and his sons were among that determined lot. They had moved to the Union County area after plans for renting a farm near Wessington Springs fell through due to a bank failure. While other truckers sometimes had to haul their loads back to farms or have them dumped in the road ditches, the Markells were more dauntless. They strongly believed that no picketers should stop them from bringing their loads of milk into Sioux City because they were bringing milk not produced by Union County producers. The Markells hauled milk from the Vermillion area while another son, Warren, operated a truck hauling milk from farms east of Sioux City. Nevertheless, each day they had to get through picketing farmers.
Picketers at Jefferson on Aug. 13 used water hoses to stop Markell's trucks. Markell then sought the help of Union County Sheriff G. N. Slocum. After a second dousing, Sheriff Slocum ordered Jefferson town officials to turn off water to the picketers. He then accompanied Markell's trucks through Jefferson. At the Sioux River bridge at Riverside, 300 farmers attempted to stop the trucks, but they scattered as the Markells spread through. Sioux City police flashed guns to stop the picketers as the truck proceeded to Roberts Dairy in Sioux City.
Another night, Sheriff Slocum and four deputies attempted to help get five truckloads of cattle through the picketers. When the first truck was halted, the sheriff fired a shot into the air from a short-barreled shotgun. The picketers disarmed him and threw the gun in the weeds. Then, according to a Sioux City newspaper, "They gave orders to the sheriff, who found himself absolutely alone. His aides had fled."
The Farm Holiday Movement continued to gain followers. Four thousand people jammed into the Ritz Ballroom, two and a half miles south of Beresford, on Aug. 17, 1932 to hear Reno, the group's leader, speak. Amplifiers carried his three-hour oration to 6,000 more outside. After Reno's speech, Joe Trudeau of Jefferson brought the crowd to its feet with a pledge of support and a ringing endorsement of the movement. Less than a week later, directors and owners of the elevators in Elk Point resolved to stop purchasing and shipping grain.
Roads leading into major markets were picketed and truckers, except for a few of the most daring and determined, did not make it through.
As months passed, picketers became more determined to stop the flow of milk into Sioux City and the Markells became more iron-willed in their determination to get their loads of milk into Sioux City. The inevitable happened on Feb. 3, 1933, near the Gadbois farm on paved Highway 77.
The Markells had notified Tom Collins, Union County 's new sheriff, that they planned to bring their truck, loaded with 1,000 gallons of milk, to Sioux City. Seventy picketers, from Plymouth and Woodbury counties in Iowa, stood on the road or along the Milwaukee's railroad tracks. Armed with shotguns, rifles and revolvers, they waited for the Markells' truck.
When the Markells approached, they saw two telephone poles that picketers had placed in the road. The truck stopped and R.D. Markell, who was riding in the passenger seat, got out to move the poles. His son, Frank, was driving and two other sons, Harry and Keats, were hunched between milk cans inside.
Suddenly, a shot rang out. Some said the Markells fired first, others believed that the picketers did. Markell continued removing the poles from the road. News accounts say he was shot in the abdomen while getting back into the truck. The two Markells in the back of the truck rose up from between the milk cans and began firing at the picketers. With blood streaming down their faces, Harry and Keats Markell kept firing from the back of the truck. A rifle bullet chipped off the end of Keats Markell's thumb. Later the bullet was found in the stock of his gun.
Sheriff Collins, who was at the scene, ducked behind a nearby building on the Gadbois farm when the battle was at its height. He reported a deafening barrage of rifle and shotgun fire. Somehow, Frank Markell was not hit by gunfire and the truck, with windshield and front tires shot out, proceeded on to Riverside.
The elder Markell was taken to St. Vincent Hospital, thought to be near death. Showing remarkable stamina, he survived for several days. Keats Markell was hospitalized for a short time with buckshot wounds on his face. From his hospital bed he declared that he was going right back on the road hauling milk, saying, "They can't scare me out."
Nile Cochran, a fanner and picketer from Moville, Iowa, admitted firing the shot at the truck. After treatment at Methodist Hospital for minor wounds, he was taken to the Sioux City jail before being extradited to the Union County jail.
When the case went to trial, his parents from Winner and his wife and seven children from Moville, were among the spectators packed in the courtroom. After a week-long trial, Cochran was convicted of second degree manslaughter and sentenced to three years in prison. He was taken to the penitentiary in Sioux Falls on March 30, 1933.
Editor's Note: The author, Derald Keiser of Alcester, was a Union County historian. He died in 2004. This story is revised from the May/June 1998 issue of South Dakota Magazine. To order a copy or to subscribe, call 800-456-5117.