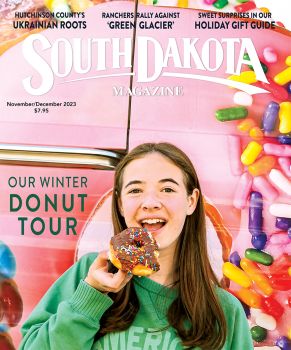 Subscriptions to South Dakota Magazine make great gifts!
Subscribe today — 1 year (6 issues) is just $29!

Book Keeping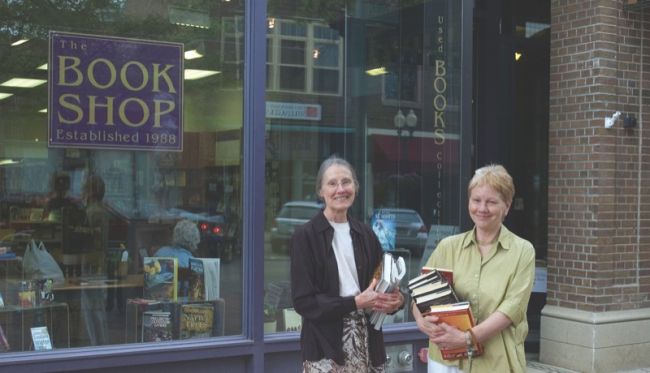 Jenny Cook (right) believes "in used everything, not just books." She began working for Katherine Talley (left) and the other owners of The Book Shop in 1989. Photo by Katie Hunhoff.
Editor's Note: In 2014, The Book Shop moved from historic downtown Sioux Falls to the Park Ridge Galleria, located at 1708 S Western Ave. in Sioux Falls. The following is revised from "Book Keeping: What Sells at South Dakota's Secondhand Bookstores," which appeared in the September/October 2008 issue of South Dakota Magazine. To order a copy or to subscribe, call 800-456-5117.
Lucky people do what they love. Count used bookstore owner Jenny Cook as a happy member of that exclusive group. Cook runs The Book Shop in a historic building in downtown Sioux Falls. She started there in 1989 as a clerk, working for original owners Katherine Ann Talley, Nancy Veglahn and Kay Coddington. When they retired in early 2008, Cook bought the business. "I really believe in used everything, not just books," Cook said. "I wanted to be around books, period."
Cook's parents were voracious readers, so it was natural that she would develop the same affection for books. "I wouldn't call it an escape at that point, but I liked finding out that there were other people who thought and felt like me," she said. "I could find that out in books." She knew in elementary school that she wanted to work with books; a chance to help in the school library "was wonderful," Cook recalled. "I loved it. It made a big impression on me."
Cook's store sits on historic Phillips Avenue. Built in the early 1900s, the structure was billed as the first fireproof hotel in Sioux Falls. Then in 1988, Talley, Veglahn and Coddington turned it into The Book Shop. They stocked the shelves with titles they found in catalogs and attended seminars to get acquainted with the business.
As the Internet became available, they searched the unending realm of cyberspace for books. Talley and other shop owners faced important industry changes. "Used booksellers and antiquarians used to be the source for collectors of out-of-print books," explained Talley, who was still working part-time at The Book Shop when we visited in 2008. "Since the Internet has opened up, some of the books that were difficult to find are now easier to find, whereas the truly rare, scarce books have escalated in price because of the bidding war that can go on for them."
The Book Shop is a general interest store, with fiction, nonfiction and books that appeal to readers of all ages. Her mystery and adventure section is popular, as are the older regional history books.
A lot of books have passed through Talley's hands in her two decades in the businesses. Some held surprises. She has found money ("small bills, nothing terribly exciting") and other personal items including an envelope with two engagement rings inside. Luckily that book was a recent acquisition, and the rings found their way back to the owner.
Although the Internet and e-books have changed the used book business, nothing can change the unique experience of bookstore browsing. "Walking into a bookstore is a special feeling, it's a special place," said Cook. "For me, it's kind of an oasis, or a haven, and you can't get that online."