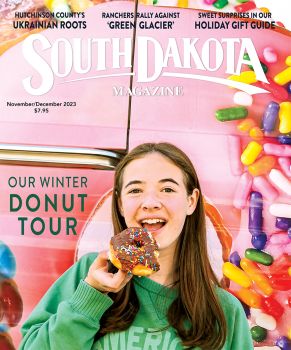 Subscriptions to South Dakota Magazine make great gifts!
Subscribe today — 1 year (6 issues) is just $29!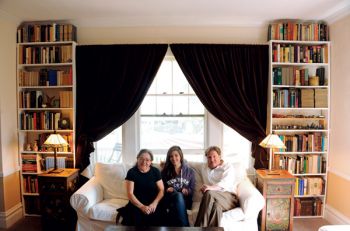 Why The Bottums Belong In South Dakota
By Nathan Schock
When Joseph "Jody" Bottum awoke on Dec. 3, 2011, his wife greeted him with an early Christmas present. Lorena had been tracking the climb up the charts of his Kindle ebook, Dakota Christmas, and that morning it ranked third among non-fiction books on Amazon.com.
But that December morning was also significant to Bottum and his family for another reason: it was being spent in their Hot Springs home. Following many years as a magazine editor and writer on the East Coast — and frequent vacationer to Hot Springs — Bottum had packed up and moved back to his home state.
The grandnephew and namesake of the late U.S. Senator Joseph H. Bottum believes the homecoming reinvigorated his writing. Living in South Dakota "has given me a calmness to write and to think more deeply than I was able to in New York. For the last ten years, I've been working 60-70 hours a week, mostly as an editor of other people's work." In South Dakota, he found time to pursue ideas he had put on hold over the past decade.
Ironically, it was a reprise of something quite familiar that led to his Amazon success. For years, Bottum had been writing about politics and religion for publications like the Wall Street Journal and the Weekly Standard. He thinks he had the best job in Washington. "I got to write about politics but I didn't have to do it myself," he says.
Still, when an acquaintance at Amazon asked if he wanted to edit some personal essays he'd written about his childhood Christmases into a Kindle Single, Bottum welcomed the challenge. He says he took the collection "like a carpet and shook it out."
The result was Dakota Christmas, a compilation of humorous and engaging childhood reminiscences from his childhood in Pierre, where he was raised in the 1960s and 1970s. His family roots include not only the Bottums, but also the Hydes, a prominent family in Hughes County for generations.
The stories are diverse — corralling escaped horses on the snowy plains, reading Christmas books, the peculiar language of Christmas, South Dakota's Christmas cuisine — but the threads that bind them are the place and the holy season.
The combination struck a chord with Kindle readers, and elicited an advance from Random House to write another book called The Christmas Plains. While it tells some of the same stories, Bottum utilizes two themes from his first book — the language of Christmas and spiritual geography — to explore how the experiences shaped his life.
"When I was young — no, even today — all my life, Christmas has begun with the words." That sentence opens the second chapter of The Christmas Plains, in which Bottum writes about the language at the heart of our lives and our understanding of Christmas. Much of it focuses on the "peculiar … grammar and syntax of Christmas carols." Along the way, he employs stories to demonstrate how we use language to grasp the world, and especially to make sense of Christmas.
But Christmas Plains really shines as it explores spiritual geography. Early in the book, Bottum talks about his family's decision to take up permanent residence in South Dakota:
About a decade ago, [my wife] Lorena and I began to worry that we were letting too much of our time slip away — living homeless, in a funny kind of way: chasing from east-coast city to east-coast city, one new job after another, and providing for our daughter no clear geography in which she could center herself as she grew. Giving her no sense of place like the one I was given as a child, for good and for ill, out on those western plains. We needed a foothold, we decided, and what we found, at last, was a sprawling old Victorian monstrosity going cheap in the town of Hot Springs, down in the southern Black Hills.
Bottum's personal attempt to secure a concrete foothold for his family mirrors his literary attempt to awaken readers to their own spiritual geography. "We used to have a spiritual geography," he says, "where landscapes provided ways of seeing the theological meaning of the world. We've let our landscapes become very bleak. What I want to do with my writing is reinvest the world with richness, with meaning. Every tree we see ought to be speaking to us from God. Everything is screaming at us about God."
But Bottum, a conservative Catholic, isn't preaching. He's inviting people to follow the personal path of rediscovery that he recounts in The Christmas Plains. "I think I knew this [spiritual geography] when I was young and I let it slip away," he says. At home in South Dakota, he's finding it again. "I'm native to the soil, and that's a feeling whose importance our culture has increasingly denied. When I wake up, I sense the omnipresence of God."
Many readers may not share his connection to South Dakota, but nearly all can connect with the holiday. And in that way, Christmas serves as a compass, directing readers to rediscover the spiritual geography of their roots. In The Christmas Plains, Bottum writes, "There's something geographical deep down at the greeny heart of the holiday." Bottum wants to use those annual, year-end tugs at our heart strings to remind us of something we lost, but aren't as predisposed to think about during less festive times.
The Bottums originally purchased their Hot Springs home in 2007 to occupy during the summer months. The tall, green Victorian house was the childhood home of Leslie Jensen, who became governor of South Dakota in 1936. It sits high above the Fall River on the west side of the Hot Springs, which is famous for its sandstone architecture, warm springs water and the Veterans Administration Hospital.
The spacious house has ample room for Bottum's massive collection of books and smaller compilations, such as his treasury of South Dakota political buttons (which includes his great-uncle's button and several representing the man who beat him in 1962, George McGovern). Bottum worked and socialized with Fred Barnes, David Brooks, William Kristol and other high profile intellectuals in his East Coast career, but there's little evidence of that life in the Hot Springs house.
Outdoors, three gnarled cedar trees — possibly as old as the house itself — greet guests at the front porch. A red and white striped hammock hangs from the porch ceiling. In the backyard, weeds are crowding out the family's plucky attempt to establish a garden of native grasses and flowers.
The Bottums' daughter, Faith, graduated from Hot Springs High School last spring. Lorena, a native of Brazil, says they feel very much at home in the city of 3,700. "If what South Dakota has allowed thus far continues and my prose continues to sell, then we'll stay until the end," he says. He has recently published essays that blend sports and religion — one on the Tim Tebow phenomenon and another on baseball pitcher R.A. Dickey's redemption from the steroid era. His most recent books include a collection of poetry called The Second Spring and An Anxious Age, an examination of American culture through the lens of religion.
But writing is a tenuous profession in any rural state. Perhaps the choice to locate in Hot Springs carries an inadvertent geographical clue. Sitting at the very southern tip of the Black Hills, rather than nestled in the center, one could quietly slip out, almost unnoticed.
However, if the decision to stay hinges on continued success for his prose and Dakota Christmas is an indication, the Bottums could be in Hot Springs for many merry seasons.
Editor's Note: This story is revised from the November/December 2012 issue of South Dakota Magazine. To order a copy or to subscribe, call (800) 456-5117.