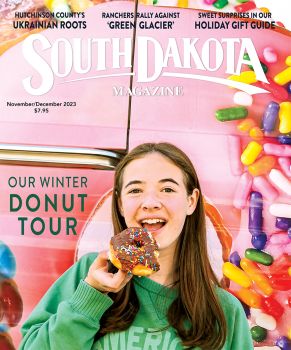 Subscriptions to South Dakota Magazine make great gifts!
Subscribe today — 1 year (6 issues) is just $29!

Name That Film
Aug 8, 2013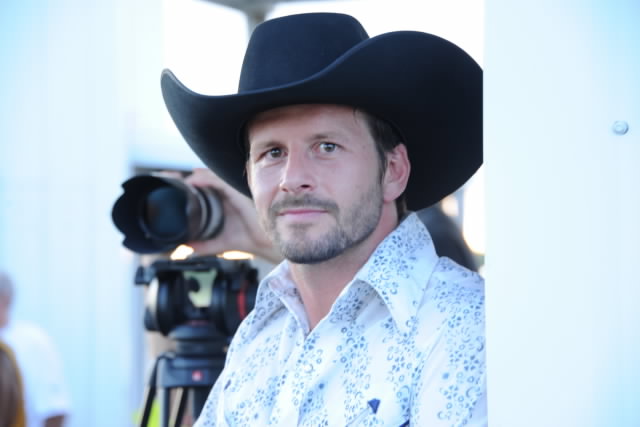 Jamie McDonald, British actor and part-time cowboy.
Editor's Note: Below is a short interview with Jamie McDonald, England's lone bull rider, conducted after the main event. Click here to watch a short video of McDonald's trip to Burke.

What do you call a movie about a brand new cowboy making his first bull ride? Jamie McDonald, the British newbie at the Burke Stampede Rodeo, is looking for ideas. "Please ask your readers to write in with suggestions and we'll credit any winners in the film," he says. We asked him a few questions in the hopes that his answers might stir your creative juices.
1. What does it feel like to get that first bull ride behind you?
I felt riding a bull for the first time was much like meeting your girlfriend's parents for the first time: potentially dangerous, never as bad as you think and you're very glad when it's over.
2. What was the name of the bull, by the way?
I never found out the name of the bull but retrospectively I think I'll call him Alex, someone I was at school with. He was also big and hairy and gave me a hard time.
3. What brought you to Burke?
We chose Burke because of the Suttons and their incredible hospitality. Zach spoke with several people about where to go and it was Billie's kindness and willingness to help our project that made us pick Burke. And we're sure pleased we did — what a reception.
4. What surprised you most about the weekend rodeo and the town?
We were blown away by the level of hospitality we received, not just from the Suttons but all over. Riders, new and old, were more than willing to help us out and extend some words of wisdom about bull riding. Justin Hathaway in particular was a great find for us and he helped us an enormous amount.
I was also surprised how beautiful South Dakota is; maybe it's your intention to keep it a secret, but you should advertise that more. It's stunning countryside.
On the flip side, I was amazed how bad I was at singing. I thought I was good until then.
5. Any advice for someone who's never been to a rodeo?
For those riding for the first time, like many things, it's so much mind over matter. If you are too scared, you hold on too loosely and you will get thrown around harder. The stronger you are, the easier it is, so be strong. Also, when you are thrown off, don't hang around. Run.
Also, if you go to South Dakota, never ask a ranch owner how many cattle he has. It's not exactly good bovine etiquette.
---

When McDonald is not riding bulls, he's busy thinking up new adventures. (He'll take suggestions on that, too.) "Right now I'm in Alaska typing this from a tiny plane heading into the wilderness to try and see some grizzly bears — so right now I'm all about bulls and bears. It's almost like I'm working in finance," McDonald says.