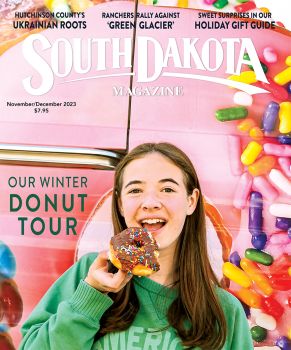 Subscriptions to South Dakota Magazine make great gifts!
Subscribe today — 1 year (6 issues) is just $29!

Flute Master
Aug 5, 2015
By Michael Zimny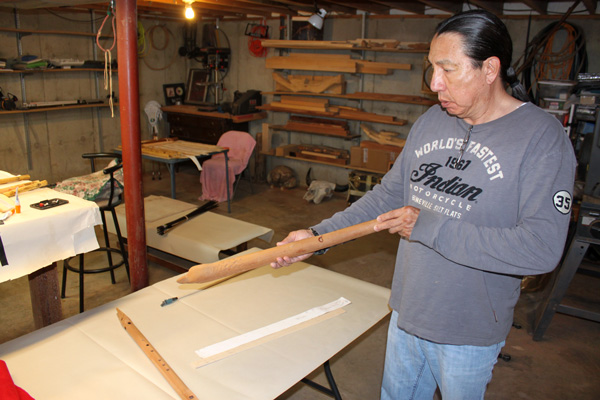 Bryan Akipa with an eagle whistle.
As a young artist studying under Oscar Howe, Bryan Akipa was launched on a new trajectory in life by a conversation about mallards. Akipa, who was born and raised on the Sisseton Wahpeton Oyate Reservation where he still resides, was studying painting under the master Dakota artist at the University of South Dakota.
"He used to do research on his paintings, and he was working on something to do with mallards," says Akipa. "He asked me if I went duck hunting and I said 'yes,' and he asked me about how [mallards] take off from the water." As they were talking about flight patterns of waterfowl, Howe brought out a mallard-head flute crafted by the late Lakota flute maker Richard Fool Bull.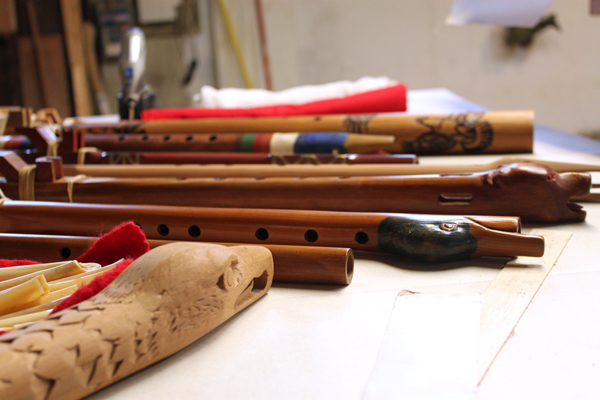 A mallard flute by Lakota artist Richard Fool Bull inspired Akipa to research Native flute making.
"I had never seen flutes in our culture before. I didn't realize we had flutes." The instruments sparked his interest. He began making sketches of traditional flutes, empowered by his high school drafting classes and inspired by the work of Fool Bull, who he met once briefly at the Howe studio. From those sketches, he went on to create his own prototype with a pocketknife.
At the time, Native American flutes were an endangered art form. If it weren't for a handful of artists like Richard Fool Bull — a tribal member at the Rosebud Indian Reservation — who bridged the gap between the days when much of Dakota/Lakota/Nakota language and heritage was illegal and today, the art may have been lost.
"People started noticing that I was interested and talking about it, and finally someone said, 'One of my grandmother's cousins knows about flutes.'" He was introduced to elder Norman Blue and then to another elder, David Marks, who continued his education in flute making.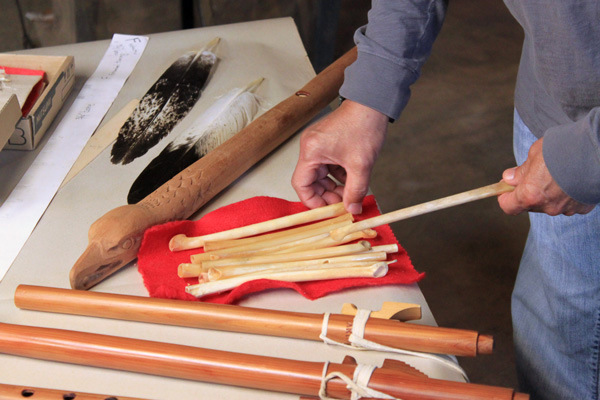 Akipa has a large collection of found and self-made traditional wind instruments, including these eagle-bone whistles.
"David Marks had made and played flutes when he was younger. He had received a flute in 1918 from his grandfather. [Blue and Marks] taught me a lot of oral history. They taught me the songs. I started learning the flute as a cultural journey."
Akipa has never studied music. His interest in creating the instruments led him to learn to play.
As his knowledge grew and he mastered the craft he became part a generation of young Native flute players — along with Carlos Nakai, Kevin Locke [Cheyenne River Reservation] and others — from different tribes, who revived the tradition in different ways.
His career took another Howe-like detour after a couple semesters at USD. Coming from a family with a proud history of military service — his uncle Woodrow Wilson Keeble was a legendary hero of the Korean War and one of three Native Americans awarded the Medal of Honor — he enlisted and spent a few years in the Army. While he was away, he corresponded with his mentor. "We kept in contact. I'd come back on leave and go visit him. Then when I got out of the Army I studied under him again."
Soon after Akipa returned from his time in service though, Howe passed away. Feeling unanchored, he followed in the footsteps of his mentor yet again, completing an internship as a teacher at the Pierre Indian Learning Center (PILC). There he perfected the craft and started again to find his own path, building a reputation as a flute maker.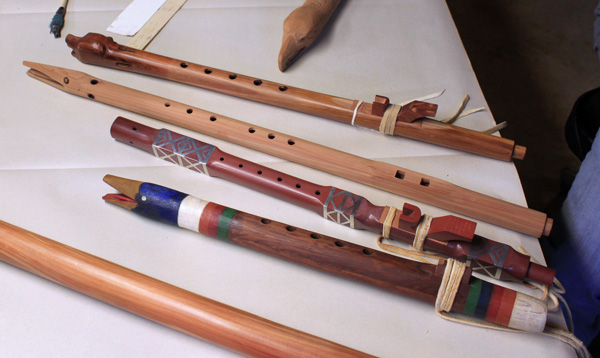 The ċan aaki, or saddle, seen tied with leather cord to these instruments, is unique to Native American flutes.
The basement of his home on the Sisseton Wahpeton Oyate is a woodwind workshop bursting with flutes of all sizes, adorned with the heads of eagles, bear and elk. He carves most of his flutes from eastern red cedar, but experiments with other mediums.
He's begun working with the stalks of sweet corn, inspired by reading about the Hidatsa oral historian Buffalo Bird Woman. He's also working with giant sunflower stalks. He has a small collection (some self-made) of whistles made from the bones of eagle wings. He keeps reams of meticulously drawn hole-pattern maps that determine the scale and range of different instruments.
A unique component of flutes from various Native American cultures is the incorporation of what some Dakota traditionally called the ċan aaki, also called a saddle or tuning block, a sometimes-ornate, sometimes utilitarian wooden piece that enters the tube from a notch on the top of the instrument.
Instead of a sharper-edged embouchure-hole at one end, Dakota flutes have round openings on both sides and no reed. A vertical bridge in the interior part of the saddle creates two air channels. This manipulates the air jet produced by the player, creating sound. The saddle is usually affixed with leather cord and can be adjusted to fine tune the sound of the instrument. "Every culture has flutes, but [Native American] flutes are the only flutes in the world that use this method."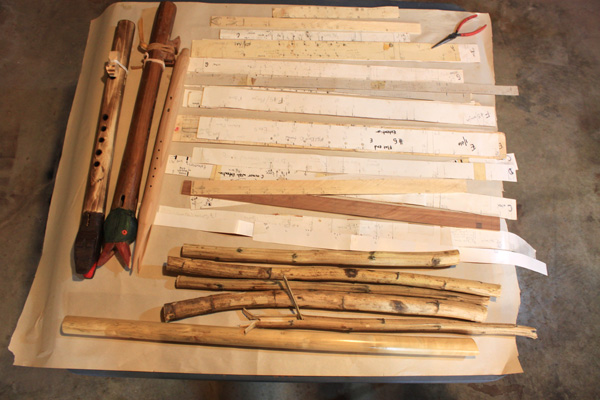 A table in Akipa's workshop with hole pattern diagrams and flutes.
Despite not having a formal musical education, having taught himself to recreate what had almost become a lost art, Akipa also began receiving attention for his playing skills, first at the PILC and local museums, then internationally. He released his first album, The Flute Player, in 1993. He has released five more since, receiving several "Nammy" nominations and traveling around the world. Beyond flute making and music, Akipa is also exploring digital arts.
In the past few years, with elder family members to care for, he hasn't traveled so far from the Oyate to play, though he did perform last year with the South Dakota Symphony Orchestra as part of the Lakota Music Project. While his work as a performer has made him an international ambassador for the music of the Native American flute, one or more of the instruments he is creating now in his workshop may become draft cards of sorts for the next generation to carry forward the art form, like a mallard-head flute made by Richard Fool Bull was for him.
Michael Zimny is the social media engagement specialist for South Dakota Public Broadcasting in Vermillion. He blogs for SDPB and contributes arts columns to the South Dakota Magazine website.