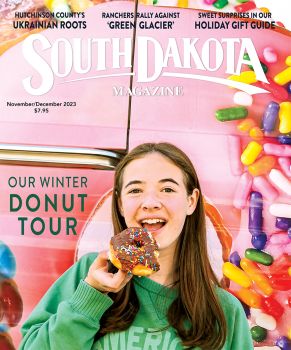 Subscriptions to South Dakota Magazine make great gifts!
Subscribe today — 1 year (6 issues) is just $29!

Lessons From a Hoop Dancer
Jul 19, 2012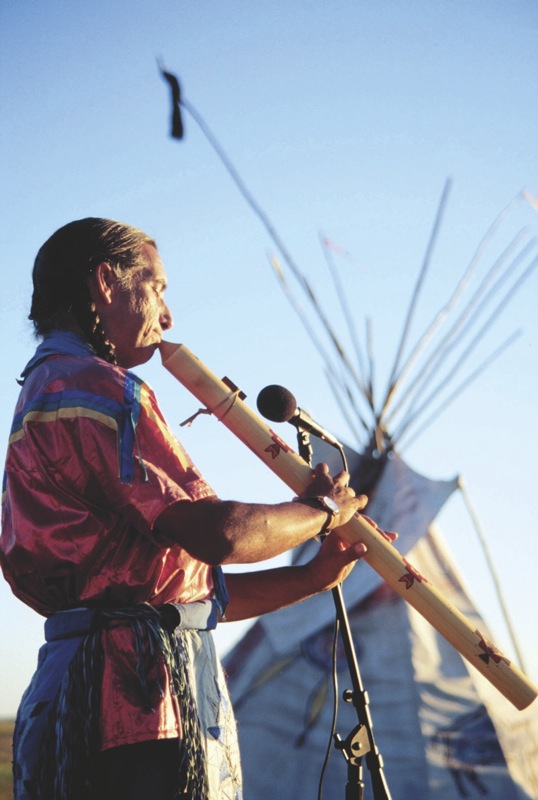 Bernie Hunhoff photographed Kevin Locke in 2000 at the Micheaux Festival in Gregory.
Rural churches in our corner of South Dakota sometimes struggle to survive. One of their worries is how congregations can serve young people.
I think of Kevin Locke whenever someone mentions youth and religion. There would never be an empty pew in any congregation that could offer a smidgen of his magnetism and his message of hope.
Locke is a Lakota Sioux hoop dancer, musician and storyteller who was raised at Wakpala, a small place south of Mobridge on the Standing Rock Reservation. In our travels, we've had several opportunities to watch him perform. I'd watch and listen every Sunday morning if I could.
He travels far from South Dakota to spread his gospel of peace and reconciliation — he has been to 70 countries — but the message is deeply rooted here on the Great Plains. Selections in his most recent album, Earth Gift, are old songs that he hopes to preserve. "Buffalo Said To Me" is a song from Brave Buffalo, who lived on Standing Rock many years ago. "Muskrat" is from Everett Kapayou, a Meskwaki from Iowa.
Locke plays the songs on a big cedarwood flute. Some think he may be the only living musician who is carrying on the traditional music.
He also uses handfuls of hoops — red, black, white and yellow — to perform intricate and athletic dances that leave every audience spellbound with interest and wonderment. The four colors are significant to the Lakota culture. They represent the four human races, four directions, four seasons and four winds. Years ago, Locke told one of our writers that God wants us to reach out for unity and light. "We are all branches of the great human family," he said. "We can soar like the eagles, give off fragrance like the flowers."
But he said we can only realize our beauty and potential if we set aside divisions, distrust, prejudices and fear of one another.
The boy from Wakpala has become a man of peace, a missionary for human harmony. He once thought that he would study law, but a Lakota elder taught him the sacred hoop dance when he was young and he felt a calling. He has now been performing and teaching for over 30 years.
One of the things he likes about the hoop dance is that everyone gathers in a circle. There is no back row or back pew, unlike all the churches we attend. "Everybody has a front row," says Locke. We must work to strengthen ourselves, links in a mighty circling chain, to overcome violence, addictions, racism and hate."
Lofty notions, to be sure. But maybe that's what young people are wanting as they sit in the back pews of too many churches today.