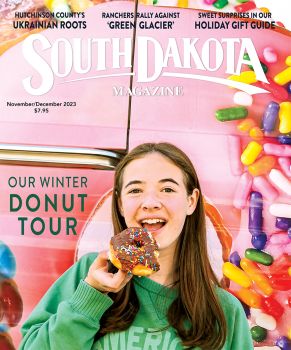 Subscriptions to South Dakota Magazine make great gifts!
Subscribe today — 1 year (6 issues) is just $29!

Buffalo Ridge Resort
Gary's School for the Blind is now a top-notch resort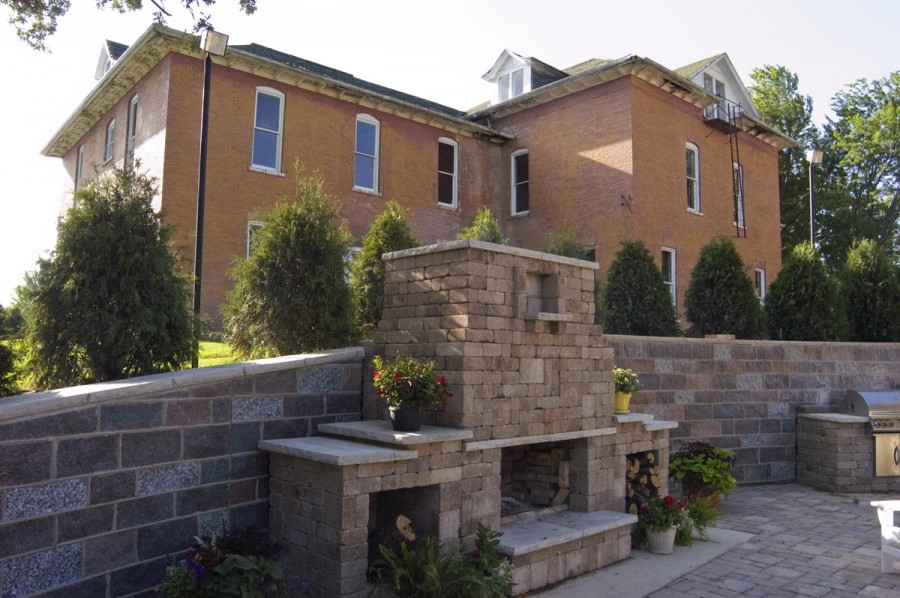 Historic buildings and the small-town setting give Buffalo Ridge a unique ambiance. The property is also attracting new business enterprises.
Long ago American Indians carried rocks to a designated spot on a hillside, west of present-day Gary. No one knows which native people they were, nor in which century they lived. With the rocks they created a great replica of an arrow. Does their artwork mark a burial ground, or did it perhaps point to a gulch flush with game? Roger Baer, active in the Gary Historical Association, has done some investigation and thinks the arrow could be a kind of compass indicating the region's prevailing winds — northwest to southeast, and southeast to northwest.
If so, the arrow has proven strangely symbolic in the 21st century. Wind is a powerful force in Gary today, having delivered employment at renewable energy companies here: Broadwind Energy, Dakota Wind, Airstream Renewables. Wind industry profits even saved the original South Dakota School for the Blind campus in Gary. Thanks to Joe Kolbach, owner of Dakota Wind, the campus was transformed in 2009 to become the Buffalo Ridge Resort and Business Center.
Satisfied guests like the quiet setting, an atmosphere that feels like a bed and breakfast, a large patio set up for barbeques, and 50 pretty acres. Kolbach brought back the campus lake, which is actually a damming of Lac Qui Parle Creek — the only eastern South Dakota stream rapid and cold enough to support trout. Guests say they can sense history in the stately buildings, especially in the web of tunnels that visually impaired students once walked daily between buildings.
In the 1870s, when only a handful of people lived on this glacial ridge that runs along the South Dakota and Minnesota border, the ridge offered good soils, stands of burr oak and other timber, and springs feeding clear, rapid creeks. Their setting, early residents believed, was perfect as a welcoming gateway to Dakota Territory. They sprang into action and built a town as the Winona-St. Peter railroad extended its rails west into the territory in 1872. First the fledgling community went by the name Headquarters because it was where the railroad based its construction operation, or by State Line because it sat right on the border. Minnesota was the only state in the equation then, because South Dakota statehood wouldn't be achieved for nearly two more decades. The name Gary stuck after postal agent H.B. Gary delivered the first U.S. mail by train in autumn, 1872. By 1873 regularly scheduled trains were carrying passengers and freight.
By 1889, the year of statehood, some 650 people called Gary home. Local historian Eldeen Baer says brick making was an emerging industry then, as was a form of tourism. Hunters rode the rails into Gary for waterfowl and prairie chickens prior to the pheasant's introduction to South Dakota.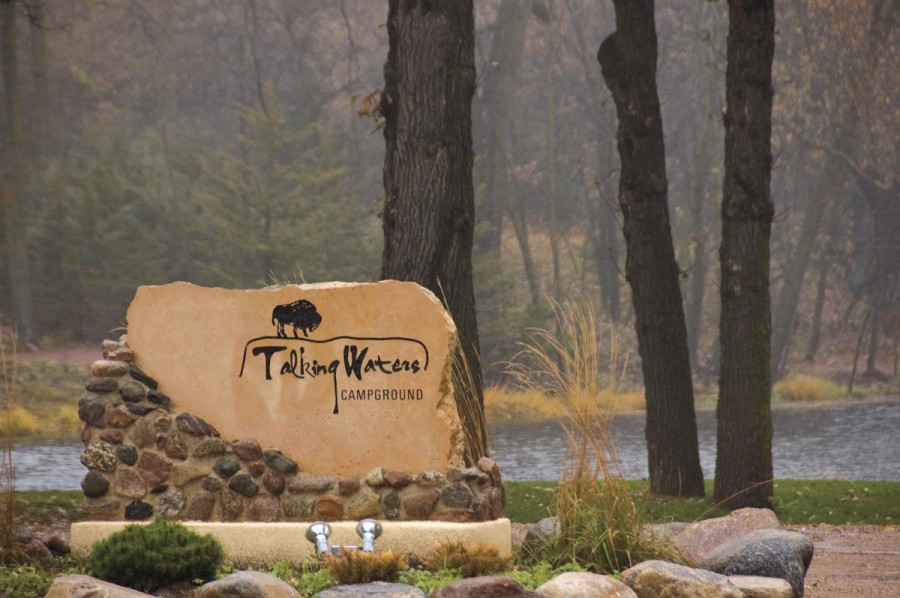 In 1894 Doane Robinson, future state historian, became publisher of the newspaper, the Gary Interstate. As state historian in the 1920s he would be credited for first proposing a mountain sculpture in the Black Hills. In the 1890s, on the opposite end of the state from where the Rushmore carvings would take form, Robinson proposed a much different scheme. After Gary lost county seat status to Clear Lake in 1895, Robinson began advocating for the state to commit to a South Dakota School for the Blind, to be built on former county courthouse property a couple blocks north of Gary's business district. As time would prove, Robinson possessed a knack for pushing big projects toward fruition. Ground was broken for the school's construction in 1899 and students were on campus in 1900. Over the next 25 years, in addition to the original administration/classroom building, girls' and boys' dorms were built, along with a power plant connected to a laundry. Also vital to the school's operation were a barn and other agricultural outbuildings, recalls Baer, who worked in the school's kitchen in the 1940s. On-site crops, an apple orchard, cows, pigs, and chickens made for healthy, home-grown meals.
George Selken of Sioux Falls was among the students who lived at the school in the 1940s and '50s, when enrollment averaged 40 or so. "I was there nine months a year for 12 years," he says. "The way they've brought it back is fabulous. It blows my mind, but of course a lot of the students aren't alive to ever visit it."
That's because the school moved its services from Gary to Aberdeen nearly half a century ago, in 1961. Selken says he can count most of his living schoolmates on his fingers. One is Dorothy Fiala, class of 1953, now residing in Browns Valley, Minn. She attended the resort's grand opening, came back for a barbeque in August, then returned in September with her husband, five adult children, and three grandchildren. It was important, she thought, for her children to fully understand her years at Gary.
Fiala lost her sight at age 11 after contracting both polio and the measles. Just months later she left the family farm near Sisseton for a new world at Gary. "Big changes, of course," she remembers. "Living in a dorm, the rules of the school, an exact time to be up every morning. Everything was regimented and I came to like that. The structure was a big help in getting my life together."
She recalls the regimentation in detail: up in the morning at 6:30, lined up for breakfast at 6:50, standing next to her chair in the dining hall at 6:57, taking her seat at 7. Assembly began at 8, followed by classes at 8:30. Girls took walks around the block clockwise, boys counterclockwise. Younger children were in bed at 8 and older ones at 10.
Not that there weren't whispered conversations after lights out. As would be expected, students found any number of ways to occasionally bend or break rules. Some had favorite hiding places near the school where they'd go to smoke. At least once a group of boys climbed the Gary water tower. As for the tunnels, Fiala laughs, "Thank goodness those walls can't talk."
After the school relocated, part of the campus served as a privately owned retirement center for several years. But the buildings were mostly abandoned after 1980. Once in a while, kids broke in to look around, as did raccoons and squirrels. Human visitors started a campfire in the old school auditorium and charred the floor. The outdoors had also changed dramatically after Lake Elsie was filled in, following a drowning soon after the school closed.
So, on a given day, the campus could see vacationers checked into some of the resort's 19 guest rooms, along with students training across the yard (or through the tunnels) at the administration/classroom building. Meanwhile a meeting could be underway in the former school auditorium, now called the ballroom, and an outdoor wedding could be happening alongside Lake Elsie.
EDITOR'S NOTE – This story is revised from the Jan/Feb 2010 issue of South Dakota Magazine. To order this back issue or to subscribe, call 800-456-5117.