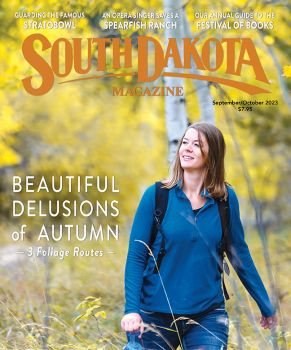 Subscriptions to South Dakota Magazine make great gifts!
Subscribe today — 1 year (6 issues) is just $29!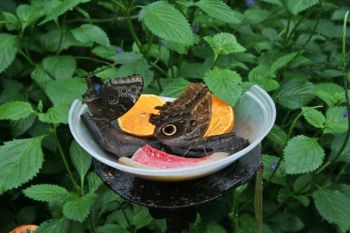 Sertoma Butterfly House and Marine Cove
Jul 6, 2012
It was my birthday last Saturday and, among other festivities, my husband and I visited the Sertoma Butterfly House and Purdy Marine Cove at 4320 Oxbow Avenue in Sioux Falls. The Butterfly House opened in 2002 and was built with funding from the Noon Sertoma Club. The Purdy Marine Cove addition, made possible by donations from Charles Purdy, opened the fall of last year. The butterfly flight room is a popular winter destination because it's kept at a temperate 80 degrees, but that temp felt cool compared to the 95 degree weather.
Nearly 1,000 butterflies from around the world flit around the little indoor garden with waterfalls, streams and skylight for natural light. I found the Blue Morpho to be most remarkable, with its shimmering wings and impressive size. Many were at least 4 inches wide.
Touching the butterflies is discouraged because it could damage their sensitive feet, but if one lands on your hair or clothes it is OK to take it for a ride. Kory Willard, Volunteer Coordinator and General Curator, had tips for those who would like to pick up a hitchhiker. "The best thing you can do is wear bright clothing, like the type of clothing that will show up under black light," says Willard. "That's the type of UV perspective butterflies will perceive." He also suggests coming on a sunny day and sitting quietly in direct sunlight on one of the garden's benches.
And flash photography is OK in the butterfly flight room, but not so in the darkened Marine Cove housing the tropical fish. "Some of the fish can perceive beyond the boundaries of the tank they are in," says Willard. "With flash photography it stimulates a fear response in a lot of fish because it simulates lightning, signaling a pending storm or crashing waves." Even so, it's fun to just observe the thirteen freshwater and saltwater aquariums with their kaleidoscope of colors. The newest attraction is the 2,500 gallon touch pool made possible by a donation from Richard and Eloise Elmen and designed by Willard and Grant Anderson, Curator of Fishes. It's a bit like a tropical petting zoo where we found the stingrays to be quite slimy and the sharks a bit scratchy. But I'm not sure how to describe the starfish. You will have to find out for yourself.