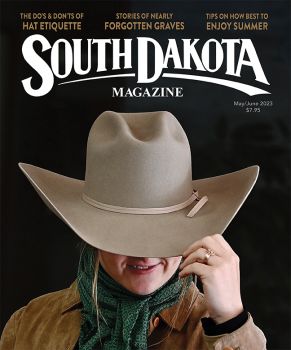 Subscriptions to South Dakota Magazine make great gifts!
Subscribe today — 1 year (6 issues) is just $29!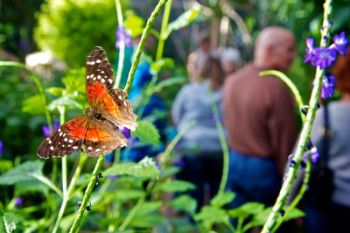 Our Butterfly House
Feb 18, 2013
By Christian Begeman
The February blahs. You know what I'm talking about. The weather is brutal at the worst and a tease at best … sometimes hinting at spring then turning icy and gray all over again. The air is irritatingly dry. When the sun does shine, everybody looks like they are imitating Clint Eastwood's famous squint due to the glare from the ice and snow. February in South Dakota is the time of year where winter really starts wearing on a person. A lot of folks get so antsy for warmer weather they hop a plane and head south in search of beaches and sunshine. I can't say I blame them.
Recently I found a place right here in Sioux Falls that helped cure my February blahs. Not that it needed finding. The Sertoma Butterfly House has been here for quite some time. It's just that I had never visited before. Shame on me. The temperature is always 80 degrees and the humidity is kept at a tropical level. The flight room is like a giant greenhouse so when the sun shines you can really feel it warm your bones. The butterflies do too. They are most active when the sun shines and they often flitter about just inches from you as you walk the paths among the flowers and foliage.
For a photographer the place is a great chance to test out a macro lens. The butterflies are somewhat used to human presence and if you are slow and patient, it isn't that difficult to ease up on a colorful beauty while feeding to get some really interesting close-ups. It's also a chance to learn. Most of the butterflies in the exhibit are not native to South Dakota, so you won't see many of them in the wild … unless you plan on visiting the Central American tropics that is. I was able to see and shoot a Glasswing butterfly that has transparent wings. I didn't even know such an animal existed.
If you don't have a macro lens, that's OK. The place is a wonderful destination for kids and thus great opportunities for kids' photos. I invited my niece and nephew to come see the butterflies last week. They are ages two and three so their attention span presented a challenge, but nevertheless I was able to get some cute candid shots of them checking out the butterflies, fish and turtles.
Recently the Sertoma Butterfly House added a new attraction that is great for the kids as well as adults. The Purdy Marine Cove not only has an amazing display of coral exhibits (one aquarium looks like it was the inspiration for Pixar's Finding Nemo) but also a new touch pool. If you ever wanted to know what a small shark, helmet crab, or stingray feels like, you won't be disappointed. My nephew Bo wasn't too sure he wanted to touch anything when he first laid eyes on the touch pool, but after he warmed up to it, it was tough pulling him away.
According to their brochure, the Sertoma Butterfly House is one of only 28 independent, year-round butterfly houses in the United States. When you stop and think about it, that's pretty cool. I mean, who knew I just had to drive over to Sertoma Park in southern Sioux Falls to soak up some tropical weather and beat those February blahs?
Christian Begeman grew up in Isabel and now lives in Sioux Falls. When he's not working at Midcontinent Communications he is often on the road photographing our prettiest spots around the state. Follow Begeman on his blog.