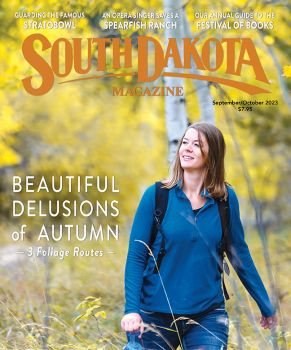 Subscriptions to South Dakota Magazine make great gifts!
Subscribe today — 1 year (6 issues) is just $29!

Moved by Water
Aug 25, 2015
By John Andrews
The Missouri River forms the western border of Campbell County, in the far northwest corner of what South Dakotans call East River. The Big Muddy has affected the lives of everyone living along its course through South Dakota, but the river's role in shaping Campbell County is unique. The Missouri's bank was home to an early Plains Indian village that is still studied today. It's where explorers Lewis and Clark first heard a curious Indian legend. And its waters caused an entire town to relocate.
Indigenous people have inhabited the Great Plains for thousands of years. Archaeologists study their lives at various village sites, one of which remains on the shore of Lake Oahe in Campbell County near Pollock. Called the Vanderbilt Archaeological Site, the village dates to about 1300. When it was first examined in 1979, researchers found 22 depressions believed to be house rings, trash pits and collected over 200 pieces of ceramic, stone chips, tools and other projectile points. Archaeologists say that despite erosion due to wave action from the lake, they've been able to learn a lot about the movements and living patterns of the region's earliest inhabitants.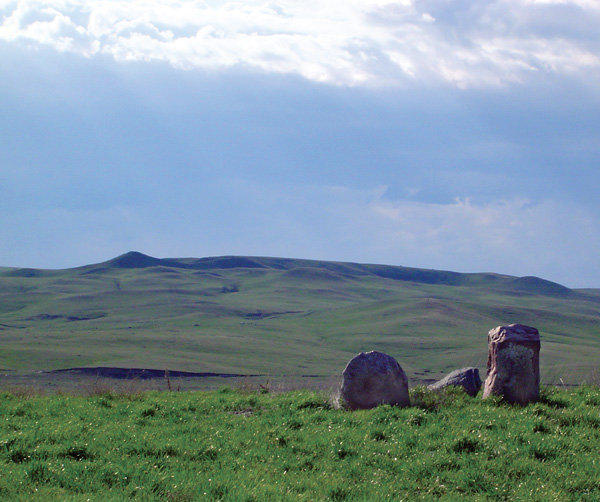 Campbell County's stone idols stand among the hills of the Missouri River valley near Pollock.
More than 500 years later, Meriwether Lewis, William Clark and their Corps of Discovery paddled into present day Campbell County. On Oct. 10, 1804, the explorers met with the leaders of three Arikara villages and presented them with clothes and flags. Three days later, Lewis and Clark first learned of the Stone Idols. "Two stones resembling human persons and one resembling a dog are situated in the open prairie," Lewis wrote in his journal for Oct. 13. "To those stones the Arikaras pay great reverence, make offerings whenever they pass. Those people have a curious tradition of those stones. One was a man in love, one a girl whose parents would not let marry. The dog went to mourn with them. All turned to stone gradually, commencing at the feet. Those people fed on grapes until they turned, and the woman has a bunch of grapes yet in her hand. On the river near the place those are said to be situated, we observed a greater quantity of fine grapes than I ever saw at one place."
The stone idols are there today, though it takes a bit of work to find them. Take Highway 1804 a mile south out of Pollock to the West Pollock Resort. Take the road through the cabins and you'll see the idols on the northeast corner of the resort.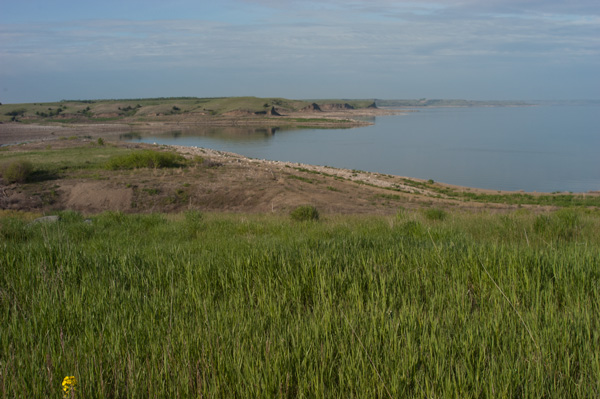 Spring Creek, renamed through the years, runs through Campbell County.
Lewis and Clark camped along Stone Idol Creek, which doesn't appear on maps today. That's because at some point in history, it was decided that the creek needed a new name. For reasons unbeknownst to us, it became known as Hermaphrodite Creek. Eventually someone else came along and renamed it Spring Creek, which is what maps show today. The residents of Campbell County remain eternally grateful.
Campbell County as we know it today was organized in 1873 and named for Norman B. Campbell, a territorial legislator from Bon Homme County. Campbell remains somewhat of a mystery. He served in the legislature in 1872-73 and died quite young. His father was the Civil War Brigadier General Charles T. Campbell, founder of the town of Scotland.
The county seat was originally located at La Grace, along the Missouri River. The election of 1888 transferred that status to Mound City, where it remains despite the town's current estimated population of 65. That makes Mound City one of the smallest county seats in the nation. Townspeople fought battles with nearby Herreid in the 1960s over the possible relocation of certain offices, but they stayed in Mound City. Perhaps politics is simply in the blood of Mound Citians. The town's most famous daughter is Alice Kundert, who served as state auditor from 1969 to 1978, secretary of state from 1979 to 1986 and then ran for governor. She lost the election, but went on to serve in the state House of Representatives from 1991 to 1994. She died in 2013.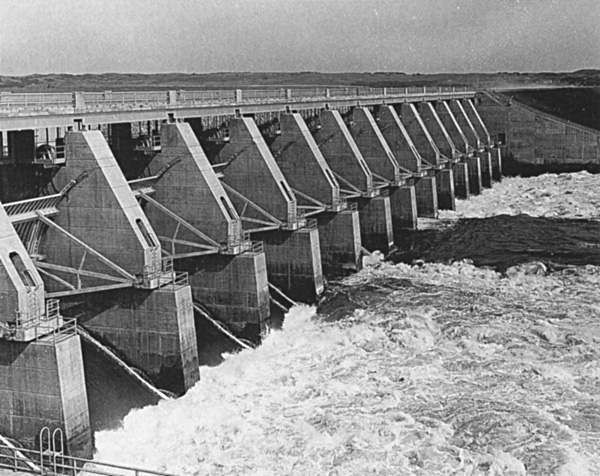 The construction of Oahe Dam and the resulting Lake Oahe forced the relocation of the town of Pollock.
The federal government's attempt to tame the Missouri River in the mid-20th century led to a life-altering decision for the people of Pollock. The town had been founded in 1901 along the Minneapolis, St. Paul and Sault Saint Marie Railroad. When the U.S. Army Corps of Engineers unveiled plans for a series of dams along the river, the resulting reservoir that became Lake Oahe would inundate the town.
On Jan. 27, 1953 a town meeting was held to determine the fate of Pollock. A vote was taken to determine which direction the town should move. The results were: west, 2; north, 20; east, 39; south 139. A second unanimous ballot was cast for the southern site, which was one mile away on a hilltop. E.L. McKay, editor of the Pollock Pioneer, cleverly used the headline, "A city built on a hill cannot be hid" as part the next week's newspaper.
After the new town site was platted, people made their lot choices and sealed them in an envelope. Lots were assigned by drawing, and only a handful of duplicate choices were settled by a coin toss. "Nearly everyone was satisfied," reported the Pioneer.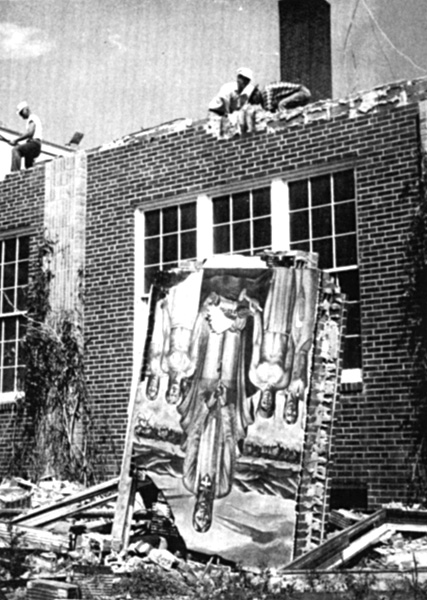 Pollock's brick schoolhouse was demolished before the original town site was flooded.
The official groundbreaking of the new town took place on June 4, 1955, making Pollock one of the only towns in America that celebrates two founding dates. The community celebrated its centennial in 2001, and then followed with a 50-year celebration in 2005.
Not surprisingly, Pollock today is a fishing community, nestled between Lake Pocasse (named for one of the Arikara leaders who met with Lewis and Clark) and Pollock Bay, which leads into Lake Oahe. The Pollock Visitor and Interpretive Center houses an impressive collection of historical artifacts and memorabilia from the town of 217.
Though Mound City is small, it's hardly sleepy. For decades, Bernie's Beefstro served meals so good that diners drove 60 miles just to eat there. Longtime owner Bernie Huber decided to sell the bar in July after 40 years of ownership, but hopes to help the new proprietors make the transition.
Mound City is also home to the headquarters of Wild Dutchman sunflower seeds. Three generations of the VanderLaan family run the business that began as a fluke. Wayne VanderLaan started by dehydrating small batches of seeds on his wife's stovetop. Today their seeds are found throughout the Upper Midwest. The exact recipe is a secret, but part of Wild Dutchman's appeal comes from the low salt content.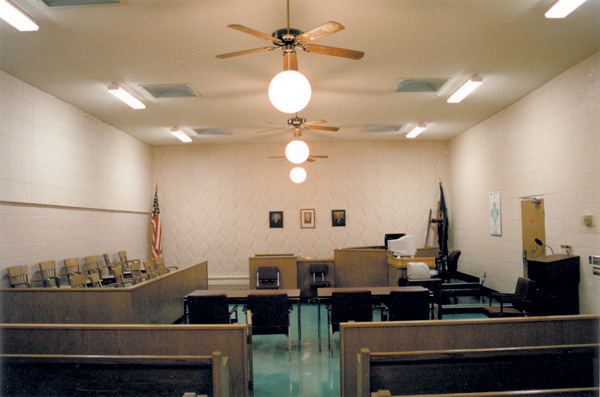 Inside the Campbell County courthouse in Mound City.
If you think you might like to live in Campbell County, check out the town of Herreid, pop. 403. The town's economic development corporation offers up to $5,000 for families purchasing an existing home or building new. Once you've relocated, you can research a Campbell County mystery we've been trying to solve for years.
We first heard about the Kiss Me Quick Hills in a book called South Dakota Geographic Names. They supposedly rise east of Pollock and are named for the "series of short, sharp rises in the road, which almost cause a person to meet himself." Several years ago, a South Dakota Magazine editor was traveling through Campbell County. He asked a local about the Kiss Me Quicks. "I've heard them called lots of other things by people trying to get over them, but never that," he replied.
So our writer came home without so much as a kiss. Here's hoping you'll be luckier.
Editor's Note: This is the ninth installment in an ongoing series featuring South Dakota's 66 counties. Click here for previous articles.