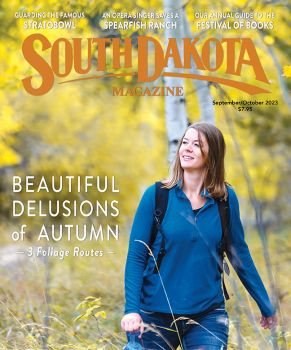 Subscriptions to South Dakota Magazine make great gifts!
Subscribe today — 1 year (6 issues) is just $29!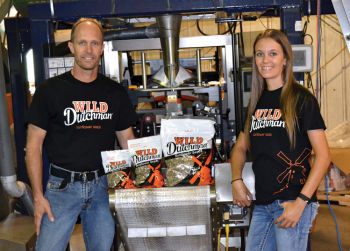 The Wild Dutchman's Success
By John Andrews
Wayne and Shirley VanderLaan were busy enough running a farm near Mound City that they never thought about jumping into the sunflower seed business. So how have the family's Wild Dutchman Sunflower Seeds come to be eaten in all 50 states?
It began with a few small batches that Wayne roasted on his kitchen stovetop. He'd bring them when he and his son Tobey traveled for their auto repair business, and shared them with family and friends, all of whom said they were the best seeds they'd ever eaten. To keep up with demand, three additional dehydrators joined the one already busily turning out seeds in the VanderLaans' kitchen. Eventually Tobey renovated his hunting lodge into a processing plant to accommodate three large homemade dehydrators.
Today the team at Wild Dutchman (a name suggested by VanderLaan's witty Norwegian neighbor) works seven days a week during the summer, processing about 38,000 pounds of seeds every three weeks. The VanderLaans think a key behind Wild Dutchman's success is the lower sodium content in their seeds. "We add sugar," Tobey says. "With the batch roaster we use, the seeds are roasted slower and less continuously compared to other companies."
Tobey and his daughter, Shellby, largely run the family business, though Wayne and his wife Shirley — who is happy to have her kitchen back — still help.
Editor's Note: This story is revised from the November/December 2015 issue of South Dakota Magazine. To order a copy or to subscribe, call (800) 456-5117.