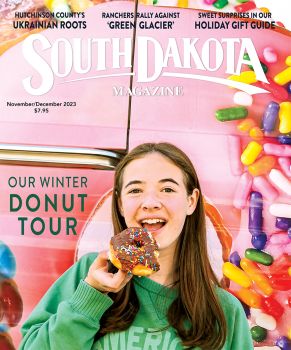 Subscriptions to South Dakota Magazine make great gifts!
Subscribe today — 1 year (6 issues) is just $29!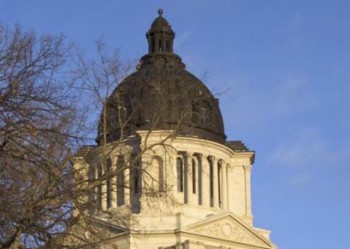 The Capital Man
Jul 5, 2011
John Sutherland helped Pierre become the capital of South Dakota. Then he did it again. And again.
Between 1889 and 1904, Sutherland served as president of his hometown's capital committee, and waged three successful campaigns to locate the seat of government in the budding town along the Missouri River. On Saturday, July 9, the state historical society plans to recognize Sutherland's contributions to South Dakota history by dedicating a marker at his former home on the corner of North Huron and West Capitol avenues.
Not much has been written about Sutherland and his capital crusade, but Marshall Damgaard covers the topic well in The South Dakota State Capitol: The First Century, his book on the history of our capitol that appeared just in time for its centennial.
In the first campaign in 1889, Sutherland boasted of Pierre's central location (once the Great Sioux Reservation was opened) and its spot along the Missouri River, which still carried numerous boats from Yankton to Bismarck. Supporters of Huron for the capital countered: "Pierre says she is a geographical center. Well, so is the North Pole, but although it is nearly as accessible as Pierre, no one seems to think of calling any public gathering there."
In October, Pierre won a six-way battle for temporary capital status. But after statehood came in November, voters had to select a permanent site. Damgaard writes that Sutherland placed 40 campaign coordinators around the state and kept them "well-stoked with funds to ply voters with drinks and theater tickets."
Sutherland earned his living as a well-respected and successful lawyer, so it's a bit ironic that he was a major player in a 15-year fight that involved so many under the table deals. After Pierre emerged victorious again in the 1890 fight, Sutherland was asked if he thought either side had committed voter fraud. He said no, but also said Pierre was ready. In one empty precinct, "the committee had ballots marked and voting registers filled with names copied from the society page of a Saint Paul newspaper ready to use if necessary."
Measures to move the capital surfaced in every successive legislative session until 1904, when legislators decided to put the matter to a final vote of the people. This time, lawmakers chose Mitchell to challenge Pierre. Sutherland again sent operatives across the state, but told them only to buy votes unless it negated a similar action by the Mitchell men. Railroads issued thousands of passes for people to visit each town, but Sutherland's Stand Pat for Pierre campaign emerged victorious for the third and final time.