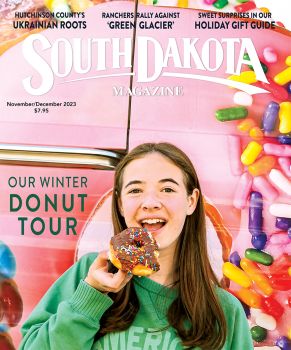 Subscriptions to South Dakota Magazine make great gifts!
Subscribe today — 1 year (6 issues) is just $29!

Catch, Move and Release
By Bernie Hunhoff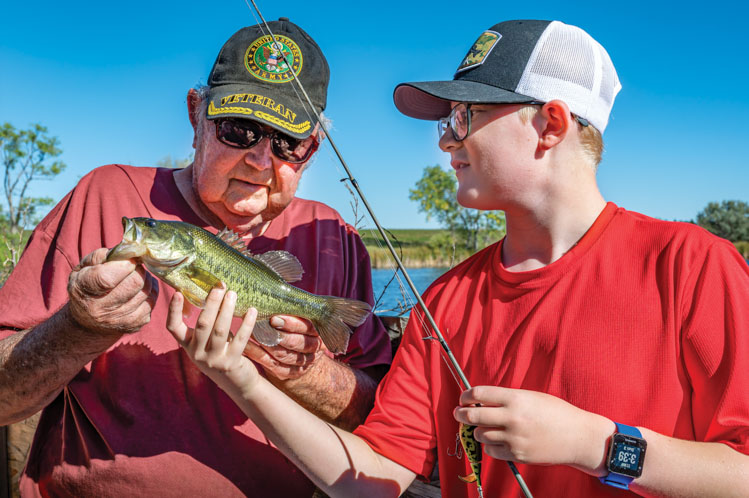 Steve Nelson and grandson Howie pull a fish from a stock dam before relocating it to a new pond suffering from die-off.
Fish inhabit about half of South Dakota's 100,000 stock dams and small ponds, thanks in small part to longtime South Dakota promoter Steve Nelson and his grandson, Howie.
Nelson, who lives in Pierre, became a fan of stock dams nearly a half-century ago when he explored Roy Houck's buffalo ranch, northwest of Fort Pierre in Stanley County. The Missouri River reservoirs hadn't yet developed as world-class walleye fisheries, so anglers were then more likely to search for small bodies of water to fish.
As a tourism leader, Nelson often worked with the state Game, Fish & Parks Department to help families find a place to cast a line. Today the Glacial Lakes country and the four Missouri reservoirs get most of the attention from tourism officials and anglers, while stock dams are unappreciated treasures.
Nelson continues to do what he can to promote the dams — not by publicizing them, these days, but by catching fish in dams that are overstocked and transferring them to new dams or to ponds that suffered a die-off. Usually, he's assisted by his grandson Howie, 12, and by some of Howie's friends.
Three years ago, they learned about a dam that suffered a fish kill because a farmer accidently sprayed an alfalfa field nearby. "We restocked it the next year, and the fish are doing really well," he says.
Winter kill is the most common threat to fish life in smaller ponds. "Ideally a pond would be 15 to 20 feet deep, but if they get under about nine feet and you have a hard winter with a lot of snow cover on the ice then you don't get photosynthesis and the water can become oxygen-dead," he explains. When that happens, Nelson and his young associates wait until the water level is once again high enough to sustain aquatic life and then they introduce more fish.
Walleye fishing can be complicated and tedious for some youth, while pond fishing is exhilarating. "Howie and his friends just like to catch fish," he says. "They don't always care what kind of fish or how big. They want some action. One day we caught 50 bluegills in an hour. As soon as the bobber hit the water it was going down."
Most of South Dakota's stock dams are on private land, so permission may be required to fish them. However, Nelson says South Dakota has five million acres of public land with hundreds of ponds — including three national grasslands in West River country and state-owned lands scattered throughout the state. Some of the public waters now have boat docks, restrooms and fishing piers.
Most small ponds and dams can be fished from shore, although Nelson says a small boat may be helpful in late summer when the water warms and fish concentrate in the deepest part of the pond, which is usually the center.
Editor's Note: This story is revised from the May/June 2022 issue of South Dakota Magazine. To order a copy or to subscribe, call (800) 456-5117.