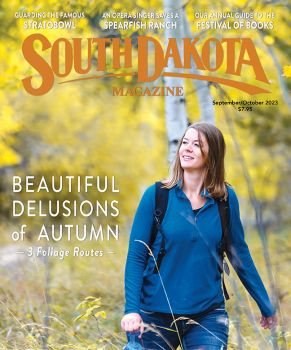 Subscriptions to South Dakota Magazine make great gifts!
Subscribe today — 1 year (6 issues) is just $29!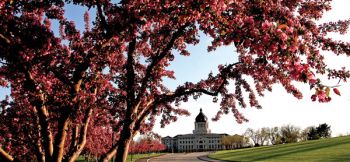 A Capitol Spring
The state capitol in Pierre is a colorful place in spring. Winter's subtle grays and browns give way to lush greens and vivid reds, pinks and purples. The capitol grounds change every year, as new flowers, shrubs and trees take root. Tree care specialist Kevin Johnson always has something different in mind.
"We want to present a very colorful entrance that holds people's interest," Johnson says. That means careful planning and a lot of man-hours in selecting new plants and finding ways to arrange them. This year Johnson and the grounds crew will spend about a week planting 10,000 flowers around the 120-acre capitol grounds. The scheme will include a new disease-resistant zinnia, petunias and salvia (a type of sage). He tries to select plants that tolerate heat and drought. "These are surrounded by parking lots, so they have to be tough little things to get through the year," he says.
In his 16 years at the capitol, Johnson has found mid-May to be the ideal flower planting time, but the weather can still play tricks. "It's not real pleasant being in here at 3 in the morning running sprinklers to keep frost off the flowers," he says. "I'm at Mother Nature's beck and call."
Johnson also experiments with new trees. He is lining the streets near the governor's mansion with non-fruiting spring snow crab trees. They, along with Canada red cherry trees and a few magnolias he planted last year, usually blossom in mid-May. Long-leafed catalpas develop beautiful, white flowers later in the summer.
Visitors walking the Arboretum Trail also see familiar trees like elm, ash, cottonwood, cedar and Black Hills spruce. Hilger's Gulch, north of the capitol, is another place to find flora and fauna. Capitol Lake, the centerpiece of the capitol campus, was dug by workers in the early 1900s. Fed by an artesian well, its warm waters attract ducks and Canada geese. The gulch includes a mile-long walking trail, flower gardens and Governor's Grove, which contains trees and markers honoring South Dakota's governors.
There are few places in the West where visitors can enjoy the color and diversity of the state capitol in springtime.
Editor's Note: This story is revised from the May/June 2009 issue of South Dakota Magazine. To order a copy or to subscribe, call 800-456-5117.