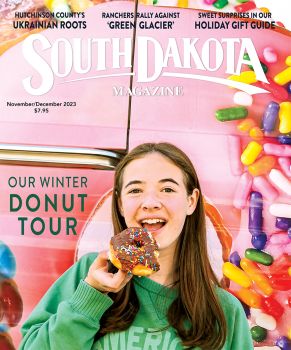 Subscriptions to South Dakota Magazine make great gifts!
Subscribe today — 1 year (6 issues) is just $29!

Plants with a Purpose
Sep 19, 2017
By Katie Hunhoff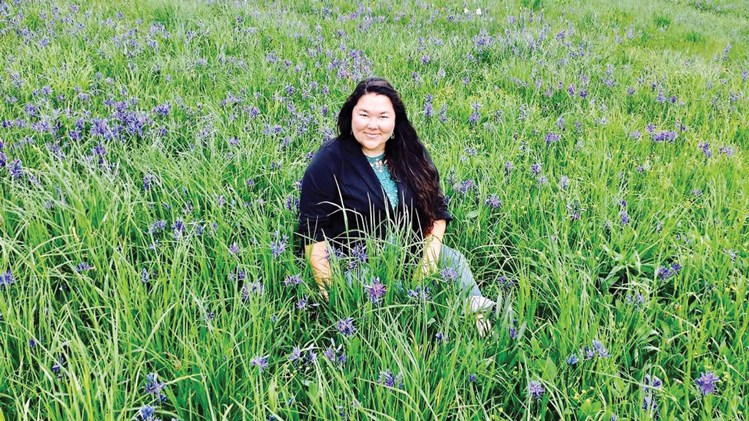 Linda Black Elk and members of the Brave Heart Society from the Yankton Sioux Tribe hold a festival every spring to help young people learn the stories and traditional remedies of their ancestors.
When Linda Black Elk's family members felt sick, her grandma would go outdoors and collect plants to make medicine. "She never went to school but knew everything about plants, their names, uses and what ate them," Black Elk recalls. She also taught her grandchildren about nature's gifts.
"Later I realized my grandma was a scientist," says Black Elk, who followed in her grandma's footsteps and today is an instructor at Sitting Bull College in Fort Yates, North Dakota.
Black Elk spoke about her grandmother's plants at the Waterlily Storytelling Festival, held at the Andes Central School and Marty Indian School last March. This year marked the festival's 13th anniversary. Faith Spotted Eagle of Lake Andes helps organize the festival, which is named after the book Waterlily by Ella Cara Deloria.
"Waterlily is a landmark book that describes the life of a Dakota girl growing up in the 1800s," explains Spotted Eagle. "Ella's oral histories recorded in her written stories were like many of those told to us older ones in our growing up years, as that is how we learned our values and ways of being. We became painfully aware that many of the younger folks had not heard the stories we grew up on, so they could not pass this crucial information on."
To preserve the stories, the grandmothers and mothers of the Brave Heart Society (a traditional Dakota society that was revived in 1994) began hosting the four-day storytelling event each March, when there was still snow on the ground. "After that," says Spotted Eagle, "we go out and learn from nature."
At the festival, Black Elk taught groups of teenagers the importance of identifying and using native plants. Her talk was titled "How to Survive a Zombie Apocalypse with Common South Dakota Plants." The zombie hook was clearly designed to entertain, but Black Elk also explained a catastrophe is possible. "The United States government has a zombie action plan," she began her lecture. (It's true.)
Black Elk recommends that we balance modern life with traditional knowledge. Here is some of the plant knowledge passed down from her grandmother and other ancestors.
Be careful when beginning to identify plants. Several are poisonous, so don't take chances. Ideally, you should find an experienced plant hunter to help you get started.
Bee Balm or Wild Bergamot
Bee balm's beautiful purple flowers grow across the entire state. Black Elk notes it smells like Listerine. Bee balm, in the mint family, is a powerful anti-bacterial and effective at treating wounds. It is also a calming aromatherapy and can be used to soothe sore throats, congestion or fever (place in a piece of cheesecloth and hold under hot, running water). Bee balm tea also calms a variety of stomach ailments.
Yarrow
Black Elk recommends yarrow to stop bleeding. "Crush up leaves, put it on a cut and it will stop bleeding immediately," she says. In Greek mythology, Achilles carried yarrow to treat his warriors. Yarrow is one of the easier plants to identify, with flat leaves, which also make good salad greens.
Plantain
Black Elk says all botanists have an amazing story about plantain's success in treating burns. Her favorite occurred when she was at a sweat lodge. An 11- or 12-year-old girl slipped when she was leaving the lodge and her foot made contact with burning, hot rocks. Black Elk grabbed plantain leaves, scrunched them up and applied to the burn. Seconds later, a blister formed. The girl stopped screaming and crying. "Yarrow immediately cools off burns," says Black Elk. "It took the pain away instantly." Because the girl's pain was gone, Black Elk and the others decided to finish the ceremony and then head to the clinic. But when they came out of the sweat lodge 45 minutes later, the girl was running around barefoot and playing.
Stinging Nettles
While stinging nettles can cause a smarting rash, it is also a pain reliever, due in part to its ability to reduce inflammatory chemicals in the body. Black Elk had a friend who suffered horrible arthritis in one shoulder, and could hardly lift her arm. Black Elk asked if she could do a stinging nettles treatment. "Every day I whipped her shoulder with the plant for 20 minutes, twice a day. At the end of the week she had full range of motion," Black Elk recalls.
Rosehips
You can absorb more vitamin C and omega 3s by eating three rosehips (small reddish colored rose berries) than from any other plant, or even from eating a grapefruit. Remember to remove the seeds — they have hairs on them. The flowers can be ground into a tea, or eaten fresh or dried.