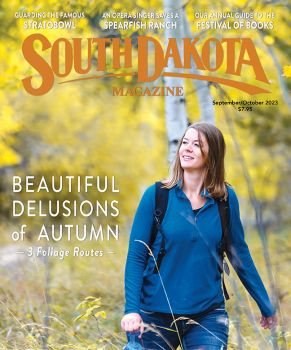 Subscriptions to South Dakota Magazine make great gifts!
Subscribe today — 1 year (6 issues) is just $29!

An Apple a Day
Oct 26, 2017
By Fran Hill
I have a cold. I have a snotty, feverish, sore throat, starting to cough and can't stop cold.
Recently, I started a long-term substitute teacher gig. I am covering some high school and middle school classes while a teacher takes maternity leave. It is great. The kids are fun, and the days go quickly. However, I don't have the immunity of full-time teachers. The students are germy, and I am sick. Whiny sick. I am not a good invalid.
My bathroom counter is lined with a myriad of over-the-counter meds. I have daytime, nighttime, cough and cold, decongestants and pain relievers. I have been diligent with my multi-vitamin and added an additional Vitamin C and zinc to the mix. We all should buy stock in tissue companies. I am on my third box.
Hubs and I have made homemade chicken noodle soup. I am snacking on lots of citrus and craving spicy things that actually make an impact on my taste buds (and make my nose run). I am, much to my dachshund, Tabby's, delight, napping every chance I get. She loves to snuggle.
Maybe there is something to the old adage, "An apple a day keeps the doctor away." Perhaps, along with their germs, students should have been bringing an apple for the teacher. I did make applesauce and Apple Pie Jam earlier this month with a bounty of fall apples. The last were tossed into a pie that was an absolute delight with vanilla bean ice cream. Maybe I need to add more apples to my diet.
Caramel Apple Oatmeal Cookies sound good. Chewy oatmeal cookies with chunks of dried apples and caramel couldn't hurt this cold. They are definitely worth a try.
---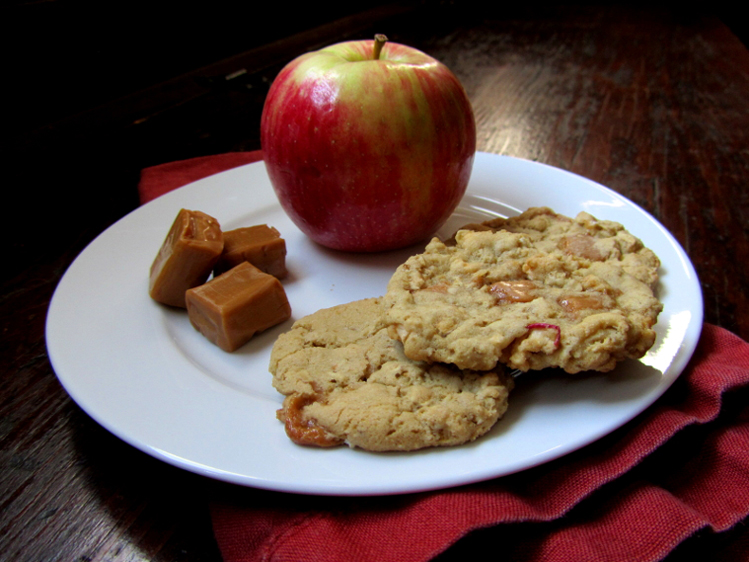 Will apples keep you healthy if you put them in cookies? Either way, caramel apple oatmeal cookies are worth a try.
Caramel Apple Oatmeal Cookies
(adapted from Cooking Light)
1 1/2 cups flour
1 1/2 cups oatmeal
1 teaspoon baking powder
1/2 teaspoon baking soda
1/2 teaspoon salt
3/4 cup sugar
3/4 cup brown sugar
6 tablespoons unsalted butter, softened
2 teaspoons vanilla extract
1 large egg
3/4 cup finely chopped dried apples (I used apples that I had dehydrated and were very dry. Therefore, I added a splash of water to the chopped pieces and let set for a bit before stirring into the dough. I think it made for a chewier cookie...my preference.)
3/4 cup caramel bits OR 16 small soft caramel candies, chopped (I opted to chop the caramels. The caramel bits were quite hard, and I wanted softer, chewier cookies. I tossed my chopped candies with just a smidgen of flour to keep them from sticking together.)
Preheat oven to 350 degrees F.
Combine sugars and butter in mixing bowl and beat until light and fluffy. Add vanilla and egg, beat well. Mix in the flour, oatmeal, baking powder and soda, and salt just until combined. Fold in the caramel bits and dried apples.
Drop by 2 teaspoonfuls 2 inches apart on baking sheets lined with parchment. Flatten balls slightly. (I pressed with the bottom of a measuring cup.)
Bake at 350 degrees F for 9 minutes.
Cool on pans for about 2-3 minutes. Remove from pans and cool completely on wire racks. (Makes 4 dozen cookies)
Fran Hill has been blogging about food at On My Plate since October of 2006. She, her husband and their three dogs ranch near Colome.